Is 'The Young and the Restless' and 'RHBH' Star Eileen Davidson Worth More than Husband Vincent Van Patten?
Eileen Davidson is well known among daytime soap fans as her roles in The Young and the Restless, The Bold and the Beautiful, and Days of Our Lives. The iconic actress and her husband, Vincent Van Patten, can also be seen on Bravo's Real Housewives of Beverly Hills. That said, which of the spouses is worth more?
A brief look at Eileen Davidson and Vincent Van Patten's careers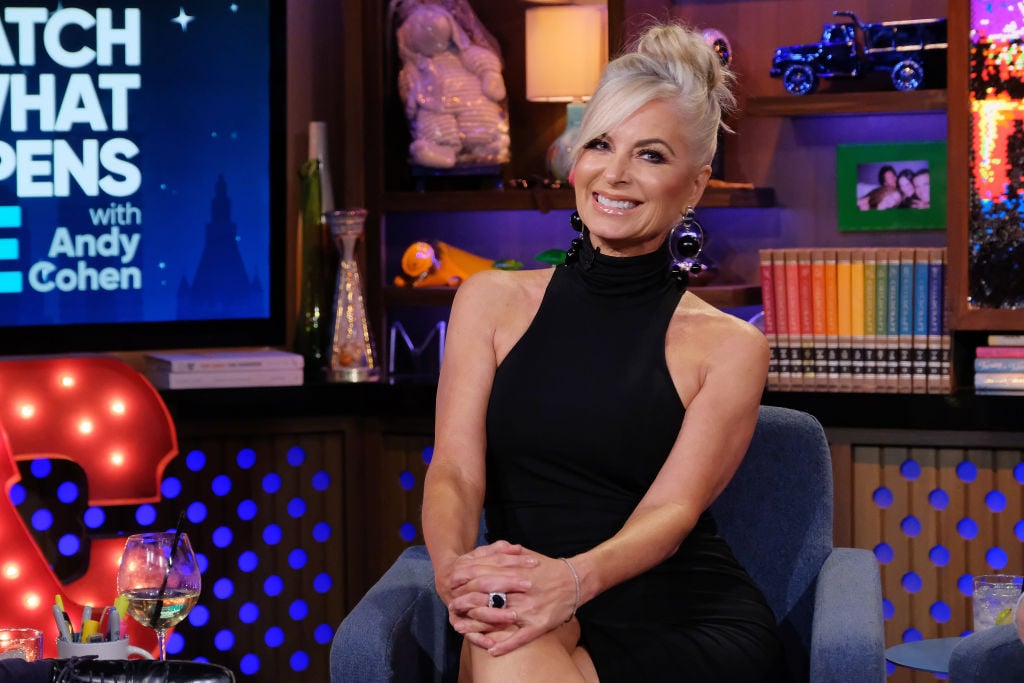 Though most known for originating the role of Ashley Abbott on the CBS daytime soap drama, The Young and the Restless, Eileen Davidson is the youngest of seven children and a California girl at heart, according to IMDb.
Davidson's acting career spans over four decades and includes projects like The House on Sorority Row, Eternity, and Broken Badges, to name a few. However, her sweet spot still remains in the soap opera world.
As noted by Bravo, Davidson "made television history in 1997 by simultaneously playing five roles on Days of Our Lives. The choice garnered Davidson three Daytime Emmy nominations and a win for Outstanding Lead Actress in 2014.
As if that's not enough to keep the actress busy, Davidson wrote a mystery novel series, Death in Daytime, with co-author, Robert J. Randisi. The two are currently adapting those stories to film. She also created Femmeology — a clothing line designed with her niece, Devon Martt — in 2008.
Davidson also appeared as herself in the Bravo reality TV series, The Real Housewives of Beverly Hills from 2014-2018 with her husband, Vincent Van Patten. The show gave die-hard soap fans a more in-depth look at the star's personal life — including her battles with fellow housewives — and more insight into Van Patten.
Van Patten has appeared on The Young and the Restless, and his acting roles go as far back as 1971. Most notably, he played "Bionic Boy" in The Six Million Dollar Man. The former pro-tennis player defeated John McEnroe in a semifinal at the ATP Tokyo Indoor Draw in 1981.
Here's what we know about Davidson and Van Patten's personal life
The Y&R actress has three marriages under her belt.  The first was to actor, Christopher Mayer, from 1985 to 1986. The second was to General Hospital, Port Charles, and As the World Turns actor, Jon Lindstrom, from 1997 to 2000.
Her third husband, actor, writer, producer and host of The World Poker Tour, Van Patten, has been Davidson's husband since April 2003. He's also a pro tennis player and son of legendary actor, Dick Van Patten.
Together, Davidson and Van Patten have one son, Jessie. Van Patten has two children from a previous marriage to Betsy Russell, Duke, and Vinny.
"People really don't know him at all. He's really a fantastic human being," Davidson previously told The Daily Dish (per Bravo) about Van Patten's portrayal on RHBH.
"Not only is he just hilarious but he's a weirdo when it comes to numbers. He's got a weird numbers brain. He's been a gambler and playing poker all his life, and he's, like, a mathematical genius."
She continued:  "He's a fantastic father. Very hands-on. Extremely hands-on dad. He's an all-around great person. I'm really lucky."

Which spouse is worth more?
According to Celebrity Net Worth, Davidson is estimated at $3 million with $750,000 coming from RHBH per season, along with her daytime soap gigs. Other outlets report around $5 million, so the exact amount is unknown.
Van Patten's net worth is an estimated $2 million which comes from a multitude of sources such as hosting The World Poker Tour and various producing, directing, and writing credits.