Is the 'Younger' Cast Friends in Real Life?
The 'Younger' Cast has been working together for several years now, but are they friends off screen?
When Younger first premiered on TV Land back in 2015, nobody could have guessed that a show on that kind of network would actually do well (no offense, TV Land). However, the show is produced by Sex and the City director Darren Star, and Sutton Foster and Hilary Duff, who play the successful publishing duo of Liza Miller and Kelsey Peters, ended up striking a positive nerve with fans that has led the show to become one that millennials and baby boomers alike love to watch. But do the cast members click as well in real life as they do on television?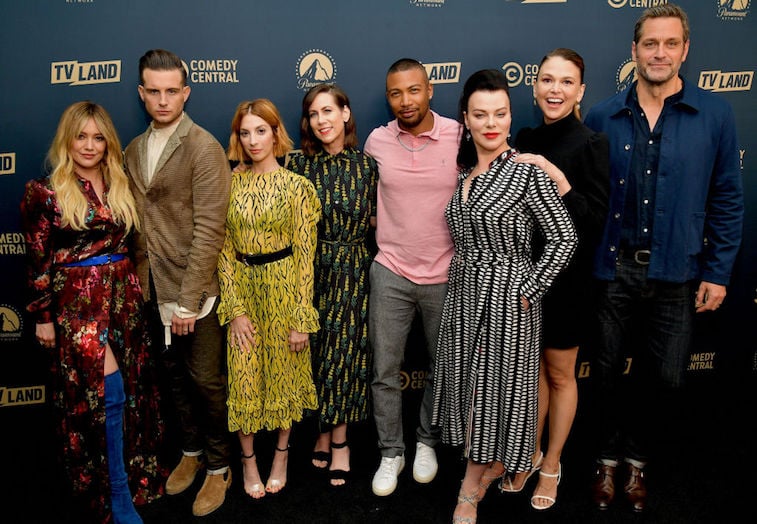 Foster and Duff's kids often have playdates on set
Foster and her husband, Ted Griffin, adopted their daughter Emily back in 2017. Hilary Duff and her fiancé, Matthew Koma, welcomed their daughter Banks in October 2018. Foster and Duff, though 13 years apart themselves, have daughters who are very close in age, and the little ones have playdates on set while their moms film. "It's been awesome to have been able to introduce them, and they'll be able to grow up together," Foster told Page Six of the daughters' relationship. Duff and Foster have been filming together since 2015, and they've built an incredible friendship over the past four years. Foster also said she's thankful she works on a set that allows the children to be there.
Molly Bernard, who plays Lauren Heller on the show, is Banks' Godmother
Hilary Duff and co-star Molly Bernard have also struck up a lifelong friendship since beginning work on the show. Heller is the Godmother of Duff's daughter Banks, and Heller has said that Duff often asks her when she'll start a family because she wants their kids to grow up together. "Hil's always like, 'When are you going to [have kids]?'" Bernard told Page Six. She said she does eventually plan to start a family but didn't give any solid timeline. However, it would be nice to see the next generation of Younger grow up side by side.
Nico Tortorella, who plays Josh, once said he and Foster 'Genuinely love each other'
Nico Tortorella plays heartthrob Josh, who has been Liza Miller's on-again-off-again love interest for most of the show. He revealed to Parade back in 2016 that there is "crazy" chemistry between him and Foster on set. "We genuinely love each other," he added. In real life, Tortorella is in a polyamorous marriage with Bethany Meyers. He also told Parade the entire cast gets along well and nobody has too big of an ego. "I've worked on a ton of other projects and there's always one person who has an ego," he says. "But [on Younger] we show up, we do good work and we have a good time."
It's not unusual to hear of shows where certain cast members don't get along well off-screen. However, that doesn't appear to be the case on Younger. Since the cast mates have talked about their kids growing up together, it's safe to say that this crew adores their time spent together, which makes for awesome chemistry on screen. The new season of Youngerpremieres on Wednesday, June 12. 
Check out Showbiz Cheat Sheet on Facebook!