Is This Family Trying to Be Like the Duggars? Their Daughter Is Marrying This Former 'Counting On' Guest Star
The Duggars launched their careers as a large, ultra-conservative Christian homeschooling family back when they had "just" 14 kids.
At the time, the Duggars were steeped in fundamentalist religious beliefs championed by organizations like the Institute for Basic Life Principles (IBLP), launched by controversial Christian minister Bill Gothard. Since then, they've starred in two different TLC shows, 19 Kids and Counting and Counting On.
The Counting On stars became wildly popular in part for their strict beliefs, like extremely modest dress, no drinking or dancing, saving kissing and even frontal hugs for your wedding day, and avoiding all pop culture. The Duggars also don't believe in birth control or limiting procreation in any way within marriage.
There are more large families who share the Duggars' beliefs than you might think. The Ohio-based Rodrigues family, led by David Rodrigues and Jill Hoyes Rodrigues, is one such family.
The Rodrigueses have many ties to the same organizations and evangelical public figures that the Duggars have followed over the years. Most recently, a Rodrigues daughter even got engaged to Anna Duggar's younger brother, leading some fans to believe the Rodrigues family hopes to become the next Duggar, Bates, or Plath brood.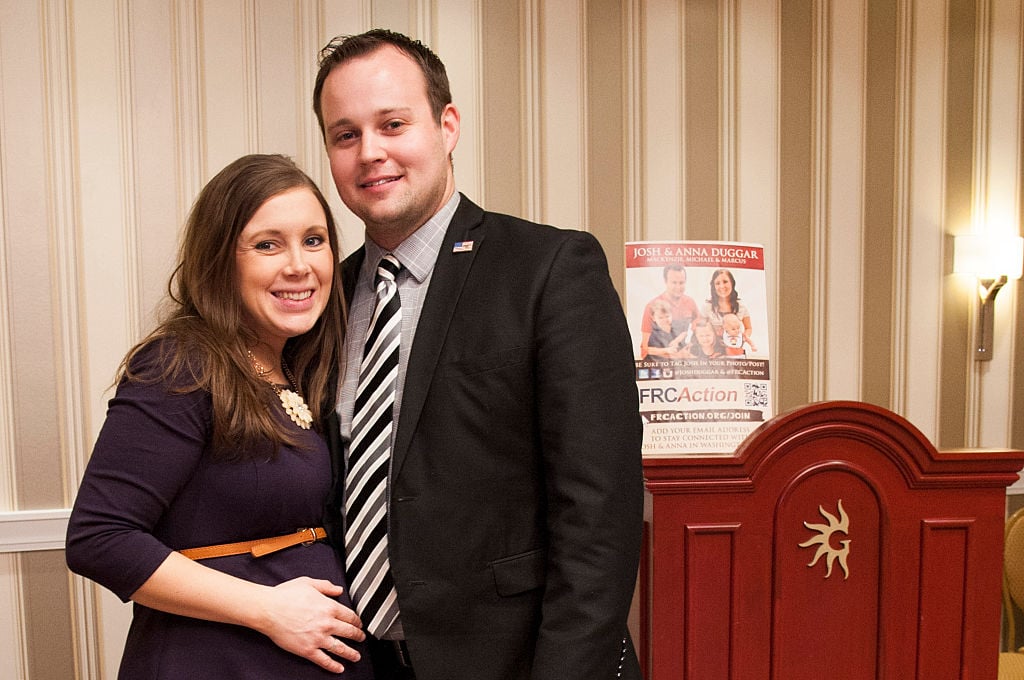 The Rodrigues family is a large, conservative Christian family with similar beliefs
David and Jill Rodrigues have 13 children, all of whom are homeschooled. They share the same pro-life, Quiverfull, and IBLP-based beliefs as the Duggars and Bates. They also believe in parent-led courtship and saving your kiss for your wedding day, which David and Jill claim to have done themselves.
According to the Rodrigues Family Ministries blog, run by Jill, the family prints Gospel tracts through their "printing ministry." They also have a traveling family band and a burgeoning YouTube channel, leading some fans to believe they're hoping for the same kind of future as the Counting On stars.
The oldest Rodrigues daughter recently got engaged to Anna Duggar's brother
The Rodrigues and Duggar families share many of the same acquaintances, beliefs, and organizational connection. As it turns out, the Rodrigues family now has an almost-direct Duggar connection.
The family's oldest daughter, Nurie Rodrigues, began courting Josh Duggar's wife Anna's younger brother, Nathan Keller, in 2019. Keller, son to Mike and Suzette Keller (also IBLP homeschoolers), was a groomsman at Anna's and Josh's wedding and appeared on their original wedding special on TLC. He appeared on 19 Kids and Counting again as a groomsman for Anna's sister Priscilla Keller to David Waller.
In the courtship announcement, Jill mentioned Anna, who was then a mom to five children (now six) and "living with her husband Josh in Arkansas." Jill sang her daughter's fiance's praises, writing, "Nathan has proven to be a prayer warrior and has SUCH a love for God and spiritual focus in his life. He has earned his bachelor of theology degree through IBBC (International Baptist Bible College). His heart's desire is to serve God full time."
In Nov. 2019, Nathan asked Nurie to marry him. Jill announced the news on her blog, adding that Nurie and Nathan were saving their first kiss for the wedding day: "Nathan Keller officially asked Nurie Rodrigues (our oldest child) to marry him on November 9, 2019 at the beautiful Stonewall Jackson Resort in West Virginia. What a blessing!  We are now in busy planning mode for this exciting wedding. We are THRILLED that they are doing things in a God honoring way and they are looking VERY forward to their first kiss on their wedding day!!"
Some fans believe the Rodrigues family is hoping for fame along the lines of the Duggars, Bates, or Plaths
The Rodrigues family is frequently discussed by Duggar fans and critics alike on Reddit and other social media platforms. They are certainly not without their share of controversy, starting with the fact that Jill met David when she was only a senior in high school and he was in his 20s (and married him just months later).
Jill has admitted on her blog that the family has had CPS called on them twice, allegedly due to their simple RV living and their children's extremely thin appearance. She claimed the investigations did not result in any further action, but some (currently unsubstantiated) rumors suggest the family left their original home state of West Virginia and hightailed it to Ohio because of the CPS visits.
The older Rodrigues daughters have also spent time in ministry with Michael and Debi Pearl of No Greater Joy Ministries in Tennessee. The Pearls have sparked widespread controversy due to their promotion of "blanket training" and corporal punishment even for very young children and infants.
Given parents' involvement with children's courtships in families who follow the standards set by the Institute for Basic Life Principles, some fans have even suggested that Nurie's courtship and engagement to a Keller were meant to secure more notoriety for the family. Some fans argue that David and Jill hope to achieve fame on the same level of the Duggars, the Plaths from TLC's Welcome to Plathville, or the Bates family of UPtv's Bringing Up Bates.