Is 'Too Hot to Handle' Star Francesca Farago Dating Tana Mongeau?
Is a new relationship brewing in the social media sphere?
Some people seem to think after YouTuber Tana Mongeau was spotted getting cozy with Netflix's Too Hot to Handle star Francesca Farago. So are these two actually dating, or are they just really close friends?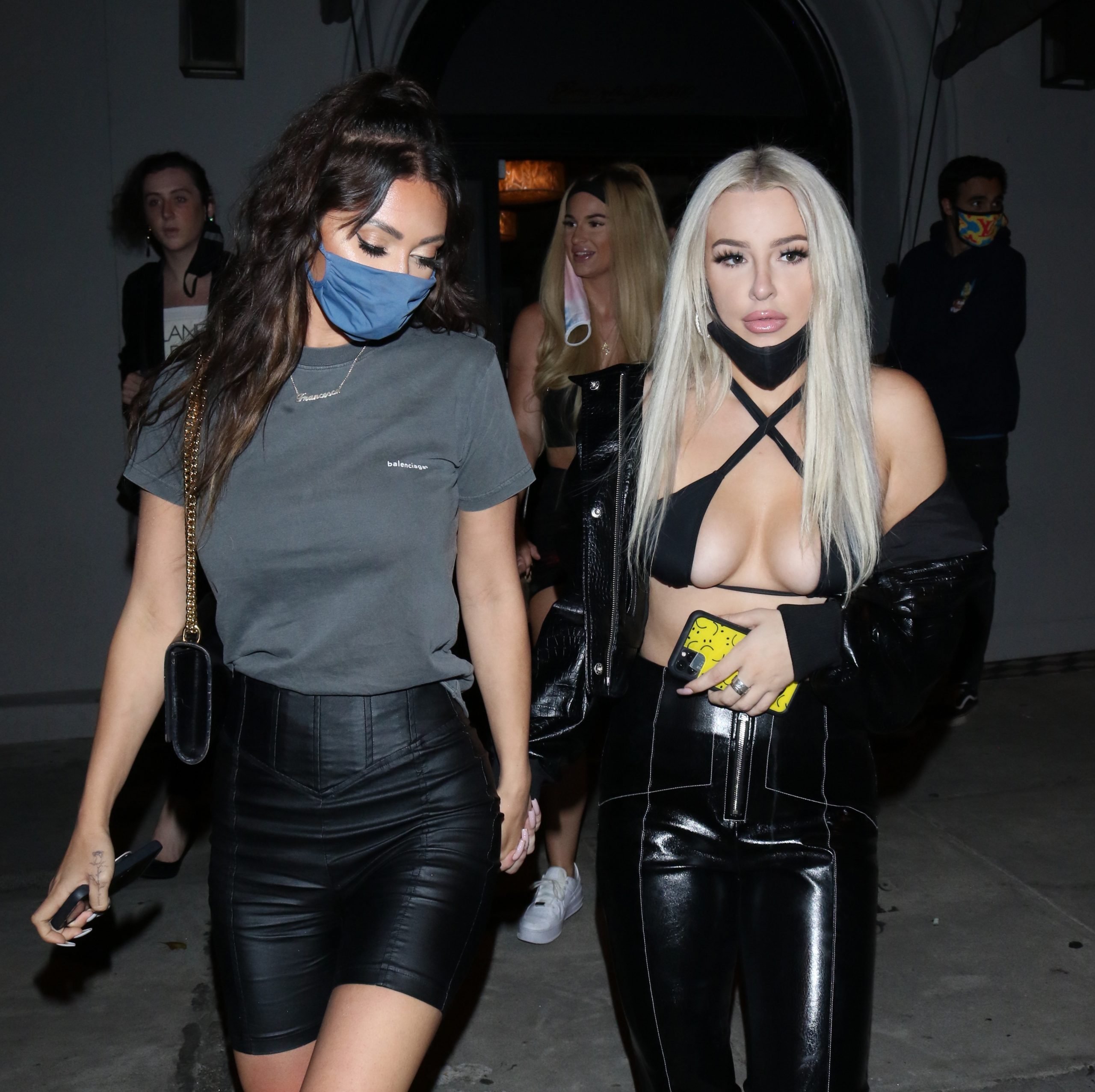 Francesca Farago and Tana Mongeau were spotted holding hands while on a dinner date
Mongeau has once again sparked romance rumors with another social media influencer, but this time, it's with Too Hot to Handle's Francesa Farago.
Over the Fourth of July weekend, the pair were spotted having dinner together at celebrity hotspot Craig's in West Hollywood in celebration of their friend, Cole Carrington's, birthday.
Throughout the night, the pair were "positively inseparable" as they held hands and cozied up together while recording Instagram Story videos.
While the two may just be close friends, Mongeau seemingly fueled romance rumors when she posted an Instagram Story that night of herself and Farago with the caption, "we're dating now pick it up TMZ."
During their dinner date, Farago and Mongeau continued to spin the rumor mill with the YouTuber calling the reality star her "girlfriend" in one post. Farago also posted a photo of Tana with the caption, "my beautiful date."
Back at home, Mongeau said she wanted to "marry" the THTH star who she called an "angel" for cleaning up some spilled wine off the floor while they pregamed with friends.
Both women just got of serious relationships
Mongeau and Farago's sighting comes shortly after the reality star split from her THTH co-star Harry Jowsey.
Farago admitted in a YouTube video that she initially wasn't convinced their relationship was over for good. "I didn't even want to tell my friends because I genuinely thought that we were going through a rocky period and we were going to figure it out," she said.
While Farago said their relationship ended because of heated arguments, Jowsey, on the other hand, revealed that he simply "fell out of love."
"It would be extremely selfish of me to continue the relationship with Francesca when I can't give her 110%," he said on Instagram Live.
As for Mongeau, she was previously married to fellow YouTuber Jake Paul, but after staying together for several months, the pair announced they were separating in January 2020.
Following her split from Paul, Mongeau was romantically linked to his older brother Logan. Though many were convinced the two of them were dating, Logan revealed in a video that he and Mongeau only hung out to make Jake jealous.
Are Mongeau and Farago dating?
While it appears Mongeau and Farago are smitten with each other, it's unclear if they're actually dating or just trolling the internet.
When it comes to Mongeau, it could go either way, seeing as though she's no stranger to faking relationships.
Whether or not the influencers are dating, we have a feeling that this won't be the last time we see them together.