Is Tori Spelling Bankrupt? Why American Express Is Suing the '90210' Star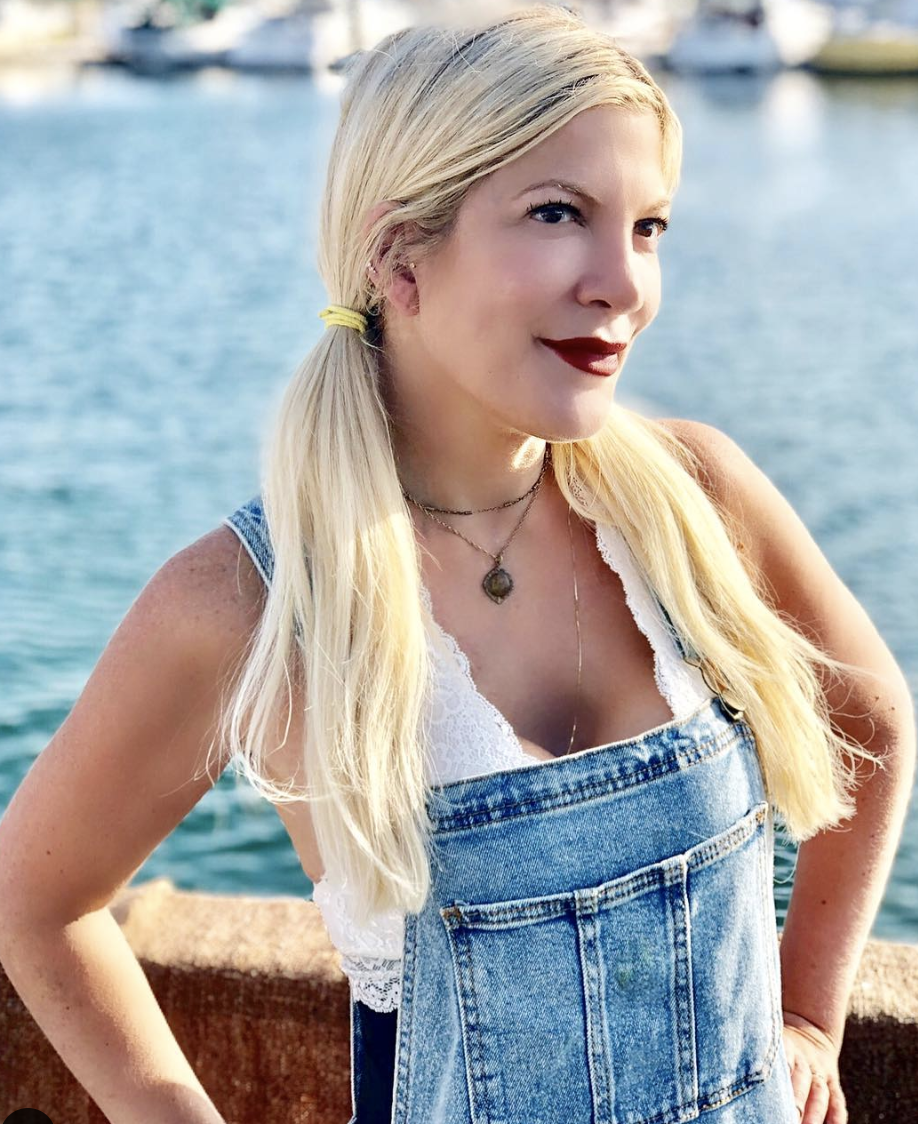 Tori Spelling's financial woes continue as the Beverly Hills 90210 star is in hot water with a credit card giant. The actress and her husband, actor Dean McDermott's financial bills are on the rise as the couple owes more than $88,000 to American Express for failing to pay a grossly overdue credit card bill.
Court documents obtained by US Weekly show that Spelling simply stopped paying her credit card bill for months. She racked up significant debt and just ignored it. As a result, American Express filed a court order at the beginning of 2019 to force her to pay.
So can she just write AMEX a check for the $88,000? Or is she so strapped for cash that she may be bankrupt?
Spelling's financial issues go back for years
In 2016, Spelling owed reportedly American Express "more than"  $38,000 according to Radar Online. Cleary she owed double what was reported when the bill came due. The credit card company tried to collect for the last three years and claimed Spelling hadn't made a payment since 2015, according to US Weekly.
When Spelling finally made one payment of $1,070, it bounced. AMEX first sued Spelling in 2016 for payment and the latest demand is a court order to make the payment.
AMEX isn't the only creditor Spelling owes. Citibank, which acted as a debt buyer, filed a motion to collect $5,000 from Spelling in 2018, Radar Online reports. "Within four years last past, Defendant became indebted to Citibank, N.A. on an open book account for money due in the sum of at least $5,078.47," according to the lawsuit.
Plus she's entangled in this financial mess
The couple must have gone on a spending spree in 2016 as McDermott was on the hook for failing to repay a $400,000 bank loan. City National Bank sued the couple for $200,000 for failure to repay the loan. Court documents obtained by US Weekly asserted the couple owed both principal and late charges.
"As of December 2, 2016, Defendants [Tori and Dean] owe Plaintiff [City National Bank] an unpaid principal balance in the amount of $185,714.05, plus interest in the amount of $2,407.92 and late charges in the amount of $681.41, for a total of $188,803.38," the document reads. "These amounts remain due, owing and unpaid. Interest, attorney's fees and costs continue to accrue."
City National Bank also demanded Spelling repay $17,149.09, which she withdrew from the bank in 2016, Radar Online reports. Spelling and McDermott also failed to pay taxes on their Los Angeles, California home, which resulted in a tax lien.
Spelling's financial position
When her mega-millionaire father died, he left Spelling only a fraction of his fortune. "It's no mystery why I have money problems," she wrote in her memoir Spelling It Like It Is. "I grew up rich beyond anyone's wildest dreams. I never knew anything else. Even when I try to embrace a simpler lifestyle, I can't seem to let go of my expensive tastes. Even when my tastes aren't fancy, they're still costly. I moved houses to simplify my life, but lost almost a million dollars along the way."
Spelling received only $800,00 from her father, which hardly covered her lavish tastes. "Bad shopping habits die hard," she told ABC News in 2008. "In all honesty, I grew up a certain way. I never had to worry about money … that was my reality."
Her reported net worth is about $500,000 and as of 2016, she said she was not bankrupt. "It was one chapter. I thought I was being relatable, talking about how celebrities go through financial struggles, too, we make mistakes, too," she told People in 2016. "We're not perfect, we have made a lot of choices financially with real estate that didn't work out … and that just escalated into this story about financial struggles, bankruptcy. To this day that haunts me!" Spelling currently touts a new "global beauty business that I have grown across multiple countries in just two years," according to a recent Instagram post.
Follow The Cheat Sheet on Facebook!