Is Towanda Braxton Pregnant?
After a lengthy and public divorce, Towanda Braxton is happy with her new beau, music producer, Sean Hall. The two were friends for over two decades before taking their relationship from platonic to romantic and Braxton hasn't looked back. The 46-year-old Braxton Family Values star recently sparked rumors of she and Hall expecting their first child together after Braxton was spotted "glowing." She addressed the rumors in a new interview.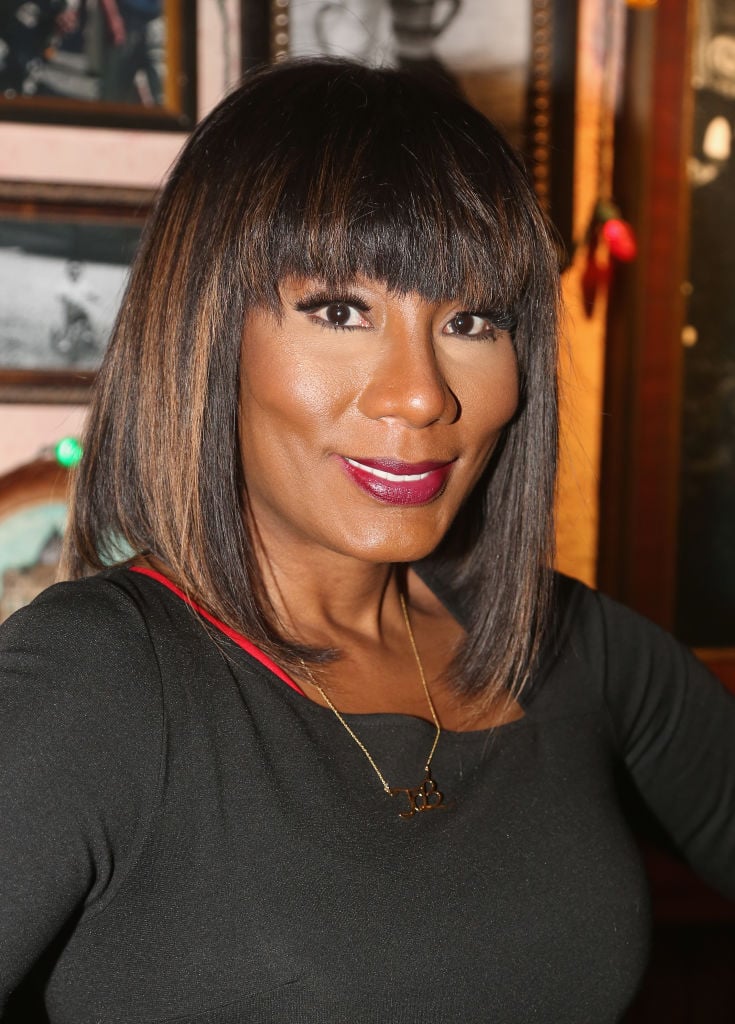 Towanda Braxton is in love with her boyfriend of five years, Sean Hall
Braxton and Hall first met in the '90s when Hall was a producer on her group's album. They were both in relationships at the time but were always attracted to each other, so much so that they would even kiss each other. 
Related: Who Is Towanda Braxton's Boyfriend, Sean Hall?
After Braxton ended her 12-year-marriage, she and Hall reconnected when she worked with his cousin, also a music producer, on her family's Christmas album. Five years later, the two are still going strong. 
Typically private, Braxton has been open about her and Hall's relationship. She gushed about him in an interview with Showbiz in May 2020, explaining the difference between the love she shared with Hall and her previous marriage.
"What made it difficult [the divorce] was that I was in a protective mode of not making him seem bad or telling the full truth of what really occurred in the marriage with him bc I didn't want my children to think negatively of their father," she said.
But she doesn't have the same concerns with Hall. The two have a couple's Instagram and YouTube page, King Ladybug. The name is a moniker they created from nicknames they gave one another. Braxton refers to Hall as her king and he calls her his ladybug.
Towanda Braxton says her boyfriend wants children and speaks on pregnancy speculation
Hall doesn't have any children of his own but according to Braxton, he treats her two children as his own. "He calls my kids his kids," Braxton once said of Hall. She also revealed that her ex-husband is not happy about her new relationship and is currently estranged from their children, making the relationship they share with Hall even more meaningful.
Related: Interview: Towanda Braxton Carves Out Her Own Lane From Her Singing Sisters With New Skin Care Line and Talks 'BFV'
Despite the close bond Braxton's children have with Hall, she explained in a recent interview with Claudia Jordan on her FOX Soul talk show that Hall does want to have a baby with her. While Braxton is on board, she explained that her age is a concern. When Jordan asked her if she was pregnant and called out her glow, Braxton attributed her aura to being happy.
In a new interview with Page Six, Braxton remained coy on the pregnancy rumors. "You guys gonna have to see very soon what is happening with that," she said. "When it happens, it happens and … if it is happening, it is happening. You guys are gonna have to just wait and see."
But fans think Braxton is already pregnant. Speculation began in May 2020 when she revealed in an Instagram live with her sister Trina that she's not currently drinking. Fans took that as a sign, as the Braxton sisters are open about their love of libations. Fans also remembered an episode of the last season of the show where Braxton was not drinking and was sick, leading them to think she was with child.
The new season of Braxton Family Values is scheduled to air this fall.