Is Vinny Guadagnino Dating 'Double Shot at Love' Star Maria Elizondo?
Season 2 of Double Shot at Love is just starting to heat up. So are the rumors that Jersey Shore star Vinny Guadagnino and Maria Elizondo are dating in reality.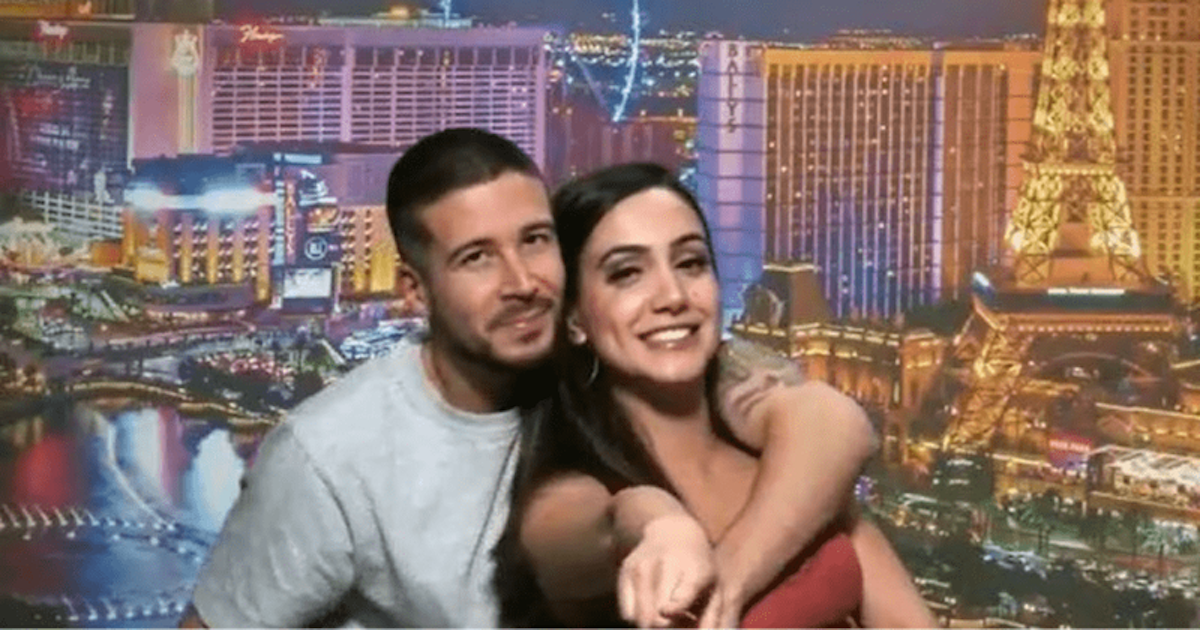 Vinny and Maria dated in the past 
On season 1 of Double Shot at Love, Guadagnino formed a close relationship with Elizondo. The two had self-proclaimed awkward chemistry, which was more like a friendship peppered with plenty of sexual tension.
Unfortunately, Guadagnino didn't feel like Elizondo was opening up enough and ultimately decided to let her go.
"When you get out of your way, you're funny and probably one of the most interesting people I've ever met in my life" he explained. "I may regret this, [but] Maria, your cab is here." 
There was tension between Maria and Vinny on Twitter
After being let go, Elizondo called Guadagnino out on social media. She was hurt by his decision and chose to take release those feelings on Twitter.
Fortunately, the two have made up during season 2 of Double Shot at Love. 
"I feel like I shouldn't have to be the first one to [apologize] to you in any regard," Elizondo explained to Guadagnino. "I wasn't the one who hurt anybody or lied to anybody."
"You turned into a f*cking troll," Guadagnino retorted regarding her tweets about him after season 1. "There's a million trolls, but if you do it, it hurts."
After airing their grievances, the two shared a hug. The flirting continued to mount until Elizondo and Guadagnino eventually had sex.  
Recently, some people thought Vinny and Francesca Farago were dating
The Too Hot to Handle star has been flirting with Guadagnino via Instagram comments, which lead some people to believe something was going on between the two. 
"I've never met him, but we're just friends," Farago explained in an interview with Dear Media. "He's like me in guy form. Hilarious and very chill." 
Since Farago confirmed the two weren't a couple, Guadagnino's fans have set their sights elsewhere. Many think he and his Double Shot at Love co-star might currently be together. 
Some fans think Maria and Vinny are dating again
Considering the tension throughout season 2 of Double Shot at Love and Guadagnino's recent social media posts, some fans think he and Elizondo are an item.
On the show, the roommates went to Chippendale's to watch Guadagnino perform. For his infamous shower scene, Guadagnino pulled Elizondo onto the stage. Emotions from the night prior — when the two hooked up — were still evident.
Things seem to be going well between Elizondo and the "Keto Guido" on the show — and on social media.
While the episode was airing, Guadagnino was live tweeting. Many of his tweets had to do with Elizondo.
"Man, I wish you two guys [were] official — seems like from [a] distance like you guys would be a good couple," one fan tweeted. Another replied: "Sounds to me like they are." 
What's more, Guadagnino also wished Elizondo a "Happy Birthday" via Twitter on August 2. She shared photos of her celebrations on Instagram — which took place in New York.
Elizondo's hometown is in New Jersey, so it's not odd for her to be in New York. Still, fans had it in their heads that New York is Guadagnino's home, so the two could have been spending her birthday together.
While Guadagnino's tweets don't necessarily confirm a relationship with Elizondo, it's not entirely impossible.
Perhaps when season 2 of Double Shot at Love concludes, it will be revealed that Guadagnino and Pauly DelVecchio are both in relationships.