The Isaac Awards 2022: Best Action Sequence Nominees
The Isaac Awards, in honor of the great Oscar Isaac, are Showbiz Cheat Sheet's unique spin on the Academy Awards. Here are the nominees for best action sequence.
You've heard of the Oscars, but have you heard of the Isaacs? The Isaac Awards, in honor of the great Oscar Isaac, are Showbiz Cheat Sheet's unique spin on the Academy Awards. However, the Isaac Awards are different from the Oscars in that they celebrate the best movies of 2021 that deserve recognition but will not receive that recognition through Oscar nods. The 2022 Isaac Awards feature five categories: Best Performance, Best Scene-Stealer, Best Crowd-Pleasing Moment, Best Action Sequence, and Fan-Favorite Movie. Voting will be open via this form from March 7-20. Winners will be announced on March 24.
Action sequences are a category that is completely ignored by major awards, including the Academy Awards. However, action sequences are often the most exciting parts of movies. Directors are able to craft incredible sequences using creative fight choreography and amazing work from the visual effects artists. The stunt coordinators and performers are also completely ignored and deserve more appreciation for the dangerous, but valuable work they do.
 For the Showbiz Cheat Sheet 2022 Isaac Awards, we will honor the stunt performers along with everyone who works to create these fantastic sequences. Here are the nominations for best action sequence.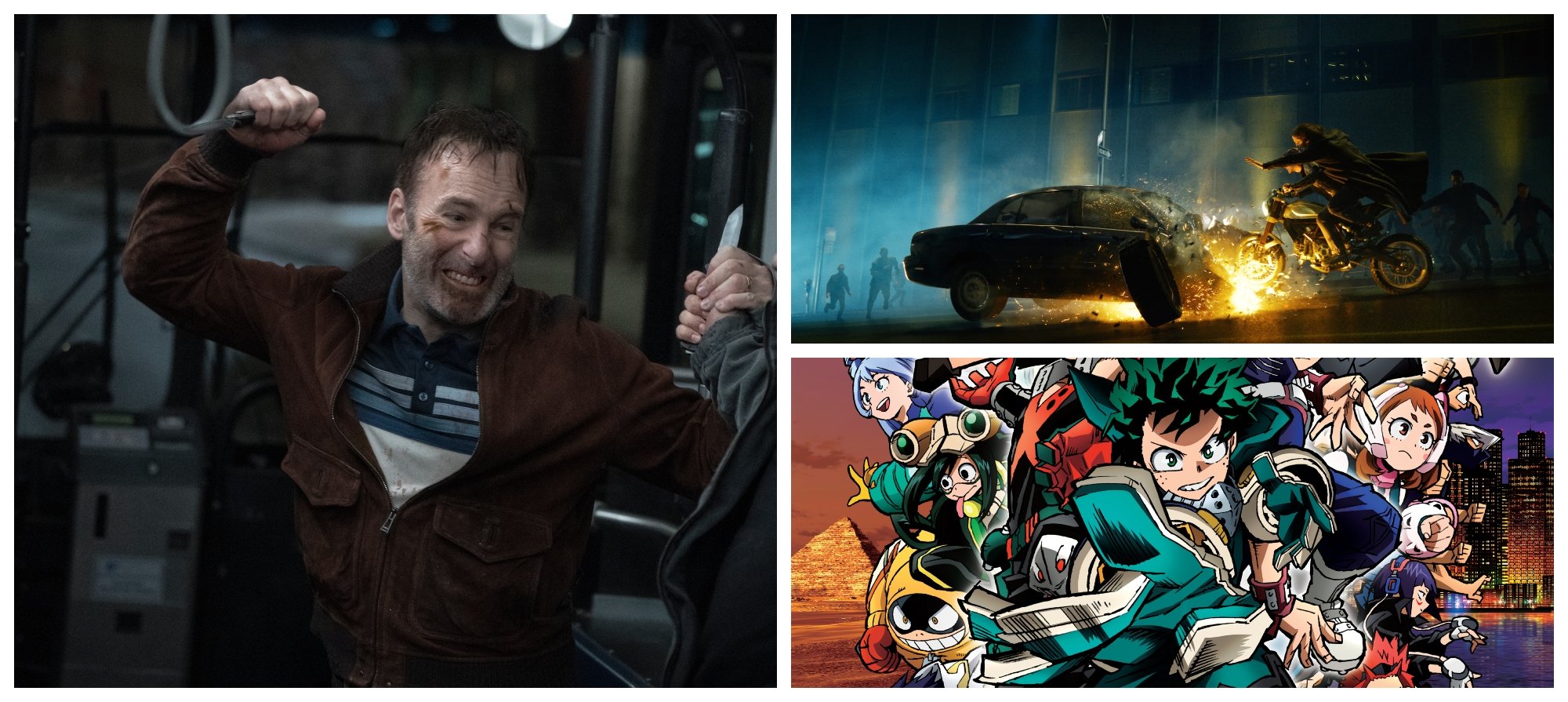 'Godzilla Vs. Kong': Aircraft Carrier Fight
There are plenty of great action sequences between Godzilla and King Kong in Godzilla Vs. Kong but the most exciting is the aircraft carrier fight. This is the first time the two titans encounter one another and it truly delivers. The two behemoths tower over the aircraft carriers and are able to take out entire platoons simply by stepping on them. Godzilla wrecks ships simply by swimming through them or whipping them with his tail. 
All Rebecca Hall and Alexander Skarsgard can do is watch as Godzilla and Kong fight, creating explosions and mayhem. Watching Kong sucker-punch Godzilla is endlessly satisfying, however, Godzilla ends up being victorious as it is on water, which is his domain. In addition, the sound design and visuals really bring this scene to life and truly immerse you amongst the carnage. 
'The Matrix Resurrections': Neo and Trinity Chase
In the climax of The Matrix Resurrections, Neo (Keanu Reeves) and Trinity (Carrie-Anne Moss) are escaping The Analyst (Neil Patrick Harris) and the rest of the agents. While dodging bullets and explosions, Neo uses his telekinetic abilities to push open a path, allowing him and Trinity to dash through the matrix. 
What makes this scene truly unique is the addition of "swarm mode," where the AI within the matrix begin to turn into human bombs that dive into the city. Neo and Trinity now have to avoid hoards of people crashing down on them, while also dealing with the rest of the agents. This chase adds plenty of new elements and it's great to see The Matrix stepping up its game even in its fourth entry. 
'My Hero Academia: World Heroes' Mission': Deku Vs. Flect Turn
In the final battle of My Hero Academia: World Heroes' Mission, Deku and Flect Turn fight in an epic battle. Deku must save the world from Flect's mission to eliminate quirks, however, Flect is an admirable foe as his quirk reflects everything that comes into contact with him. With natural defenses, Flect is almost impossible to defeat.
It's a type of battle that truly tests our hero and adds a level of intensity since it seems unlikely that Deku can win. He later gets some help but not before being damaged by Flect's defenses and laser attacks. The animators do a lot to make this fight as epic as possible and it's a perfect example of what amazing animators can create. 
'Nobody': Bus Fight
Who would've thought Bob Oedenkirk could be such a brutal action star? The bus fight in Nobody is the first time we see this character unleashing what he's been holding back since starting a normal life. He brutally beats up a bunch of goons on a bus, using whatever he can get his hands on. The punches are impactful and the gore adds a disturbing layer of grittiness. 
Even though Oedenkirk's character is more experienced, he still takes a beating and works through it, proving just how tough he is. He may look like your average joe, but he's not someone you want to mess with. 
Vote for the 2022 Isaac Awards here now through Sunday, March 20. Winners will be announced on March 24.