Issa Rae 'Foolishly' Worked Until Her Wedding Day and Was Devastated When She Realized She Should've Slowed Down
Since appearing as an awkward Black girl in the eponymous web series, Issa Rae has garnered acclaim and fame thanks to her hit HBO show Insecure. The actor also gave fans a glimpse into her childhood and life with her memoir The Misadventures of a Black Girl.
However, the 37-year-old still managed to remain one of the most private stars in Hollywood. It wasn't until recently that she revealed she'd tied the knot. Rae said she "foolishly" worked until her wedding day and was devastated when she realized she should've slowed down.
Inside Issa Rae's private relationship
Rae has managed to keep her private life, including relationships, under wraps for the longest time. The first hint at her relationship with her now-husband Louis Diame was in 2012. The Washington Post published a profile about her web series Awkward Black Girl.
The relationship was briefly mentioned. Diame teased that he was "stuck in college mode." However, not much was known about their status before or after. The Insecure creator clearly stated she didn't want anyone looking into her life. The star told Vogue in 2018 that she didn't need input on who she was dating.
At the time, rumors swirled that Diame popped the question. But it wasn't until 2019 that her fans saw what appeared to be a confirmation of the engagement. Eagle-eyed fans spotted Rae rocking her engagement ring in 2019 when she graced the cover of Essence magazine.
Issa Rae confirmed nothing about a wedding date until the actor dropped the bomb in an Instagram post. Below the first photo, Rae wrote, "A) Impromptu photo shoot in a custom @verawang dress." In the second picture, Rae stood with her bridesmaids, writing, "B) My girls came to help me, but they all coincidentally had on the same dress! They were sooooo embarrassed."
The third picture gave fans a clear view of what happened with Rae captioning it, "C) Then I took a few flicks with Somebody's Husband." E! News reported the duo had their wedding in the south of France.
Issa Rae 'foolishly' worked until her wedding day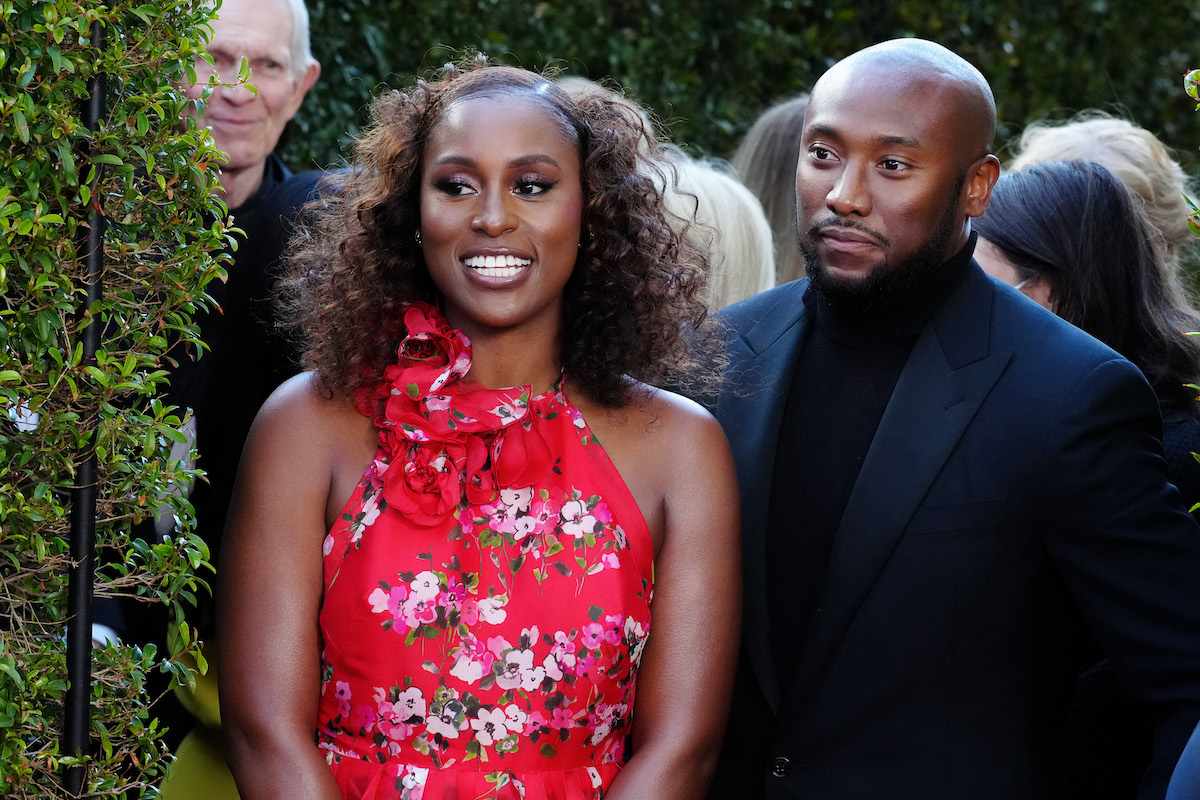 Details about the ceremony have been hush-hush, with neither party clarifying the rumors or giving any further information about it. However, Rae pulled back the curtain slightly in her interview with SELF. The publication noted that Rae had secured a five-year deal with HBO that made her busy in the recent past.
When the publication asked if she took time to prepare for her wedding, Rae said:
"France was something to look forward to, for sure, but I again, really really foolishly worked up until it, ended Insecure, then was obviously editing it, and then went to go shoot another show for a couple weeks, then went to go scout in Miami, just did everything up until that event."
Rae shared that she had a tough time returning from the festivities. She'd only spent time in France for a week. She called the realization "pretty devastating."
Rae likes being productive
Rae noted that being busy allowed her to settle into her pandemic lessons of self-care. She also shared that she enjoys being productive and getting things done. While she noted that those close to her consider her a workaholic, the actor said she dedicates time to cultivating the relationships in her life.
Rae also told the publication that she enjoys waking up as early as 4 am to take a walk, saying it was her preferred form of self-care and meditation. After the walk, Rae heads home and journals to "feel like I'm not behind."
RELATED: 'Insecure': Issa Rae Thinks Her Character Rapped in the Mirror Before Hooking up With Lawrence