'It's a Wonderful Life': Amazing Easter Eggs You Might Have Missed in the Classic Christmas Movie
It's a Wonderful Life, the 1946 movie directed by Frank Capra and starring James ("Jimmy") Stewart, is a Christmas-time favorite. Stewart portrays George Bailey, a man from a small town named Bedford Falls. Throughout the film, George is consistently challenged by family emergencies and financial issues that cause him to abandon his personal goals. Even though George has dreams of traveling the world and building businesses, he always chooses to lift up others in favor of himself. In doing so, he saves the life of his brother, protects the Bedford Falls townspeople from the villain financier Mr. Potter, and eventually marries and has children with his sweetheart, Mary. But after a huge loss at the bank, George seeks to end it all – until he is shown what his hometown would be like if he'd never been born.
We put together our most obscure facts and blink-and-you'll-miss-it moments from the movie: our favorite Easter Eggs (or Christmas gifts, to stay on theme?) from It's a Wonderful Life.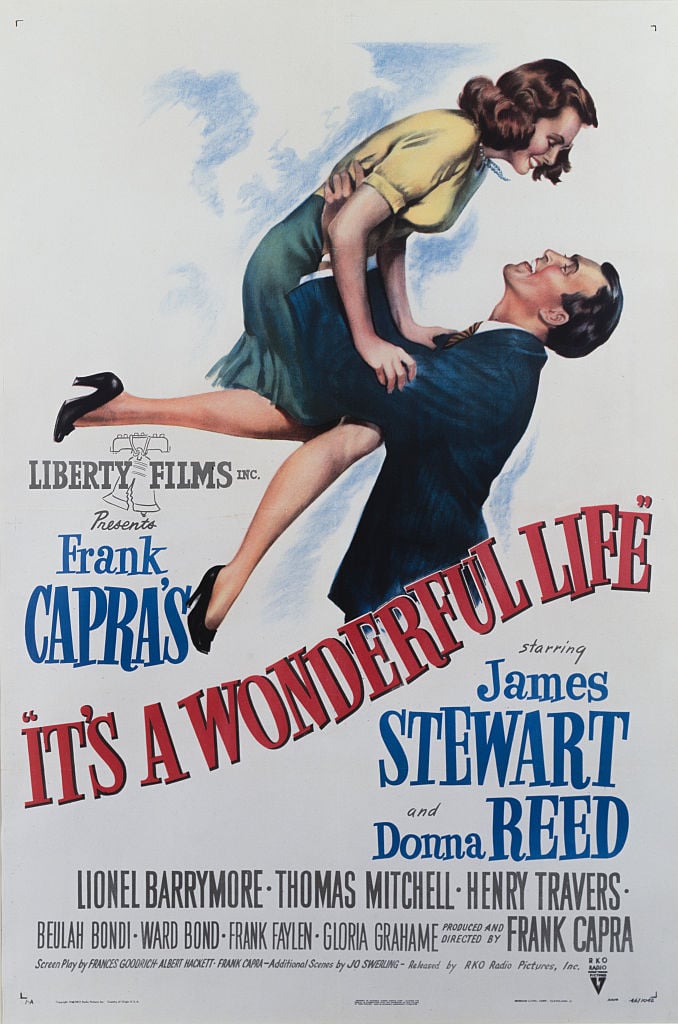 James Stewart was perfectly cast as George Bailey
At one point in the movie, George Bailey says he wants "learn how to build things" in college. In reality, the actor James Stewart studied architecture at Princeton.
The iconic scene in Martini's bar
One particularly memorable scene is the one where George Bailey is praying at Martini's bar. But did you happen to notice something about the close-up on Stewart in that scene? According to IMDb, the shot is pretty grainy–much more so than the rest of the film. This is because the director Frank Capra wanted to make sure he captured that look on his protagonist's face. Stewart was so emotional filming the scene that he, on his own accord, began to sob. Capra sacrificed quality of film for quality of character development–and we're all the better for it.
Baby Jimmy Stewart made the film, too
You can spot a real-life picture of Stewart as a baby in the movie. On the set of the Baileys' home, there's a photograph of Stewart at six months old, given to the film by his parents.
The Christmas movie makes little nods to mortality
In the scene where the evil Mr. Potter offers George a high-paying job, you can see a skull sitting on Potter's desk. It's clever foreshadowing for the rest of It's a Wonderful Life.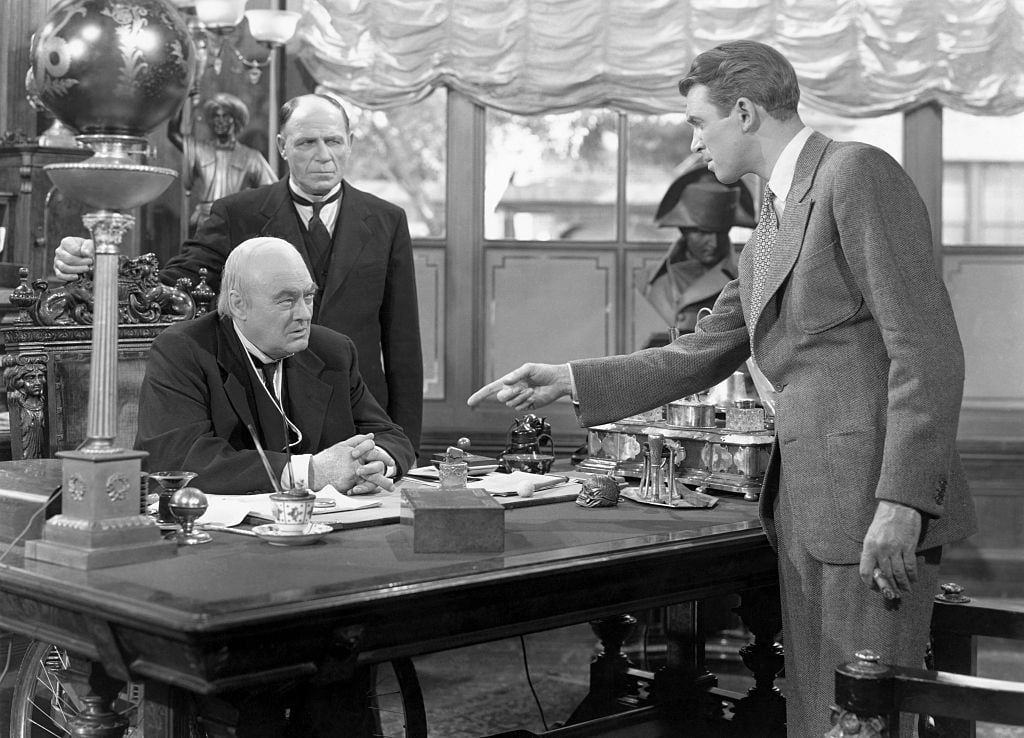 Also: when George and his Uncle Billy meet at the bank and Mr. Potter calls, you can see a framed image of George's late father on the wall. The caption under the picture reads, "all you can take with you is that which you give away"–arguably the theme of the whole movie.
Frank Capra's Italian roots inspired this family in 'It's a Wonderful Life'
Fun fact: "capra" means "goat" in Italian.
Did you catch the goat in It's a Wonderful Life? When the Martinis move into Bailey Park, a goat accompanies them in the car, as a nod to Capra's own Italian ancestry. His family immigrated to the United States from Sicily in the early 1900s.
Does George seem a bit sweaty?
Recall the scene in It's a Wonderful Life in which Clarence, the angel sent from Heaven, saves George on the bridge. Does George Bailey seem a bit sweaty to you? It's not just because he's drunk and emotionally taxed; that scene was filmed on an extremely hot day. Temperatures reached 90 degrees Fahrenheit, even though it's supposed to be snowing in the scene. So, that's why Stewart looks a bit dewy.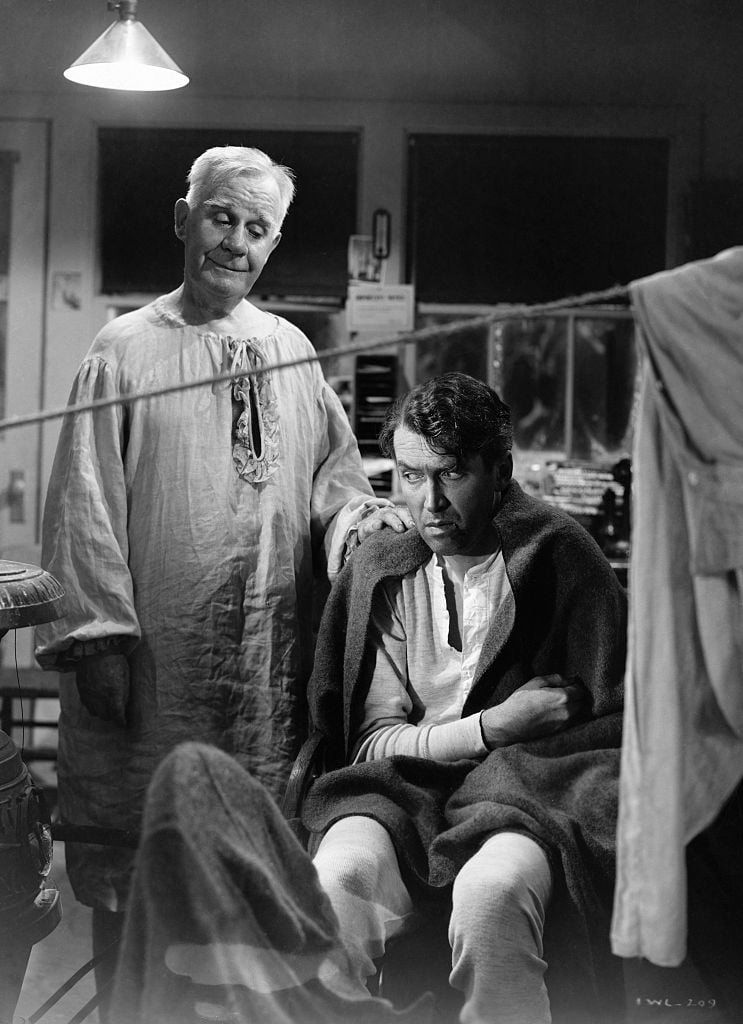 Looking for God in 'It's a Wonderful Life'
When George goes back to the bridge, praying to get his life back, can you catch the exact instant George's world reverts to normal? It's the moment that he says the word "God." The second George utters that word, it starts snowing (like it was before).
The dark history behind Potter's Field
When George sees his world without him in it, he sees Bedford Falls turn into Pottersville. More specifically, his fairly-priced housing project Bailey Park is gone, and replaced with a Mr. Potter development known as "Potter's Field." But there's a clever meaning behind this name aside from the obvious. People used to use the term "Potter's Field" to refer to cemeteries where the poor or even unidentified bodies were buried. Potter's Field is not only a slummy housing project–it represents the death and forgotten lives of the poverty-stricken.
How many angels get their wings in 'It's a Wonderful Life'?
Clarence tells George that every time a bell rings, an angel gets its wings. So how many angels get their wings over the course of It's a Wonderful Life? Bells are everywhere in the 1946 film: the soundtrack, the Christmas decorations, telephones, and cash registers in scenes, etc. Also, The Bells of St. Mary's is playing at the movie theater. In all, forty-two bells ring in the entire Capra movie; so, forty-two angels get their wings on every replay.