It's Kind of a Funny Story How Chip and Joanna Gaines Landed Their Own Television Network
Many fans consider Chip and Joanna Gaines undisputed royal couple of HGTV. Unlike so many reality show stars, the former Fixer Upper hosts never expected to become super famous. Their massive popularity was just as shocking for Chip and Jo as it was for everyone else.
But America quickly fell in love with this Texas duo along with their brood of children, their dreamy Texas farmhouse, and their adorable on-screen chemistry. Fixer Upper became the most popular show on the network with the Gaines family inspiring legions of copycats. Suddenly, we all needed shiplap and subway tile, stat.
And now they're moving on to bigger and better things. How exactly did Chip and Joanna go from having a hit show to controlling an entire network? The answer isn't what you'd expect.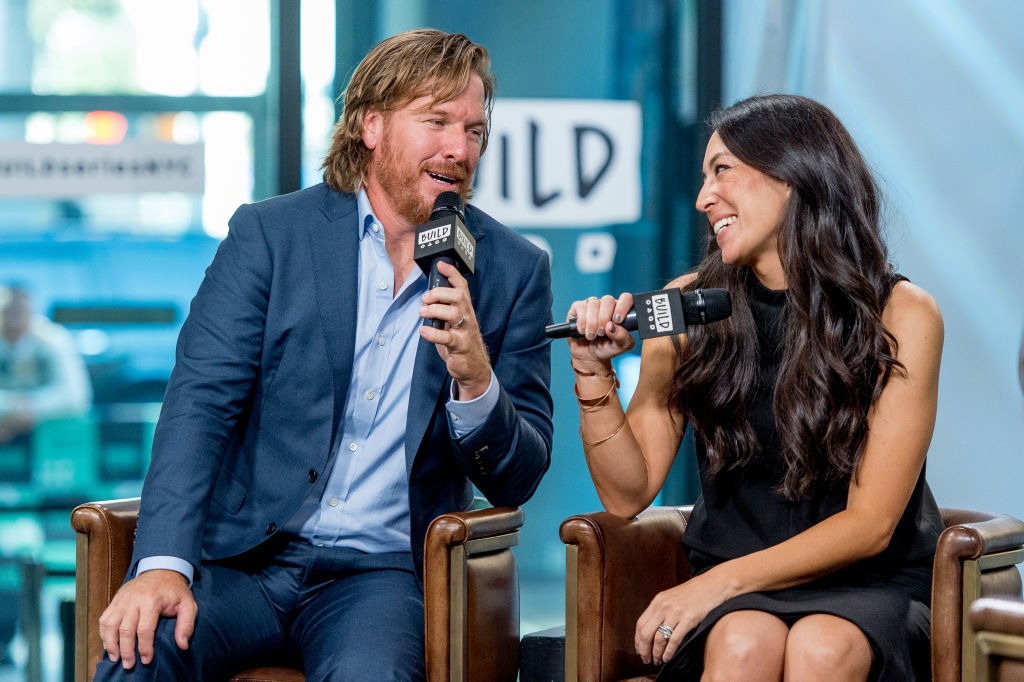 Chip and Joanna Gaines made the difficult decision to cancel 'Fixer Upper'
Fans were absolutely devastated when the Gaineses announced they were canceling their hit home renovation show on HGTV. They didn't say it at the time, but Chip and Joanna were also nervous that their decision would mean the end of their newfound careers. As it turned out, they had nothing to worry about — just shy of two years after the last episode of Fixer Upper, this couple is more famous than ever.
The couple decided to stop filming to focus more on their family. "We gave everything we had to this show — the beautiful homes and those sweet families — but this just felt like the right time to catch our breath for a bit," Joanna said during an interview with People.
Network executives assumed the Gaineses wanted more money
The story of wanting to focus on family sounded good on the surface. But rumors began circulating that Chip and Joanna were secretly feuding with the network over contract negotiations gone sour. They assumed that the popular hosts wanted more money. And they weren't the only ones.
David Zaslav, CEO of HGTV's parent company Scripps Network, had the same suspicions. "Like everyone, he initially thought more money. 'What's the talent agreement?'" Chip explained during an interview with Inc. "And we were like, 'You know, none of those things are what we're interested in debating.'"
Zaslav came up with the idea for Magnolia Network
There was no way HGTV was letting Chip and Jo go without a fight. During their meeting, Zaslav took a tour of the Gaineses' retail outpost Magnolia Market and started asking pointed questions about what inspired them and what they wanted in the future. After going back to brainstorm with his team for a bit, Zaslav returned to Waco with a big proposition.
It was the network executive who came up with the idea of replacing DIY Network with a fresh, new creation. Joanna asked what Zaslav envisioned for programming, and he immediately put the ball back in her court. The CEO replied, "The question is, what do you want?"
Magnolia Network won't be 'Fixer Upper' 2.0
Fans are eager to see what's in store on the new Magnolia Network, which is currently scheduled to launch in October 2020. But one thing it won't have is an exact replica of the former hit, Fixer Upper.
In fact, none of the confirmed shows have anything to do with home renovations. Home on the Road is a docuseries following Chip and Joanna's favorite band, Johnnyswim, as they navigate life on tour as a band and two small kids. Joanna is also hosting an as-yet-unnamed cooking show. The most recently announced show, Growing Floret, focuses on organic farming.
We can't wait to see what Magnolia Network shapes into.