Some Fans Think This Is the Reason Why BTS Featured J-Hope on 'Outro: Ego'
You're his hope, he's your hope. Why is J-Hope the featured rapper for BTS' recently released music video "Outro: Ego?" Is there a reason behind choosing each rapper for their respective song? Here are some fan theories surrounding the comeback trailers of the Map of the Soul era and the upcoming album, Map of the Soul: 7.
BTS released their second comeback trailer for 'Map of the Soul: 7,' entitled 'Outro: Ego'
Hot off of their performance of "Black Swan" on The Late Late Show with James Corden, this K-pop group is back with another look into their upcoming album, Map of the Soul: 7. On Feb. 3 (or Feb. 2 in the United States,) "Outro: Ego" premiered, complete with colorful imagery and the rapping of J-Hope.
The first BTS comeback trailer released during 2020, "Interlude: Shadow," featured rapper Suga. Each BTS member performed on the song "Black Swan," while only J-Hope rapped on "Outro: Ego." However, some fans believe these stylistic choices were intentional.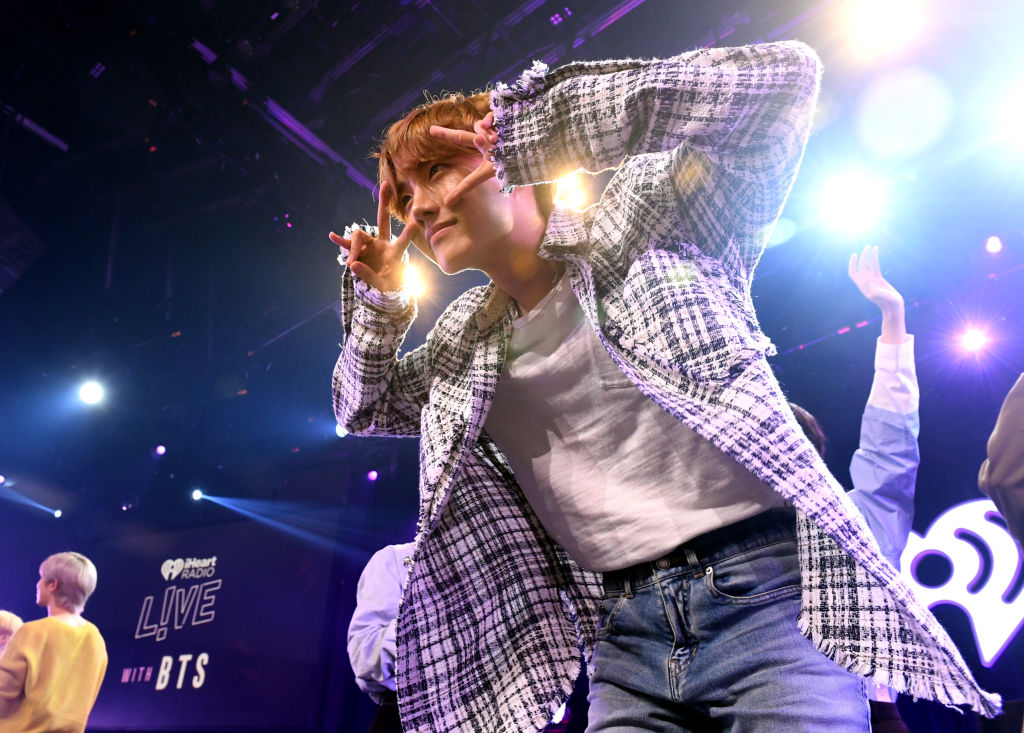 J-Hope has the spotlight on this song, rapping this peek into 'Map of the Soul: 7'
As the second "Comeback Trailer" released by BTS, "Outro: Ego" shares similar themes of other songs off of Map of the Soul: 7. Complimenting Suga's "Interlude: Shadow," and the art film for "Black Swan," this song touches on growing up as an artist and finding happiness as a creative person.
At the same time, there are some obvious differences between the color palettes of J-Hope and Suga's comeback trailers. While "Outro: Ego" is bursting with color and even a picture of the artist holding a cake, Suga's is a darker and intimate look into his relationship with fame and with himself.
Why is J-Hope the rapper for BTS' 'Map of the Soul: 7' song, 'Outro: Ego'?
There are plenty of shoutouts to the BTS army in "Outro: Ego," in addition to references to historical figures, and images from J-Hope's past. But what does it all mean and why is J-Hope the rapper behind this song?
Although BTS and BigHit Entertainment have not yet specified why each rapper has their respective songs, some fans believe the meaning lies in the lyrics, and the music videos, for each comeback trailer.
"Not only do Persona, Shadow, [and] Ego perfectly reflect the distinct rap styles of each boy, but also the way their minds process things: Namjoon as introspective and inquisitive, Yoongi as honest and resilient, Hoseok as focused and hopeful," one Twitter user said.
"Hobi just nailed it. And persona shadow and ego are just simply relatable to their own nature. 'Persona' RM leadership, 'Shadow' Suga seriousness and genius, 'Ego' J-hope cheerful yet perfect. I'm having [a] gut feeling that the album is simply gonna make us go crazy," another Twitter user wrote.
Presumably, more details regarding the upcoming album will be revealed within the coming weeks. Map of the Soul: 7 premieres on Feb. 21, 2020. Until then, fans can stream "Outro: Ego" on YouTube, and other BTS albums on music platforms like Spotify and Apple Music.