Why Isn't Jack Brooksbank a Duke? Everything We Know About His Official Royal Title
Jack Brooksbank is officially a member of the British royal family. However, his title says otherwise. On October 12, 2018, Princess Eugenie married her longtime commoner beau at St. George's Chapel on the ground of Windsor Castle. But, unlike other married royal men, Jack Brooksbank did not become a duke upon marriage. Despite marrying a princess — and Queen Elizabeth II's granddaughter — the new royal's name lacks an official royal title.
Ahead, we take a closer look at Jack Brooksbank's royal title, including why he did not receive one upon marriage and how his name could change in the future.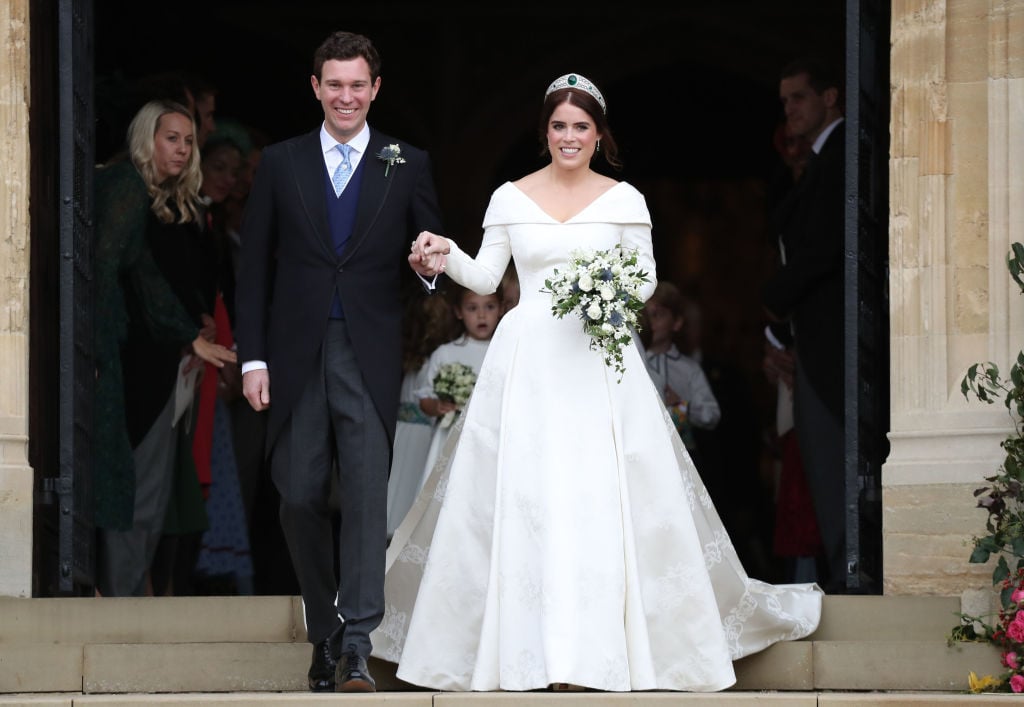 Jack Brooksbank's royal title
In the months leading up to the royal wedding of Princess Eugenie and Jack Brooksbank, many thought the commoner-turned-royal would receive an official title, and possibly a dukedom. However, that was not the case.
When it comes to royal dukedoms, only the sons and grandsons of the monarch receive such honors. In the British royal family, a dukedom is the highest ranking title one can receive — even more so than prince or princess. And, some dukedoms — such as Duke of Cornwall, a title reserved only for the heir apparent — are even more prominent than others. Dukedoms are given to a monarch's sons and grandsons upon marriage or majority.
With that in mind, Jack Brooksbank didn't qualify for a dukedom. But, despite that, the queen could have granted him a different title and ranking instead. But, many suspect that since Princess Eugenie isn't a full-time member of royalty (and therefore Jack Brooksbank isn't either), there was no reason for an official title. After all, the two are less likely to represent the royal family on royal tours, engagements, and so on.
Will Jack Brooksbank be given a title?
Should their position in the royal family change, the queen — or Prince Charles, if he is monarch by then — could still grant Jack Brooksbank a royal title. Case in point: Much like Jack Brooksbank, Princess Anne's second husband, Timothy Laurence did not receive peerage upon marriage to the Princess Royal in 1992. Instead, Queen Elizabeth II knighted him in June 2011. He is known as Knight Commander of the Royal Victorian Order. And, as a result, he uses "Sir" in his name to showcase his ranking.
If the queen or Prince Charles decides to knight Jack Brooksbank, he would then go by Sir Jack Brooksbank. That said, he doesn't have to be knighted to receive an official royal title. In addition to dukes and knights, other British peerages include earls, viscounts, barons, and marquesses.
Princess Eugenie's royal title
Before marrying Jack Brooksbank, Princess Eugenie was Princess Eugenie of York. Including York in her royal title is a direct indication to her parents, Prince Andrew (Duke of York) and Sarah Ferguson (Duchess of York). Now that she is a married woman, Eugenie dropped her York status and simply goes by Princess Eugenie. That said, she could have changed her royal title to Lady Eugenie, or HRH Princess Eugenie, Mrs. Brooksbank.
Check out The Cheat Sheet on Facebook!