'Jack Ryan': Who Is Betty Gabriel, aka Elizabeth Wright in Season 3?
Betty Gabriel portrays Elizabeth Wright in Season 3 of John Krasinski's thrilling Amazon Prime Video series Jack Ryan. The talented actor has made a name for herself in the entertainment industry with her impressive performances in a variety of film, television, and stage productions. Here's a breakdown of her career and why she might look familiar. 
Betty Gabriel appeared in hit projects like 'Westworld' and 'Get Out' 
Gabriel was born on January 6, 1981, in Washington DC, and grew up in Pennsylvania and Maryland. She received her bachelor's degree in animal science from Iowa State University, studied modern dance in Chicago, and then went on to study theater at the prestigious Juilliard School in New York City.
After completing her education, Gabriel began her professional career on stage, performing in numerous theater productions in Chicago. She appeared in several popular projects early in her career, including Westworld and The Purge: Election Year. 
But Gabriel's breakthrough role came in 2017, with Jordan Peele's critically acclaimed horror film Get Out. The actor gained widespread recognition and praise for her portrayal of the character Georgina.
In 2020, Gabriel appeared in the Apple TV drama Defending Jacob opposite Chris Evans. And in 2021, she starred in the Netflix series, Clickbait.
Betty Gabriel didn't watch 'Jack Ryan' until she joined the cast of Season 3
In Jack Ryan Season 3, Gabriel plays Elizabeth Wright, a former intelligence officer who has a complicated past with John Krasinski's titular hero. The actor admittedly wasn't familiar with the series before she landed the part. But after watching the first two installments, she felt proud to be a part of such a well-written project. 
"I thought, well, good, I'm glad that I'm joining a good, good show," she told Screen Rant. "And it's just great to have this long story form — I think what's great about the previous seasons as well is that you really have time to invest in all the different characters, and they really get fleshed out."
"You have the titular character, Jack Ryan, he does a great job," Gabriel continued. "And the creators and writers, they do a great job of creating an interwoven piece where everyone is integral to the story." 
Betty Gabriel found a fellow Juilliard alum in the 'Jack Ryan' Season 3 cast
In Jack Ryan Season 3, Gabriel filmed several scenes opposite series regular Wendell Pierce due to Elizabeth Wright's rivalry with his character James Greer. In her chat with Screen Rant, the 43-year-old revealed that she developed a great rapport with Pierce on set. And she recalled how the two found connections in their personal histories as well as their characters' stories.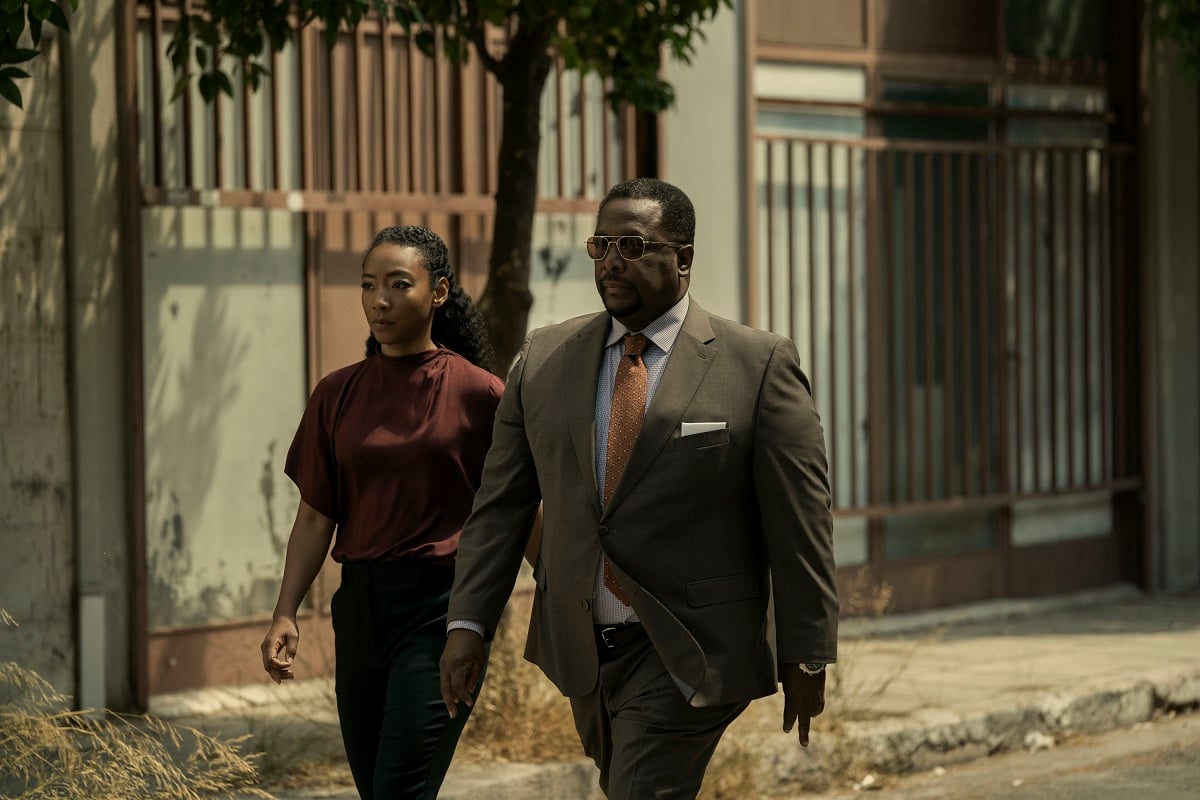 "I felt like we were similar creatures," Gabriel explained. "Both as actors and as the characters. We both went to the same school. We have the same alma mater, Juilliard, no big deal, and [laughs] name drop. So we had a lot [in common]. He had a lot of stories, I had some stories, we just really connected on that level."
"And the characters then connect on that level of being black folks in the CIA, which there aren't too many," she added.  "There's like a whole 'nother language, if you will, that they share… occupying that space. There is tension regardless, and there is this bit of mistrust, regardless. And so that always adds a fun dynamic, and there's just a great play that we have."