Jack White and the Party That Led Him to Mandatory Anger Management
Jack White is perhaps best known for being half of the band The White Stripes, which was immensely popular throughout the early 2000s
Jack White is perhaps best known for being half of the band The White Stripes, which was immensely popular throughout the early 2000s until their disbanding in 2011.  
After that lengthy and influential project, White went on to other music endeavors including a successful solo career. While White rose to fame through raw and emotional lyrics, the anger he expressed in his songs didn't seem to end when he left the studio. 
In fact, White once got involved in an altercation so intense that it landed him in anger management classes. 
Jack White and Meg White formed The White Stripes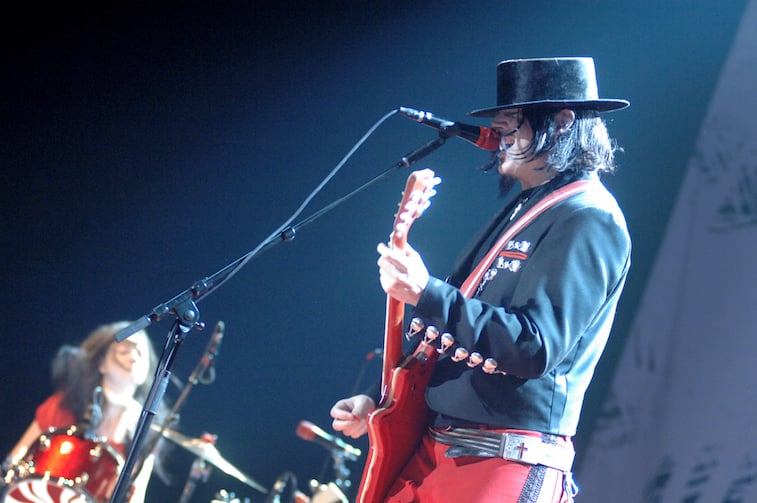 Jack and Meg White, who are both originally from Michigan, married in 1996. Bucking patriarchal tradition, Jack took his new wife's last name, and the two formed the band The White Stripes the next year. The mysterious duo claimed to be brother and sister to the media, but their marriage certificate and divorce certificate (from 2000) was later discovered by sleuthing reporters. 
The 2001 album White Blood Cells was a breakout release for the duo, and they quickly rose to fame. They also had a prodigious musical career, releasing several albums in quick succession. In 2007, the band went on hiatus as Meg White reportedly suffered from anxiety.
The band officially announced their breakup in 2011. In the meantime, Jack White had gone on to perform in several other musical groups including the Raconteurs and the Dead Weather.
Today, most of his work is through his solo career, which has produced critically acclaimed albums. 
Jack White earned a reputation for anger
In December of 2003 according to The Guardian, White got into a physical altercation with singer-guitarist Jason Stollsteimer of the musical group the Von Bondies. Stollsteimer called the attack "unprovoked" and painted a picture of White as unhinged and unstable.
White punched Stollsteimer several times in the face before being hauled off the fellow musician by fans. While White's lawyer claimed he acted in self-defense, only White faced charges stemming from the incident. 
The incident took place at a release party for another Detroit-area band, Blanche. The event was held at the Majestic Theater Center. In court, White confessed that he had confronted Stollsteimer about some negative comments the guitarist had made about White to the press.
When Stollsteimer ignored White's comments — a claim that fits Stollsteimer's version of the tale — White claimed to have spit at him, sparking a struggle that left both men on the floor. 
Jack White had to take anger management classes
After the fight with Stollsteimer, White pled guilty to assault and battery, according to Rolling Stone.
As a result, White was fined $500 and sentenced to court-appointed anger management classes. While White hasn't been involved in any fights quite as bloody or as headline-grabbing, it certainly doesn't seem like the classes took away his penchant for stirring up trouble. 
The fight went down in music history as one of the ugliest brawls, and it helped solidify White's reputation as someone who struggles to control his anger.
That wouldn't be the only incident that marred White's name. In addition to physical fighting, White has famously feuded with multiple people including a documentary filmmaker who aired a film with one of White's performances (shot with permission) before he thought it was ready and English guitarist Billy Childish who dared to tell GQ he wasn't a fan of White's music.
Other subjects of White's ire have included vegans, the Guinness Book of World Records, Lady Gaga, and his ex-wife and former partner Meg White. More recently, White has taken shots at the band The Black Keys. The band's drummer, Patrick Carney, claimed White tried to fight him in a New York City bar in 2015.