Jackie Warner From 'Work Out' Returns to Her Fitness Journey After an Injury
Fitness trainer and Bravolebrity Jackie Warner from Work Out returned to Instagram to tease about an upcoming fitness program and give fans an update on her health journey.
After four seasons of Work Out Warner tried another approach through Bravo with Thintervention with Jackie Warner in 2010. The show was met with flat reviews and Warner moved back into private life. She continued to train and work with clients, but ultimately sold her business, Sky Sport and Spa.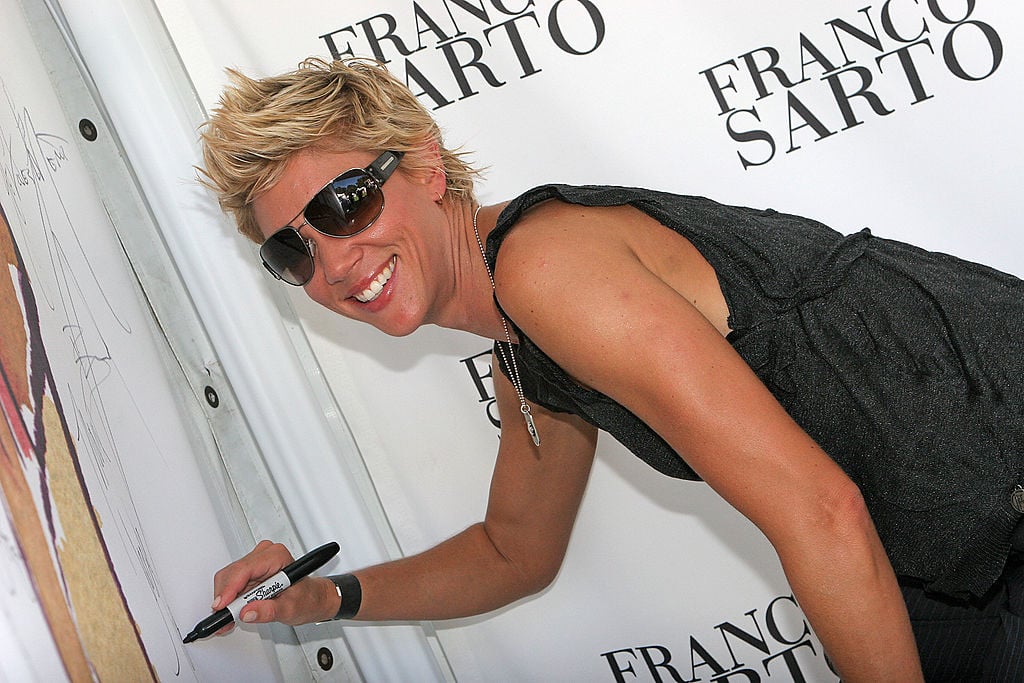 She shared with fans on her website that she was suddenly in a crisis. "To be honest, I felt a bit lost and started partying a lot. It felt like I was taking a few steps backward in life and I started making bad decisions," Bravo's The Daily Dish reports. Warner was also arrested for driving while under the influence of Ambien too. She's been living a few quiet, private life since, but recently offered an update and a new program to her fans.
She recently sustained an injury
Warner has candidly shared with fans that she's not at the pinnacle of fitness like she was when she was shooting Work Out. Like her clients, Warner has struggled with her weight in recent years. But she continues to work on health and wellness. Although she's been working out hard, she sustained a setback.
She wished her Instagram fans a happy holiday and offered an update. "So five months ago, I had an accident, a really bad accident where I broke my foot, tore two tendons," she said. "It totally derailed me from my workouts. Very demoralizing. But I'm healed now and for a month, I've been doing workouts every day for 20 minutes. And I've got a diet to share with you."
Warner adds the diet is free. "It's such a great, fantastic way to eat," she continues. "So I'll share that with you. And as of January 1, we're going to start a new program that I hope you start that one with me. And that's going to be putting on some muscle and getting really lean and losing fat." Warner said she's going to post daily along the way too.
She offers a jump start program
Warner includes an example of what she eats during a typical day to lose weight. "Hi guys!  I hope you all are having a wonderful holiday!  I want to give you all a sure fire weightloss diet that is so easy and so effective.  My average weightloss on this has been 4-5 lbs. per week," she commented along with her Instagram post. "This is a temporary diet high in fiber to jumpstart your metabolism and keep you satisfied.  Here it is.  Please try to eat all organic and free range."
She then shared what to eat. "Breakfast:  1 apple, 2 eggs, 1 small sausage," she said to begin. "Lunch:  bowl of my weightloss soup:  Veggie broth,  frozen spinach, yellow squash, red potatoes, red beans, chicken.  Cut up plenty of vegetables and cube 2 chicken breasts."
"Dinner:  1 piece of nutty, seedy whole grain bread.  8 oz of turkey meat ( about 4 slices) 6 baby carrots and 1 package of nature valley oats and honey bar. It's so easy to pack your lunch in a Tupperware bowl and take it with you. You can easily get these things at any market.  I prepare a large pot of soup that lasts about 10 days.  Don't forget to take a before and after pic!  Hope you enjoy."