Jaclyn Hill Critics Accuse Her of Faking an Alcohol Problem for Attention
Jaclyn Hill critics are back in full force. But, this time, it has nothing to do with her brand, Jaclyn Cosmetics. Instead, an Instagram post is at the root of the new criticism the 29-year-old is facing. On May 27, 2020, Hill took to her page to share a new photo with her 6.3 million fans. The seemingly innocuous photo featured Hill in a full face of makeup sporting a large Budweiser sweatshirt.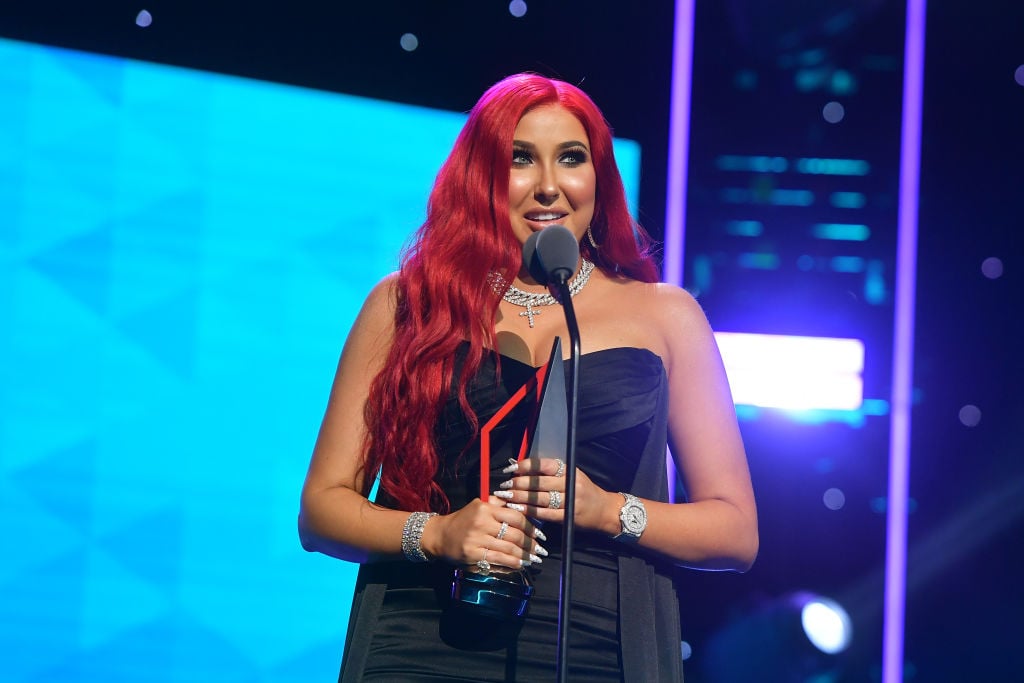 "Budweiser, but make it classy🍻 P.S if you zoom in you can see a hickey on my neck…so I should get extra points for being classy," Hill captioned the Instagram photo. Though the Instagram post quickly racked up nearly 200,000 likes, plenty of the comments were less than positive. Many people felt that Hill's post was hypocritical as she has been open about the fact that she was co-dependant on alcohol following the launch of Jaclyn Cosmetics.
Jaclyn Hill posted a YouTube video about her alcohol usage
"At the end of the day, to cope with my anxiety and my depression I turned to alcohol and started drinking to fix what I was feeling mentally," Hill shared in a YouTube video back in February. Since Hill posted that video, she has also made another video about snacks, also mentioning where she keeps her supply of alcohol in her home. Many of her critics (and even some of her fans) felt that Hill casually posting about alcohol was in poor taste and began to make their opinions known on her Instagram post.
"Love that you have a 'bad alcohol problem' yet wear sh*t like this and have booze in the background of your videos, 👀🙄" one person wrote in the comments. "Didn't she just make a video saying she had a problem with alcohol 🍺????" another person questioned, causing Hill to tell them to get off her page. "I love Jaclyn! But I said the same thing!!!! 🙄" another person chimed in. "'I have a serious alcohol problem', 'hey guiz look at my sick Budweiser shirt!'" yet another person declared, mocking Hill. "And don't forget all the alcohol in her pantry. what a joke!" someone else co-signed.
Critics on Instagram and Twitter accuse Hill of faking her alcohol problems
While some critics merely intimated that the makeup guru's alcohol problems were exaggerated and/or fabricated, others took a more direct approach. They argued that Hill never had a problem and simply faked it for attention. "Said it before and I'll say it again. #jaclynhill faked an alcohol problem for sympathy and attention. She should be ASHAMED of herself. People die from alcohol abuse-she just needed to 'cut down'. GTFO. Yeah-I said it. I'll keep saying it," one passionate critic wrote.
Naturally, Hill had plenty of fans come to her defense. They were quick to point out the wearing a shirt with alcohol on it doesn't equate to drinking it. Furthermore, they maintained that Hill has made it clear that she is not an alcoholic, she just had a dependency issue in the past. Others pointed out that Hill's relationship with alcohol was nobody's business but hers, despite her making a YouTube video about it.
The Jaclyn Cosmetics founder has made it clear she's not an alcoholic
"Her saying she turned to alcohol for a time to help cope with her anxiety and depression DOES NOT translate to her being an alcoholic or having a negative relationship with alcohol. Da*n y'all ask for her to open up and when she does you take the first opportunity to change her words and use them against her. If you hate her so much or just follow to be negative just delete yourself! Just like the picture and keep it moving damn, y'all are so aggravating!!!" one fan wrote.
Hill quickly shared the above response on her Instagram story. "Thank you for hearing me, 🙌🏼🎉💕" she wrote. Clearly, people have polarizing opinions about the 29-year-old and her alcohol consumption. But, there are far more important things to worry about that don't involve influencers or sweatshirts.