Jada Pinkett-Smith and 'Girls Trip' Co-Stars Are "All Down" To Do A Sequel But Want To Make Sure It's Done Right
Though Hall says everyone's on board to do a 'Girls Trip' sequel, they're holding out on it until the concept is something everyone will be proud of.
The Flossy Posse's back together again!
During the latest episode of Red Table Talk, Jada Pinkett Smith had a virtual reunion with her Girls Trip co-stars amid the coronavirus pandemic.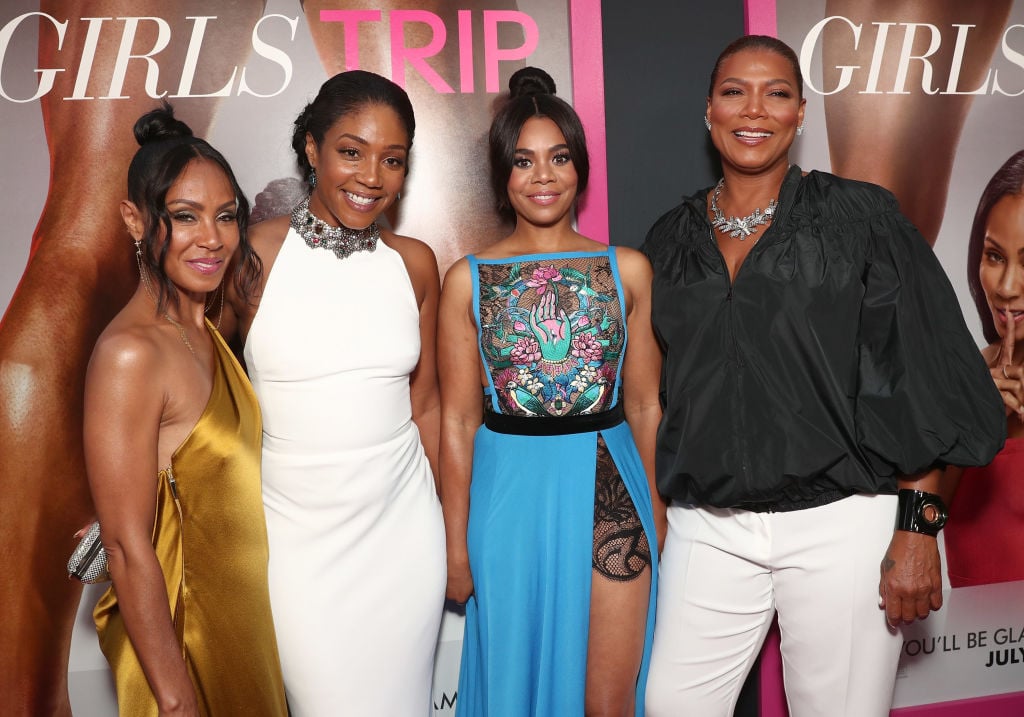 While having some lighthearted fun on the video call, the cast opened up about coming together for a real-life reunion on the big screen for Girls Trip 2, which is something they're all on board to do, but only if "the story is worthy of a sequel."
The actresses are looking forward to working together again
The Girls Trip cast just gave an update on a possible second film while coming together for a virtual meetup.
On a brand new episode of Red Table Talk on Facebook Watch, Pinkett Smith virtually reunited with her Girls Trip co-stars Regina Hall, Tiffany Haddish, and Queen Latifah, where they talked about everything from dating and celebrity crushes to their self-quarantining activities.
Later on in the episode, the cast revealed whether they're looking to reunite on the big screen for Girls Trip 2.
Though Hall says she and her castmates are on board to do a sequel, they're holding out on it until the concept is something everyone will be proud of.
"I think we're all down, we just want to make sure it's amazing," the actress said. "That it's the right thing and a great thing."
Ever since starring together in Girls Trip back in 2017, the women have been vocal about the possibility of a second film.
Back in 2019, Hall told Entertainment Tonight that she'd like to see the Flossy Posse reassemble for another crazy adventure, but explained that she and the cast didn't want the new film to be a flop.
"I think it's about the timing and also everyone wants to make sure that the story's worthy of a sequel," she said. "We don't want y'all talking about us 'cause then y'all will be like, 'Why'd they do a second one? They should have just left it alone.'"
She added, "I know that they are trying really hard to come up with the perfect idea."
The cast has been meeting regularly to discuss making the sequel
Despite Girls Trip being a box office success — grossing $140 million worldwide, with over $100 million in the U.S. alone — Universal Studios has pressed back on giving a sequel the green light.
While the studio considered making a second film, Haddish recently revealed that they're holding off on doing so because of the casts' salary demands.
"Then it was like, 'Oh, you guys want too much money,'" she explained to The Huffington Post in March 2020.
The actress reportedly said that she made around $80,000 for the first film (and she's definitely worth a lot more than that now).
Though the studio is stalling a sequel, Haddish revealed that Tracy Oliver, who co-wrote the script for the first film with Kenya Barris, has a treatment ready to go.
She also shared that the cast regularly comes together, via Zoom, to discuss possible angles for a sequel and even agreed to write a script together.
"We might decide not to even make it Girls Trip," Haddish said. "Maybe we'll do a different story just in case no one wants to make Girls Trip 2."
It sounds like the cast could be cooking up something great for a Girl Trip sequel, and hopefully, they'll get this film going sometime soon.