Jada Pinkett Smith and Her Mom Originally Created 'Red Table Talk' for Willow Smith
While 'Red Table Talk' has become the kind of space where A-listers can feel comfortable laying their emotions on the table and speaking their truth, this actually wasn't the vision Pinkett Smith had for the show at first.
For the past two years, Jada Pinkett Smith, her mother Adrienne Banfield-Norris (aka Gammy), and her daughter, Willow Smith, have been hosting Red Table Talk, a raw and unfiltered Facebook Watch series that tackles real-life issues and delicate topics.
While the series has become the kind of space where A-listers can feel comfortable laying their emotions on the table and speaking their truth, this actually wasn't the vision Pinkett Smith had for the show at first. Instead, Pinkett Smith and her mother created the series to be open and honest with one person in mind: Willow.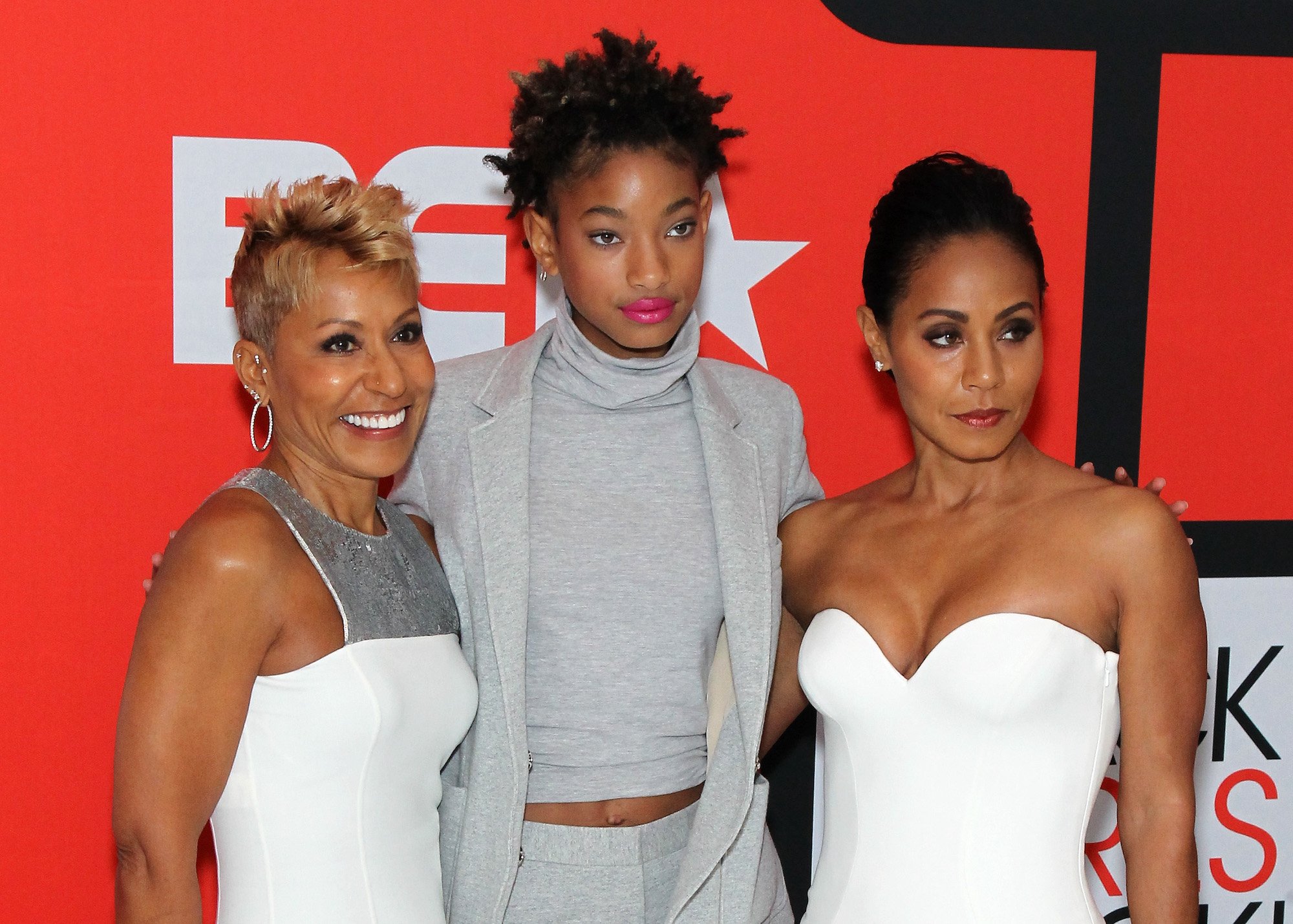 Jada Pinkett Smith initially started 'Red Table Talk' to create a safe space for Willow Smith
The first episode of Facebook Watch's Red Table Talk may have kicked off in 2018, but Pinkett Smith was having candid conversations with her mom and daughter long before their hit show debuted.
Prior to hosting their virtual discussions every week on Facebook, the three generations of women would sit down together in their home so that Willow Smith could learn more about mother-daughter relationships from her mom and Gammy.
"Willow had been asking questions," Banfield-Norris explained to The New York Times in March 2020. "And it dawned on Jada that there's a lot of things that Willow just doesn't know about us."
One day, Pinkett Smith, Willow, and Banfield-Norris sat down at their red kitchen table and held a candid conversation, which the Set It Off actor decided to record.
That first video was posted to YouTube in June 2013. Not only did it garner upwards of 31,000 views, but it also sparked an idea for Pinkett Smith. 
The actor realized that there was a void for candid and unfiltered conversations, one that could be filled with the Smiths' willingness to delve into tough subjects while offering multi-generational perspectives. 
"We just wanted to create a safe space," Pinkett Smith told The Hollywood Reporter in 2018. "Times are changing so fast, a lot of beliefs that we have built foundations upon are changing and deteriorating, and we're having to replace them with new thoughts, new ideas, new beliefs, regarding how the world is changing."
"Now, as women, it seems as though we're having more freedoms now more than ever, and it's like, 'What do we do with them?'" she continued. "To just create a safe space at the red table where we really can have real, raw, unfiltered conversations about what's changing, and how those changes are affecting us and the process that we're going through in order to deal with those changes."
'Red Table Talk' is now a place for celebrities to unburden themselves
Five years after sharing their real-talk conversation on YouTube, Pinkett Smith, Banfield-Norris, and Willow Smith's first Red Table Talk episode premiered.
The episode tackled the topic of motherhood and blended families. Will Smith's ex-wife, Sheree Zampino, even joined them for the intimate conversation.
After that, Red Table Talk began dominating Facebook Watch as millions of viewers would tune in each week to watch the three women discuss delicate topics.
Eventually, the show became the destination for celebrities to speak their piece and receive a healthy dose of understanding and tough love following controversial scandals.
From Jordyn Woods to Olivia Jade Giannulli, the Smiths have allowed anyone who has found themselves engulfed in public scandals or controversies to give their side of the story and bare their emotions freely.
But speaking about celebrity scandals isn't the only thing the Smiths discuss on their show.
The three women have also hosted episodes about child abuse, infidelity, racism, addiction, and more. 
Red Table Talk has been acclaimed by critics and has been nominated for many awards, including a Daytime Emmy. It even won an NAACP Image Award in 2019.
As you can see, Red Table Talk has come a long way since it debuted in 2018. And to think, this series probably wouldn't be the hit show it is today if it wasn't for Pinkett Smith wanting to create a safe space for her daughter.