Jada Pinkett Smith's Son Jaden Smith Was 'In Tears' Because of This Painful Movie Experience
Jada Pinkett Smith's son Jaden Smith found the demands of training for one of his movies to be almost unbearable. When he was "in tears" during training, Pinkett Smith wanted to step in and shut things down, but he insisted he wanted to carry on. The situation made things very tense between Pinkett Smith and her husband, Will Smith.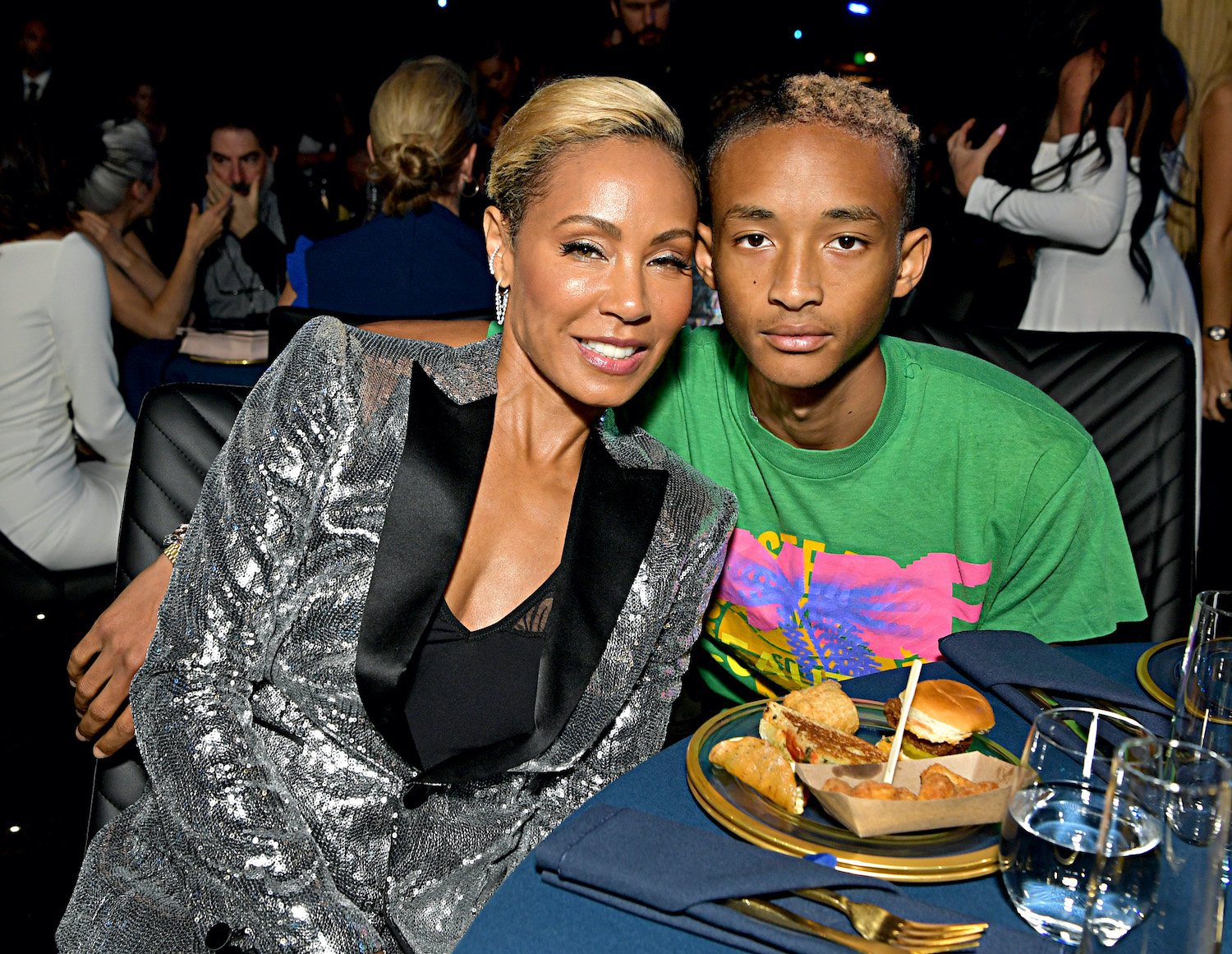 Jaden Smith was put through a lot physically for one movie role
During a 2018 discussion on Red Table Talk, Pinkett Smith recalled how Jaden's training for the 2010 film The Karate Kid was super intensive and that she and Will found it a "struggle."
"I remember being on set with Will and it was such a struggle between he and I in regards to Jaden," she explained. "And I understand why men take their sons away for like whatever kind of warrior training, because it is completely, utterly, unfair and unnatural for a woman to have to sit and watch anything like that for her son."
"Will and I were in constant conflict, to the point that we were warring over Jaden," she added.
RELATED: Jada Pinkett Smith Revealed Why She Was Always Harder on Willow Than Jaden Smith
Jada Pinkett Smith's son was in tears
Pinkett Smith recalled how her son was "in tears" while doing a split for the movie and, as a mom, it didn't sit well with her.
"I was like, 'I'm done' and he looked at me, he's like, 'Mom, I'm good.' He got up and he said, 'Let's do it again,'" she shared.
"Even in those battles that we've had over what's too much, what's too little, trying to find the balance in regards to parenting," Pinkett Smith continued. "I'll tell you one thing about the two of you all," she said about her children. "You all know how to work, you all work hard, and you all do it well and I'm proud of that."
Will Smith on Jaden Smith: why hard lessons are important
During a 2010 episode of The Oprah Winfrey Show, Pinkett Smith and Will Smith talked about parenting and Jada shed a little bit of light on how it was working with Will when they were executive producers on The Karate Kid.
"This was the first time that Will and I worked so closely together in a very intense way," Jada shared. "I think we got over some huge hurdles because we're very different creatures creatively."
"In us doing this movie together, we realized what our strengths and our weaknesses are and in which areas we can depend on each other," she continued.
The two had very different views on their son starring in the movie. For Will, he believed he was teaching his son "how to hunt" by facing the challenges of such a demanding role.
Jada didn't see it that way, however, explaining, "Because, as a mother, it is an excruciating thing to have to watch and I'm telling you that mother instinct kicks in."
"My priority is Jaden … because it's a balance," she noted. "I tell Will, listen, I understand that there are certain things that you're trying to put in, but at the end of the day, he's 11…"
Will shared that, even at age 11, he thought his son should have an experience that would test his limits.
"I feel like greatness lives on the edge of destruction," Will explained. "The reason that someone is great, is because they survived death. That's what made you great. You were almost over. That was it."
He continued, "In the face of destruction, you pounded on your chest and put your arms up and said, 'I'm still standing, bring it.'"
Oprah wasn't convinced that this sort of approach works for a child, however.
"11 is where you really learn it — you can't do it when somebody's 22," Will shared. "11 is when he just learns that he doesn't break. He learns he's not breakable."