Jada Pinkett Smith's Mother Didn't Want Olivia Jade on 'Red Table Talk': Why She 'Fought It Tooth and Nail'
Olivia Jade Giannulli sat down with Jada Pinkett Smith, Willow Smith, and Adrienne Banfield-Norris for a Red Table Talk discussion about her parents' involvement in the 2019 college admissions scandal. Jada's mother Adrienne made it quite clear that she didn't want Olivia on the show.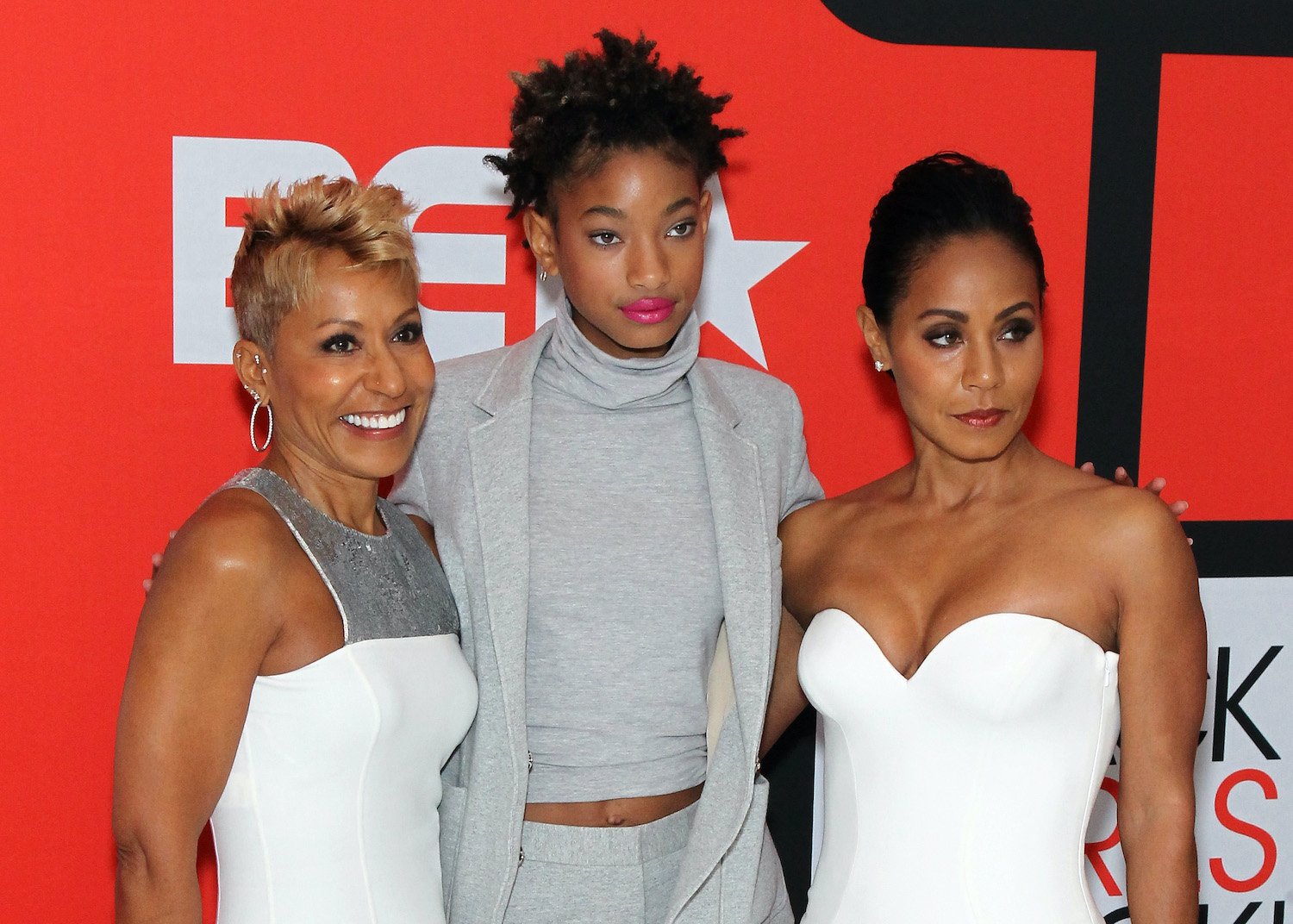 Jada Pinkett Smith's mom fought about Olivia Jade being on 'Red Table Talk'
At the start of the show, Jada discussed how Olivia requested a seat at the table to discuss the college admissions scandal and what she learned after her parents were sent to prison for their involvement.
Adrienne wasn't on board with having Olivia as a guest, however, and made her thoughts about bringing the influencer on the show abundantly clear.
"I fought it tooth and nail," Adrienne explained during the Dec. 8 episode of Red Table Talk. "I just found it really ironic that she chose three Black women to reach out to for her redemption story. I feel like here we are, white woman coming to Black women for support when we don't get the same from them."
She continued, "It's bothersome to me on so many levels. Her being here is the epitome of white privilege to me."
Jada explained her reasons for having Olivia as a guest, noting, "Let me just be clear, I never want to be the thing that was done to me by white women— I never want to be that."
She continued, "I also believe that these are the kind of attitudes that feed the same thing that we're fighting. It's like, people look at us, they say you're Black and you're female and they automatically put us in a category. So looking at her as being white, young, and privileged. And then putting her in a category, it's the same thing. So I just see it as this cycle."
Jada said she related to the situation as well, explaining how it reminded her of her own children, something that Adrienne didn't see at all.
"This young girl is reaping the repercussions of some actions of her parents. When I heard her story, it just reminded me of Jaden, Willow, and Trey," Jada said. "As a parent, I'm like, I've been in that position with me thinking I know what's best for my kids. And then they suffer the consequence of it."
While Jada was willing to hear Olivia out, Adrienne was very honest about her opinion. "It's not our responsibility to raise her consciousness," she explained. "At the end of the day, I really feel like she's gonna be OK. She's gonna recover, whether her a*s was sitting at this table or not."
RELATED: Lori Loughlin's Daughters Olivia Jade and Isabella Giannulli Drop Out of USC
Gammy's face said it all — and she didn't hold back
During the sit-down with Olivia, where she explained how the bubble of privilege she's lived in her whole life didn't make her parents' crime initially seem obvious to her, Adrienne didn't hold back. Whether she put her thoughts into words or gave a side eye or judgy look, it was clear that Gammy (as she's known in the Smith family) was not on board with their guest.
At one point, she told Olivia that, given the state of things in the world, she didn't have the energy to care about a privileged influencer.
"I think, for me it's like, there is so much violent dehumanization that the Black community has to go through on a daily basis … there is so much devastation, particularly this year, 2020 … there's so much inequality and inequity, that when you come to the table with something like this, 'child, please.' I'm exhausted," Adrienne explained.
She continued, "I'm exhausted with everything that we have to deal with as a community and I just don't have the energy to put into the fact that you lost your endorsements. Or you're not in school right now. Because at the end of the day, you're going to be OK. Your parents are going to go in and they're going to do their 60 days and they're going to pay their fine and you guys will go on and you'll be OK and you will live your life."
"And there are so many of us that it is not going to be that situation," she added. "It just makes it very difficult right now for me to care, in this atmosphere that we are in right now."