Jake Gyllenhaal and the 'Ambulance' Cast Reveal Their Favorite Michael Bay Movies
'Ambulance' co-stars Jake Gyllenhaal, Eiza González, and Yahya Abdul-Mateen II weight on on their favorite Michael Bay movies.
Michael Bay is an iconic Hollywood director known for making blockbuster action movies. The stars of his latest release, Ambulance — Jake Gyllenhaal, Yahya Abdul-Mateen II, and Eiza González — recently weighed in on the filmmaker's larger body of work. Here's what the actors say are their favorite Michael Bay films. 
The 'Ambulance' cast includes Jake Gyllenhaal and Yahya Abdul-Mateen II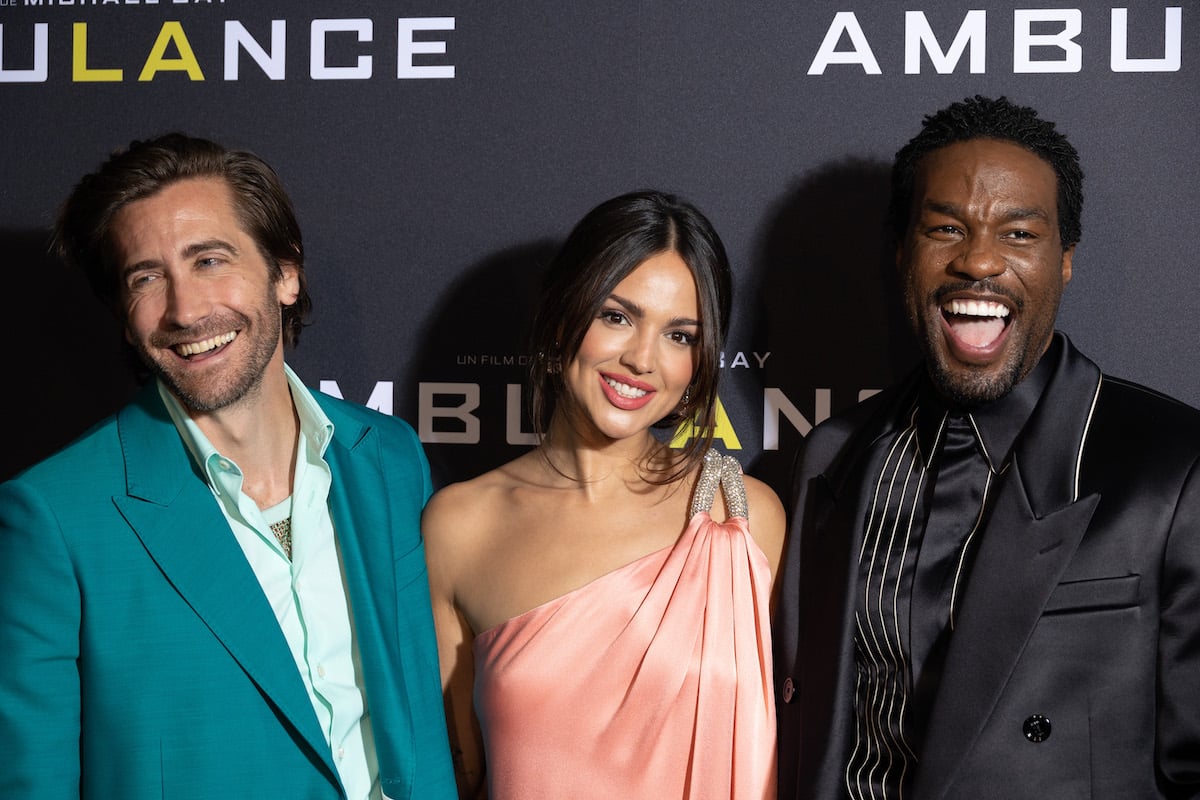 Ambulance is a thrilling new heist movie that tells the story of adopted brothers Danny Sharp (Jake Gyllenhaal) and Will Sharp (Yahya Abdul-Mateen II). When war veteran Will needs money for his wife's surgery, he joins his criminal brother in a $32 million bank robbery. 
But when an officer is accidentally shot, the brothers hijack an ambulance to save him. And as they zoom through the streets of Los Angeles, the two soon realize they have more than just cops on their tail. 
Director Michael Bay made Ambulance at a fraction of the cost of his bigger projects, running in the hundreds of millions. But since its April 8 release, the picture has earned over $30 million at the box office. It's also Bay's highest-rated movie on Rotten Tomatoes. 
Jake Gyllenhaal reveals his favorite Michael Bay movie 
Gyllenhaal has worked with several award-winning directors over the years. But the actor is a huge fan of Michael Bay's movies. And he revealed his favorite is The Rock. 
The 1996 Academy Award-nominated film stars Nicholas Cage and Sean Connery. But Gyllenhaal suggests Ed Harris' performance as Brigadier General Francis Hummel is what blew him away. 
"For me, it's always a toss-up in every movie if Ed Harris is in it," Gyllenhaal tells Variety. "I kind of always want to be Ed Harris. It's really just wanting to be as good of an actor as Ed Harris."
Yahya Abdul-Mateen II wants to be the 3rd star in 'Bad Boys' 
Talking about his favorite Michael Bay film, Abdul-Mateen praises the filmmaker's first feature, Bad Boys. The director helmed the 1995 movie and its 2003 sequel. And Abdul-Mateen admits he would have loved to have appeared in both films as a third main character, opposite Will Smith and Martin Lawrence. 
"I would want to be the third wheel," Abdul-Mateen tells Variety. "I would completely mess up the chemistry because they would be like, 'Who is this dude in the backseat?'"
But Bad Boys isn't only Abdul-Mateen's favorite. According to Bay, it's also one of the director's picks. 
"I loved being three punk kids — me, Will Smith, and Martin Lawrence — in Miami doing a movie the studio didn't even have faith in," Bay says. "They were so hard on us. Literally, when Will's acting, at 12 hours, the lights would shut off in the middle of a take."
Eiza González's favorite Michael Bay movie is much more recent
Ambulance star Eiza González — who plays EMT Cam Thompson —  tells Variety her favorite Michael Bay movie is the 2016 war drama 13 Hours: The Secret Soldiers of Benghazi. After pointing out the filmmaker's relatively small budgets for 13 Hours ($50 million) and Ambulance ($40 million), she praises him for staying true to his craft. 
"I always say Michael Bay thrives on low-budget," González tells Variety. "That's the best Michael Bay. I just love it because he really needs to rely on the performances and characters and really building things out of nothing. It adds such intense adrenaline."