Jake Gyllenhaal Once Revealed How Heath Ledger Hated 'Brokeback Mountain' Jokes
While filming 'Brokeback Mountain,' Heath Ledger didn't take too kindly when cast and crew started poking fun at the movie on set.
Brokeback Mountain was a huge film for both Heath Ledger and Jake Gyllenhaal. The film was nominated for several academy awards, with many praising Gyllenhaal's and Ledger's performances. Despite its accolades, however, there were some jokes made about the film that caught Ledger's attention. Needless to say, the humor didn't sit right with the actor.
Jake Gyllenhaal revealed that Heath Ledger hated jokes about 'Brokeback Mountain'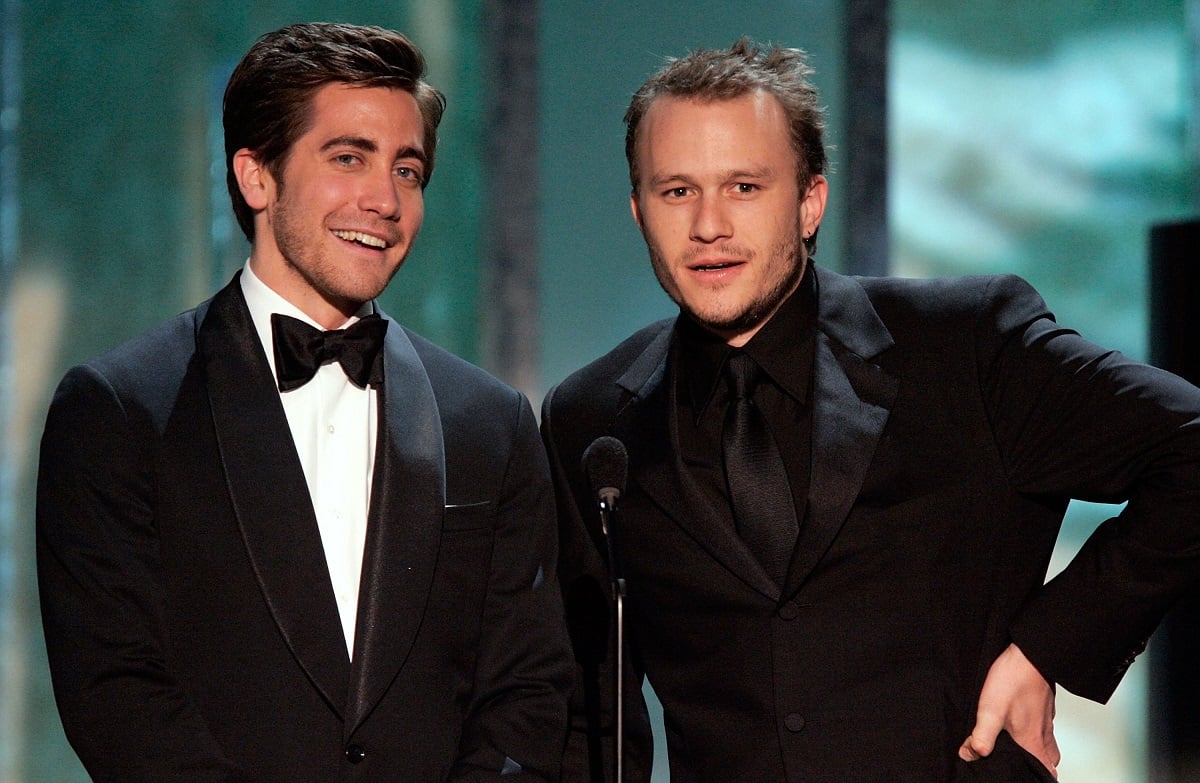 Brokeback Mountain was an important film for all involved, but especially so for Ledger and Gyllenhaal. As many know, the film was a romantic drama about two cowboys who fell in love with each other. In a resurfaced interview with Out, Gyllenhaal explained how one of the film's most powerful lines resonated with everyone involved.
"That line ['I don't know how to quit you'] has moved, it has been mocked, it has been everything in between, but I remember coming out of that scene, off that ridge of the hill, and seeing a number of the crew, some of whom didn't even know what the movie was about, crying," Gyllenhaal shared.
But at the time, even Gyllenhaal didn't really see the significance of the line.
"When I first read that line, I was like, 'What is that?' Now I realize that anybody who has loved knows what that feels like," he further elaborated. "The interesting part of casting us at such a young age was that we didn't completely understand what we were involved in, and that's the beauty of the movie as well."
But when people turned that line into a joke, The Dark Knight star couldn't help but be upset about it.
"He was extraordinarily serious about the political issues surrounding the movie when it came out," he said. "A lot of times people would want to have fun and joke about it, and he was vehement about being serious, to the point where he didn't really want to hear about anything that was being made fun of."
Heath Ledger didn't want to present at the Oscars after learning 'Brokeback Mountain' would be made fun of
Heath Ledger's passion for Brokeback Mountain ran so deep that he wouldn't even allow the Oscars to joke about it. The academy came up with an idea for an opening that involved the Ang Lee film. Although Gyllenhaal didn't mind it, Ledger wanted no parts of it.
"I mean, I remember they wanted to do an opening for the Academy Awards that year that was sort of joking about it," Gyllenhaal told Another Man. "And Heath refused. I was sort of at the time, 'Oh, okay… whatever.' I'm always like: it's all in good fun. And Heath said, 'It's not a joke to me – I don't want to make any jokes about it.'"
How Heath Ledger almost broke Jake Gyllenhaal's nose during a kissing scene
At one point in the film, the two actors were so rough with each other that it nearly caused the Far From Home actor a serious injury.
"Heath almost broke my nose in a kissing scene. He grabs me and he slams me up against the wall and kisses me," Gyllenhaal once said according to Digital Spy. "And then I grab him and I slam him up against the wall and I kiss him. And we were doing take after take after take. I got the s*** beat out of me."