Jameela Jamil Defends Billie Eilish Amid Backlash: 'She Isn't a Puppet'
Billie Eilish received both praise and negativity for a May 2021 cover shoot. Learn why and how actor Jameela Jamil went to bat for the young singer.
Singer Billie Eilish faced a steady stream of commentary following a 2021 magazine cover spread debuting a style unlike that of past shoots. But for the many detractors, there were plenty more supporting the young artist. Here's what The Good Place star Jameela Jamil said about Eilish.
Billie Eilish began her career as a teenager
Eilish started dabbling in music from a young age, encouraged by her industry-employed parents to delve into entertainment. She released her first song, "Ocean Eyes," commercially in 2016, at just 14 years old. She signed with Interscope Records that year, putting out her debut EP, Don't Smile at Me, in 2017.
In 2018 and 2019, Eilish's career really took off. With her debut LP, When We All Fall Asleep, Where Do We Go?, she broke numerous music-related records. In 2020, she swept the Grammys' main categories — including Album of the Year — becoming the youngest person ever to do so.
She wore baggy clothing for most of her public life
Eilish's style has drawn nearly as much attention as her music over the years. "I just like dressing out of my comfort zone," she told Harper's Bazaar in 2017. "I want to dress in a way that if I was in a room full of people wearing regular clothes, I would be like, 'Oh, I bet everyone's looking at me.' I want to feel that way. That's my casual."
The singer's baggy clothes and signature green-and-black hair marked her latest "era," or album cycle. This continued with her rare 2020 appearances. But she began to experiment a bit during this time. Then, at the 2021 Grammys, some of her fans suspected she was wearing a wig to cover up a new look.
Eilish debuted a new look in 2021
As it turns out, they were right. Eilish debuted her blonde hair in March 2021, a few months after her 19th birthday. She shared photos in more tight-fitting garments. For British Vogue's June 2021 cover, released in early May, she did a photoshoot in silky corsets and lingerie — again, a significant change from her past look.
"The more the internet and the world care about somebody that's doing something they're not used to, they put it on such a high pedestal that then it's even worse," Eilish told the publication. "My thing is that I can do whatever I want," she continued, adding, "It's all about what makes you feel good."
Jameela Jamil stood up for Eilish's decision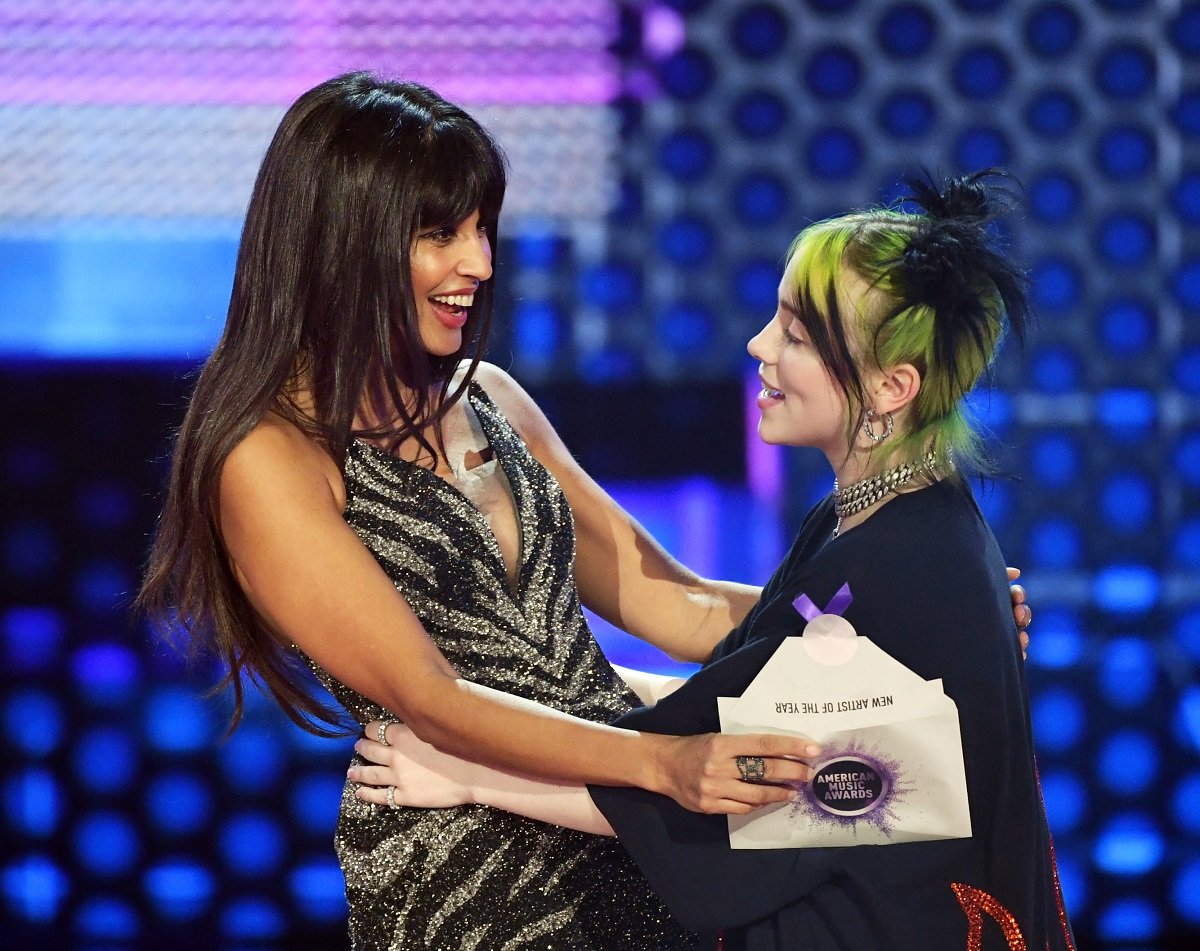 As Eilish herself predicted, there was backlash to her cover shoot. Jamil tweeted a headline from the U.K. tabloid The Daily Mail, which indicated that Eilish was a "sell out" who previously vowed to "hide her body." "You can't sell out when you've already OUTSOLD the entire planet," Jamil shot back, deeming Eilish "an icon."
The actor and activist continued on Instagram. "She was a minor who wanted to cover up before. She didn't want to be judged and sexualized as a child." Jamil added, "She isn't a puppet and never has been and she doesn't exist in any box." She finished, "A 19-year-old wearing tight clothes isn't a scandal unless you hate women."