James Brown's Last Wife Was a Janis Joplin Impersonator
James Brown was a legend, a shining star in the history of music. His incredible energy, vast vocal range, and fantastic dance moves inspired generations of other amazing musicians to follow in his footsteps. 
Unfortunately, Brown's personal life was not as great as his professional career. He had four failed marriages that were marred with abuse allegations. Brown met most of his wives in the entertainment industry–one was even a professional impersonator of a rock and roll icon.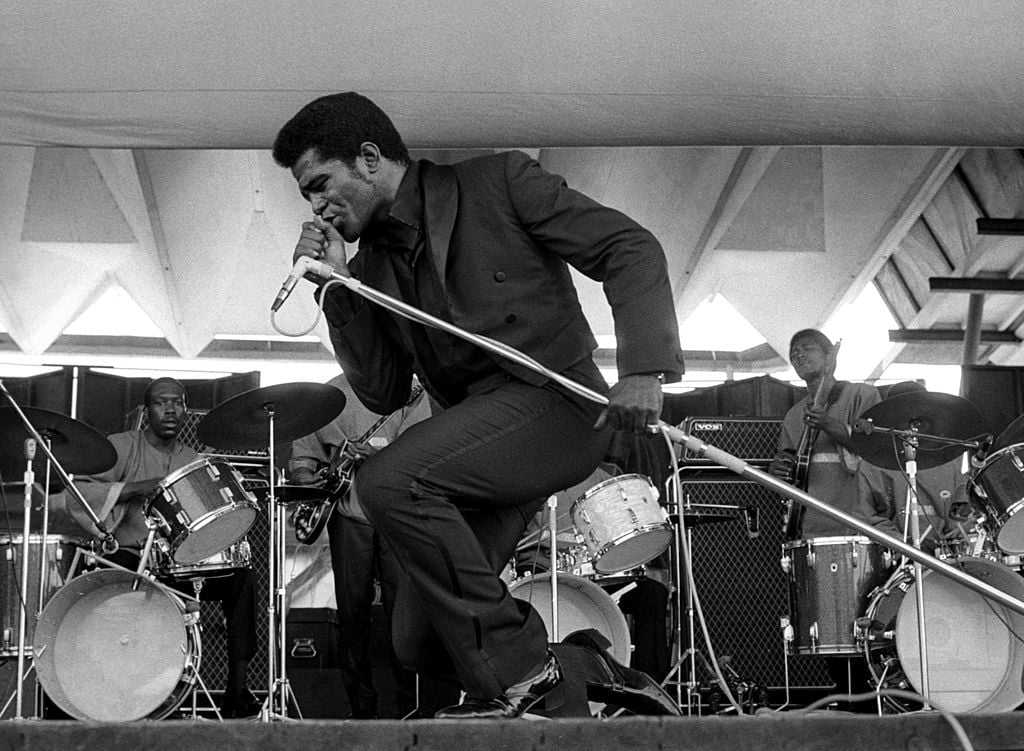 James Brown: One of the most influential entertainers in history
According to Britannica, James Brown was born in South Carolina in 1933. His parents divorced when he was five years old, and he went to live with his aunt in Georgia. He came from a poor family, and had so little that he was once sent home from school for "insufficient clothing." 
As a child, Brown learned a lot about music from his neighbors, who taught him to play the guitar, piano, and drums. He was always a natural entertainer, singing gospel music at church and participating in talent shows. However, his real passion was sports, and he was interested in becoming a professional baseball player or boxer. 
When Brown was 15 years old, he was arrested for breaking into cars. He served three years of an 8-16 year sentence and was released for good behavior. He formed a gospel group while in reform school–the group was so good that Little Richard's manager helped promote them. The group was called The Famous Flames, and they recorded for a subsidiary of King Records. 
The group's first record was Please, Please, Please, which was the starting point for Brown's legendary music career. The record has sold three million copies, and had two hit singles–the title track and "Try Me." Brown quickly became a sensation in the music industry, climbing the charts and taking the world by storm. 
By the 1960s, Brown had become an inspirational figure in the civil rights movement, representing the Black community with several of his songs. He became known as "Soul Brother Number One" and politicians welcomed him to their cities, hoping he could lend a hand in calming the civil unrest that had spread across the nation. 
The 1970s earned Brown yet another nickname–"The Godfather of Soul." His songs were featured in a number of low-budget action films, including Black Caesar and Slaughter's Big Rip-Off. Brown continued his reign over the charts in the 1980s and added acting to his list of talents. He appeared in many popular films, including The Blues Brothers and Rocky IV. 
In 1986, Brown was inducted into the Rock and Roll Hall of Fame, and in 1992 he received a Lifetime Achievement Award at the Grammy's. 
How many times was James Brown married?
Brown was legally married three times. However, in 2001, he married Tomi Rae Hynie–then found out two years later that she was already married. There was a messy battle about an annulment since her other husband had three wives of his own. The courts granted her annulment, but her marriage to Brown was still invalid because an annulment cannot be retroactive. 
Brown married his first wife, Velma Warren, in 1953. They were married for 16 years and had three sons together. In 1970, he married his second wife, Deidre Jenkins. The 2014 film Get On Up was based on the abusive relationship between Jenkins and Brown. They had two daughters together before separating in 1979. 
In 1984, Brown married a third time. Adrienne Lois Rodriguez remained with Brown for 12 years, despite rumors of abuse. She died tragically in 1996, collapsing at a health facility where she was recovering from cosmetic surgery. According to CNN, a retired police detective shared a discovery that indicates there was more to Adrienne's death. Notebooks from an old informant allege that a doctor at the facility murdered Adrienne by giving her an overdose of drugs. 
Who is Tomi Rae Hynie?
In 1986, Tomi Rae Hynie formed a rock band called Hardly Dangerous. The band was formed by Hynie and Lisa Rae Black, a guitarist from the Pandoras. Hynie is still a part of the band, although the members have changed. She also formed the band Godmother of Soul, which plays both rock and soul classics. 
Hynie was well-known for being an excellent Janis Joplin impersonator, a gig that she's carried through to her performances with her own bands. She regularly covers Joplin's hits at her shows, according to The Hollywood Reporter. Her band's website states that Janis Joplin is her favorite musician, and she performs a special tribute set to remember the icon. 
The rock musician met Brown while she was performing as a backup singer in the James Brown Revue. She toured with Brown for 16 years, eventually marrying him. The marriage soon became rocky, like his others, with abuse allegations swirling once again. 
When Brown passed away in 2006, Hynie was locked out of the estate, according to WFXG. Reporters plastered photos of a distraught Hynie standing outside the gates, begging to be let back into her home. Originally, the courts ruled in her favor, but that decision was reversed. The courts found that the couple was not legally married, and therefore Brown's heirs were awarded custody of his estate.