James Corden Is Reportedly Being Eyed As a Replacement for Ellen DeGeneres After Her Talk Show Scandal
As the fallout from the allegations about her show continues, a new report has emerged that James Corden is in line to replace Ellen DeGeneres on her hit daytime talk show.
With Ellen DeGeneres continuing to face negative headlines, the future of her eponymous talk show seems uncertain.
There has been widespread speculation that the program will be removed from the air due to allegations that the beloved TV host mistreats her staff and contributed to a "toxic" work environment. Should that happen, new reports say that James Corden of The Late Late Show could be tapped to replace Ellen.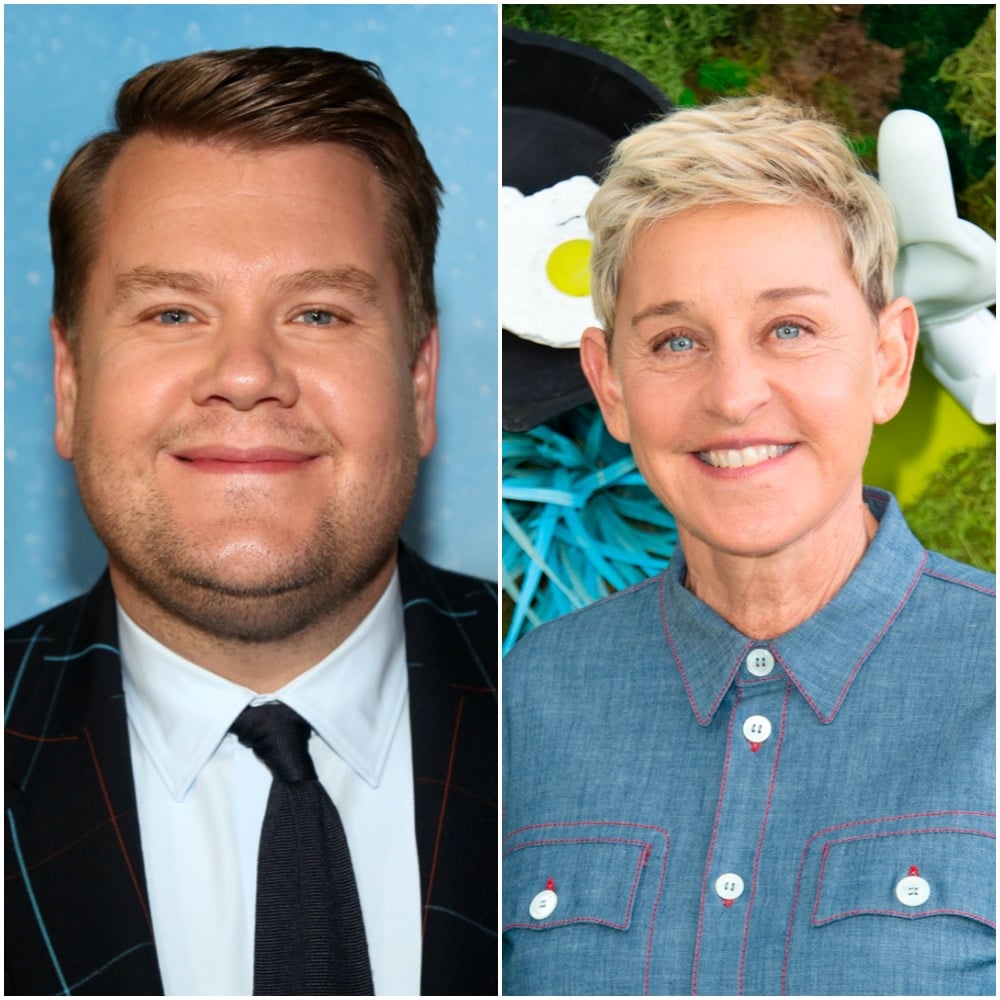 What's going on with Ellen DeGeneres?
Ellen has been under fire for months, beginning in March when comedian Kevin T. Porter tweeted about her apparent reputation "one of the meanest people alive" and asked others to share the worst Ellen stories they'd ever heard.
As fans weighed in, filling the comment section with over 16,000 responses, Variety published a report in which several employees complained about their treatment during the coronavirus (COVID-19) pandemic.
Sources told the outlet that employees had gone weeks without any pay or employment updates. Ellen did not address the report, but a representative for Warner Bros. Television admitted that communication had lacked but cited "complications due to the chaos caused by COVID-19."
From there, more and more people started to come forward with claims about the workplace, ranging from sexual misconduct accusations to allegations of racism.
As criticism increased, Ellen reportedly sent a memo to staffers apologizing for any apparent wrongdoing while implying she had no idea of what was happening. However, several people connected to the industry have stated otherwise, including Everybody Loves Raymond actor Brad Garrett.
Rumors are swirling that 'The Ellen DeGeneres Show' may get canceled
As the fallout from the allegations continues, a source recently told The Daily Mail that Ellen has allegedly seriously considered walking away from the program.
"She feels she can't go on and the only way to recover her personal brand from this is to shut down the show," the insider explained. "The truth is she knew what was going on — it's her show. The buck stops with her. She can blame every executive under the sun — but Ellen is ultimately the one to blame."
If she does decide to step away, The Sun reports that Corden "could be the shock winner after dozens of employees accused the $50 million-a-year presenter of turning a blind eye to racism, bullying and sexual harassment on her hit daytime show."
Supposed sources at NBC said that Corden had been eyed as "the long term successor" way before the latest controversies.
"Replacing Ellen was always going to be a tough challenge, but he is a natural fit and easy transition," a source said, citing Corden's global appeal, devoted fanbase, and success on his own show. "James would freshen up daytime and with a free hand would be allowed to build a new afternoon era."
However, executive producer Andy Lassner tweeted on July 30 that Ellen's show would continue, pushing back on the Corden reports. As of writing, neither of the TV hosts have addressed the latest claims.