Jamie Foxx's Daughter Corinne Foxx Nearly Changed Her Last Name for This Reason
Jamie Foxx's daughter Corinne Foxx almost changed her last name because she wanted to pave her own way in Hollywood. Learn more here.
Jamie Foxx is a worldwide star who has kept fans entertained in multiple mediums for decades. For all the privileges and opportunities that come with being in his family, his name (even if it's not his actual name) also comes with a lot of pressure. Before she began her own career in the entertainment industry, Jamie Foxx's daughter, Corinne Foxx, thought about changing her last name for that very reason. Obviously, she chose not to, and has actually worked with her dad on her highest-profile projects so far. 
Why did Jamie Foxx's daughter, Corinne Foxx, nearly change her last name?
Corinne revealed this during an interview alongside Jamie for TOGETHXR, a media company founded last year by Alex Morgan, Sue Bird, Chloe Kim, and Simone Manuel. She debated the name change because she felt it was the best way to create a distance between her career and her award-winning father. (The video is summarized in this People article.)
"I had a lot of people telling me, 'You don't have to go to college. You can just go straight into the entertainment world, doors will open for you. You could be making millions of dollars,'" Foxx said. "I just grew up my whole life and I didn't want to just ride on my dad's coattails. I wanted to, you know, make my own name, do things myself."
Corinne Foxx's anxiety about her last name is a complication very few people can understand, but is common among the children of successful people. Until Corinne becomes a megastar in her own right (something that'll be hard to achieve regardless of her talent or choices), she will always have to deal with the shadow of her dad's legacy. (LeBron James once spoke about his regrets about naming his first son after himself for similar reasons.) At the same time, her relation to Jamie will undoubtedly help her get some chances that other aspiring actors won't, and his deep well of resources will allow her to take chances people with similar experience couldn't afford. 
Ultimately, Corinne decided to keep the name and accept that the wider perception of her will always be influenced by the work of her dad. 
"But as I've gotten older I've, one, made peace with people are [going to] think things about me that I have no control of, and two, I'm proud of my dad and I'm proud of who he is and I'm proud of the work he's done. I'm proud of just the person that he is," she said. "Holding onto his name and being proud of my last name is actually something I've had to grow into."
Early in her career, she's had success both as herself and as an actor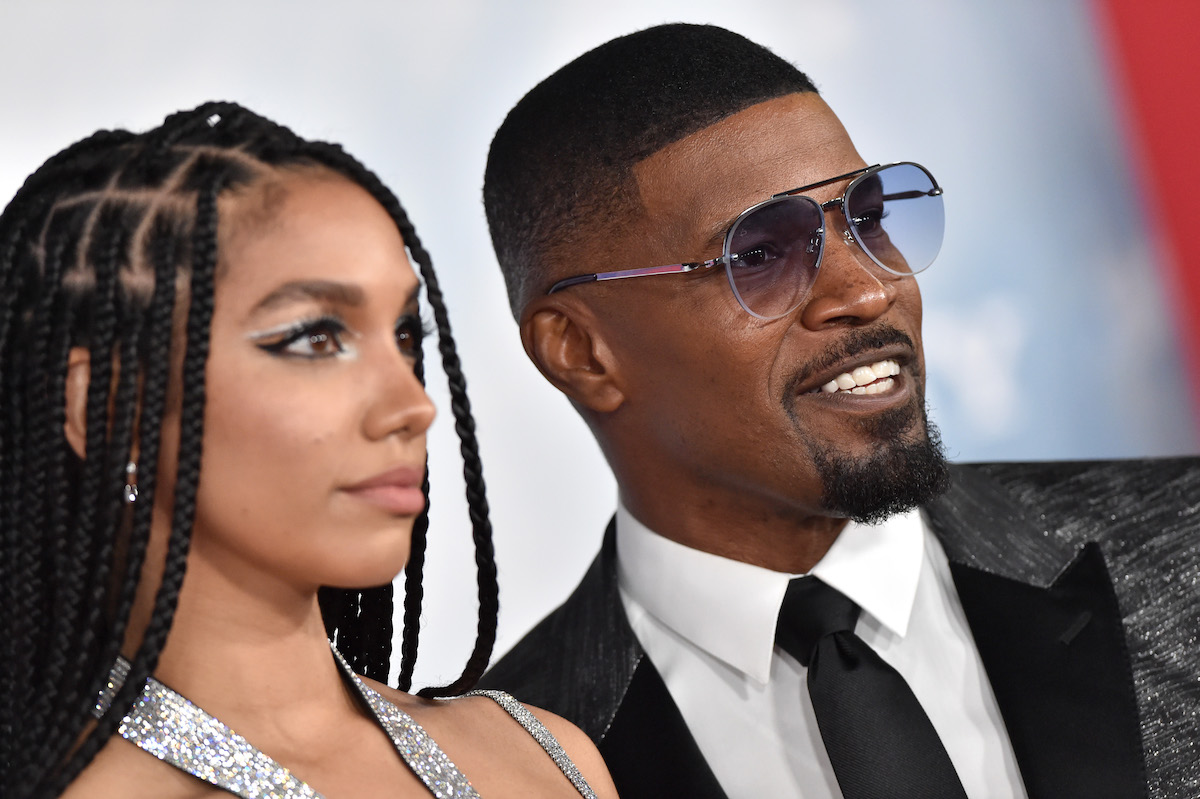 Corinne is the daughter of Jamie and Connie Kline, an Air Force veteran. She is a graduate of the University of Southern California, where she was a cheerleader and majored in public relations. After that, she went to Howard Fine Acting Studio and the American Academy of Dramatic Arts to follow her interest in acting.
Her first starring role came in the 2019 monster shark movie 47 Meters Down: Uncaged, alongside fellow legacy kid Sistine Stallone. She also played Thelma Evans in the Emmy-winning ABC variety special Live in Front of a Studio Audience: Good Times.
Corinne has also made several shows with her dad, showing her comfort in using the Foxx name. They essentially co-host Foxx's musical game show Beat Shazam, and she was the executive producer of Jamie's Netflix series Dad Stop Embarrassing Me! (The show was canceled after one season.) Off screen, Corinne co-hosts an advice podcast called Am I Doing This Right? and runs a lifestyle website called Foxxtales.
How many kids does Jamie Foxx have?
Jamie Foxx also has another daughter, Annalise Bishop. 
Born on Oct. 3, 2008, Annalise's mother is Foxx's former girlfriend Kristin Grannis. The two have been private about their relationship, but their daughter appears to show the same interest in the arts as her famous father. During an interview with Entertainment Tonight last August, Foxx revealed that he and Annalise connected through a shared love of music.
"My 11-year-old now knows how to play the piano so well, she actually plays my songs while I sing to them," he said. "She said, 'I am going on tour with you.' I am blessed, we are all blessed."
Annalise also has more physically intensive talents. According to Jamie in an October interview with Good Morning America, she is quite the force on a basketball court. "Her last game before COVID, she was playing with the boys, she had 21 points, 17 rebounds, 5 blocks," he beamed.