Jamie Foxx Wanted To Take a Picture With Prince When They Hung Out at Paisley Park, But Prince Refused — 'He Looked Better Than Halle Berry'
Things were going great between Jamie Foxx and Prince, until he asked for a photo.
Jamie Foxx has dozens of stories about his celebrity encounters in Hollywood and beyond. He's known for throwing crazy parties at his home, which have featured guests such as Jay-Z, Kanye West, Pharrell, P. Diddy, and more. 
However, although Foxx is usually the one inviting stars to his home for some fun, the tables were turned on him during a visit to Minneapolis. While there, legendary musician Prince invited him to his Paisley Park estate. 
Even though Foxx and his friends were having a good time at Prince's home, things ended up getting tense. The Academy Award-winning actor asked Prince for a photo, which was a serious problem. 
Jamie Foxx got an invitation to Prince's house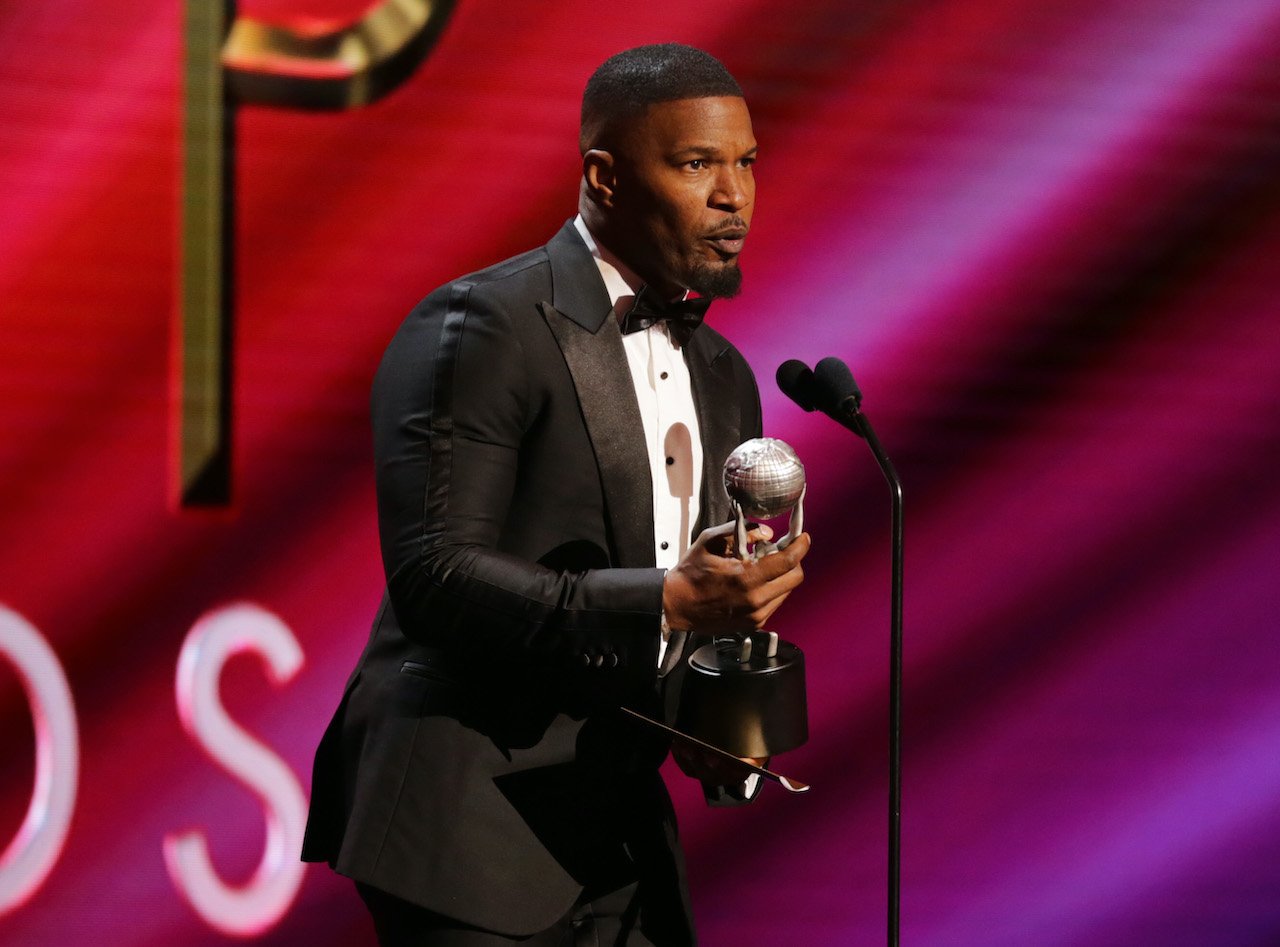 Foxx had made a visit to Minneapolis several years ago, prior to Prince's unexpected death. While he was there, he was invited to Prince's home by a mysterious figure. He recalled the experience during a resurfaced 2017 interview with Howard Stern. 
"It was crazy, we did a show in Minneapolis, and we walked outside and it was sort of snowing. And it was this big shadowy figure in the alley," Foxx said. 
The mysterious person ended up extending an invitation to Prince's home, although it took a while for Foxx to figure out who was inviting him.
"'[They said] He wants to see you,'" Foxx recalled. "I said, 'Who?' 'The kid wants to see you!' I said, 'Who's the kid?' [They said] 'Prince!' I said, 'Ok.'"
Prince was wearing a one-piece bodysuit when they met 
Excited to meet Prince, Foxx and his friends made their way to Prince's massive Paisley Park estate. However, they had to wait in his home for an extended period of time before he came down to greet them. 
"So we go to Paisley Park and it was crazy," Foxx said. "And they had us waiting, and it was like they had me in this white room, I said, 'I feel a little weird man, by myself, waiting … It was like 4:00 in the morning and I had all my comedian friends with us."
When Prince finally appeared he was wearing a peculiar ensemble, as he was known to do. 
"That motherf—er came out dog, and he had a one-piece on … like Dorothy Hamill," Foxx said. "A bodysuit with the boots on in it. So wherever he was, they were sewing him in this."
Foxx says Prince looked better than Halle Berry that night
Foxx was impressed by Prince's good looks when he finally met him. In fact, Prince looked so good that Foxx compared him to one of Hollywood's most beautiful actresses. 
"He had his hair done … the most beautiful man I'd ever seen in my life," Foxx said. "Me and my homies like, 'N—a, this n—a is pretty. He's pretty.' I mean, he looked better than Halle Berry."
He asked Prince for a picture and upset him 
Although things started off well for Foxx at Prince's home, things took a turn for the worst when he asked for a photo. 
"I remember asking for a picture, I f—ed up," Foxx said. "Whatever I did, I just know I f—ed up."
Foxx tried to take a picture with Prince on a cheap, disposable camera, and Prince was not pleased. 
"I f—ed up, and it was the … disposable camera …" Foxx added. "I said let me get that picture, he says, 'Um. I don't do those.'"