Jane Fonda Scared Off an Uninvited Guest by Flashing Her Robe Open
Actor, activist, and celebrity fitness pro Jane Fonda can hold her own on and off screen. The Grace and Frankie star has been arrested numerous times while protesting, and at home, she makes sure not to miss her daily workout routine.
She's also a mother and grandmother, two special positions that are dear to her. When faced with an unexpected intruder at her house, Fonda had to think quickly to protect her loved one. But she wound up using an unusual tactic.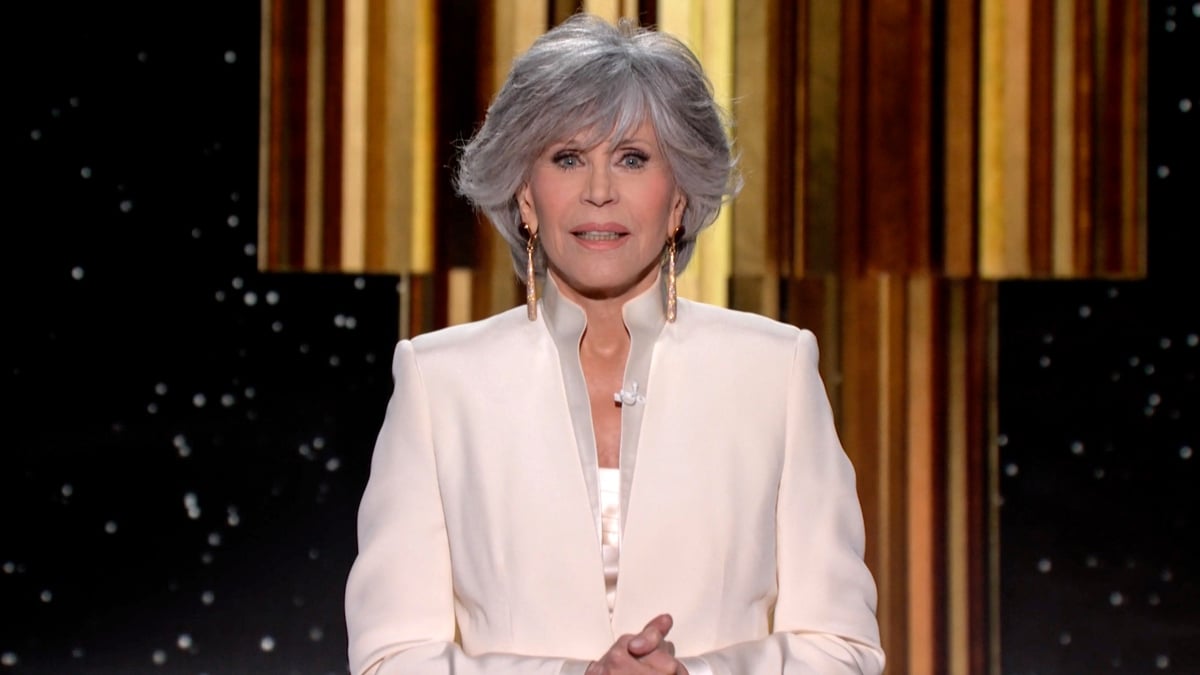 Jane Fonda flashed a bear and scared the pee out of it
During an appearance on The Tonight Show Starring Jimmy Fallon, Fonda played a game of "Best, Worst, First" and recounted a tale about her worst "uninvited guest." The home intruder turned out to be a curious bear who made its way to her bedroom. But the bear ended up meeting its match.
Fonda told Fallon that she was in a small cabin, and her baby grandson was asleep in a crib inside her bedroom. She was also in bed, but a noise startled her, so she got up to investigate. She went into her living room, and her golden retriever ran out, yelping and yelling, causing her to turn around.
"I go running in and go, 'Woo!' There's a bear — right in the middle of my small bedroom heading right for my grandson's crib," she said. "But I knew what to do. I opened my bath robe and I went, 'Roooaaaaaaar'" Fonda gestured as she explained. But that wasn't it.
Fonda scared the piss out of that bear. "The bear urinated on my antique rug and then turned around and sat down. I roared again and it went out to the door and it sat down — there was a hole in the screen door that it came through — and I pushed it out and slammed the glass door," she recalled.
Fonda used to own a New Mexico ranch called Forked Lightning
Back in 2000 Jane Fonda bought a ranch in Santa Fe, New Mexico along the Pecos River.
When she first acquired the spot, it had a barn and the only place she could live was in its two-bedroom log cabin. According to Architectural Digest, she lived there for three years while designing the property's main structure, River House.
Fonda eventually built her residence so it would be big enough to house her children and grandchildren. She named it Forked Lightning and lived there for years before choosing to split her time between there one of her other homes. But she held the place in deep regard before selling it.
Fonda told AD, "It's where I healed after my marriage — it's where I came to understand my life so far," she says. "I wrote my memoirs here. It has a deep calling." This is also the home where Fonda had her share of wildlife encounters, including the one with the bear.
She listed Forked Lightning on the market in 2014 for $19 million and it sold in 2015 for an undisclosed amount.