Janelle Monae & Lizzo's Coachella Performance Was Twerk-tastic
Janelle Monáe had an incredible Coachella performance and a magazine cover all on the same day. Lizzo was also involved with both.
Singer and actress Janelle Monáe has been killing it since she broke out on the scene. In 2016, she starred in not one, but two Oscar-nominated films, Moonlight and Hidden Figures. Her third album, Dirty Computer received two Grammy nominations after it dropped last year, and now, she's a headliner at Coachella. Her performance at the festival brought with it a special guest and rumors about an upcoming collaboration with another big star: Lizzo.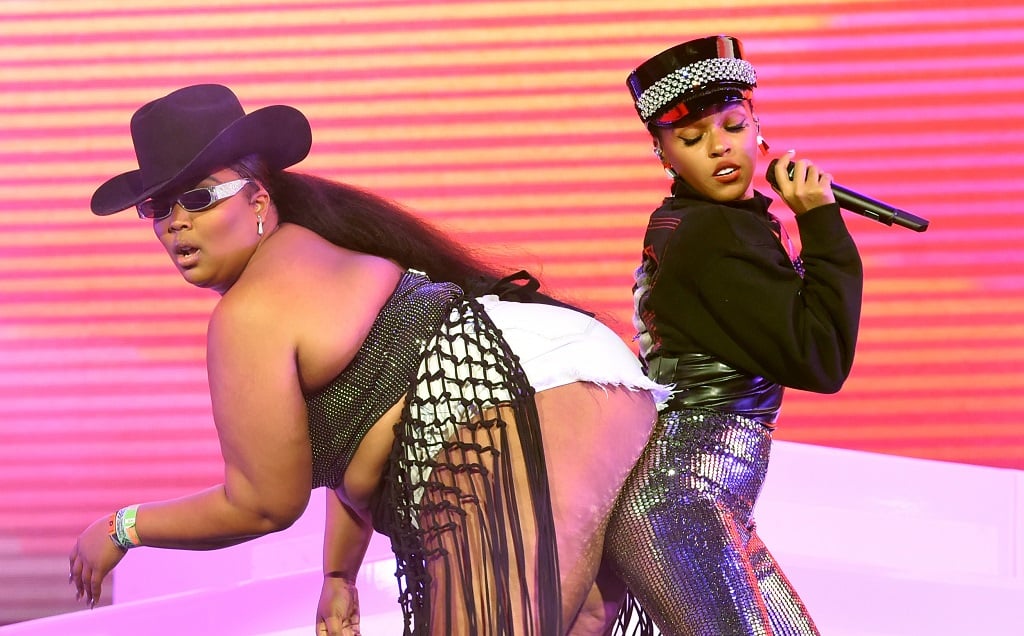 Who is Lizzo?

Lizzo is a stage name: the young artist was born Melissa Viviane Jefferson. The rapper/singer-songwriter got her start in Minneapolis and has put out two albums: Lizzobangers and Big Grrl Small World. Lizzo has toured with Haim and Florence and the Machine, and is known for her body-positive and LGBTQ+ advocacy. Her third album, Cuz I Love You, will be released on April 19, 2019.

Are Janelle Monáe and Lizzo friends?

Monáe and Lizzo have a lot in common: Both are in their early 30s, are incredible at their craft, and promote positive, progressive messages through their music. They've known each other since 2017 at least, as they were photographed at a Refinery29 event together. Last year, Lizzo spoke on a podcast about meeting up with Monáe for brunch and, months later, both performed at the Long Beach music festival Music Tastes Good.  

Though we haven't seen them out and about casually together, it seems like these two acclaimed artists are always running in the same circles. In fact, both lent their voices to characters in the upcoming animated film UglyDolls.

They performed at Coachella together

Monáe's scheduled Coachella performance on April 12, 2019, featured a special guest: Lizzo. The singer came out on stage as Monáe sang "You got the juice," referring to Lizzo's own single "Juice." The two twerked together, and after that, shared a hug. Monáe said into the mic but to Lizzo, "I love you."

Monáe on her latest album

That very day, a cover story on Monáe was published by them. magazine. The article in question was an interview conducted by none other than Lizzo, and features the two celebrities discussing sexual and gender identity, fame, and the importance of their art.

Monáe said so many incredible things in the interview that it's impossible to cover them all here. However, one of the most interesting was what she said about the push she felt to create her latest album. "I didn't feel like I had all the time in the world to write Dirty Computer," she said.

"When you think about the state of this country, when you think about who's in office, when you think about having a Vice President who believes in conversion therapy, and you think about how 77 percent of LGBTQ teenagers surveyed in 2018 report feeling depressed or down over the past week — I didn't think that this album could wait," said Monáe.

Lizzo has said this about how Monáe influenced her

Monáe first became really open about her bisexuality in an article in Rolling Stone last year around the release of Dirty Computer. Lizzo herself is known as an ally, but elaborated more on her own affiliation with the LGBTQ+ community while speaking to Monáe.

Lizzo said to Monáe that the interview with Rolling Stone "made [her] feel like [she] could do whatever [she] wanna do and feel how [she] wanna feel." She elaborated on the "pressure" to define yourself with a specific word, saying this is difficult because "I like everything sometimes, and I like nothing sometimes."