There are Two Forthcoming Janet Jackson Documentaries
Janet Jackson and Justin Timberlake's Super Bowl performance controversy will be explored in an upcoming documentary. For years, it's been penned as a "wardrobe malfunction," but there have been rumors that it was planned. Now, a documentary featuring key interviews of those who were there amid the fallout is here. Whether or not race played a role in Jackson's backlash is also considered. Jackson also has her own four-hour docuseries in the works.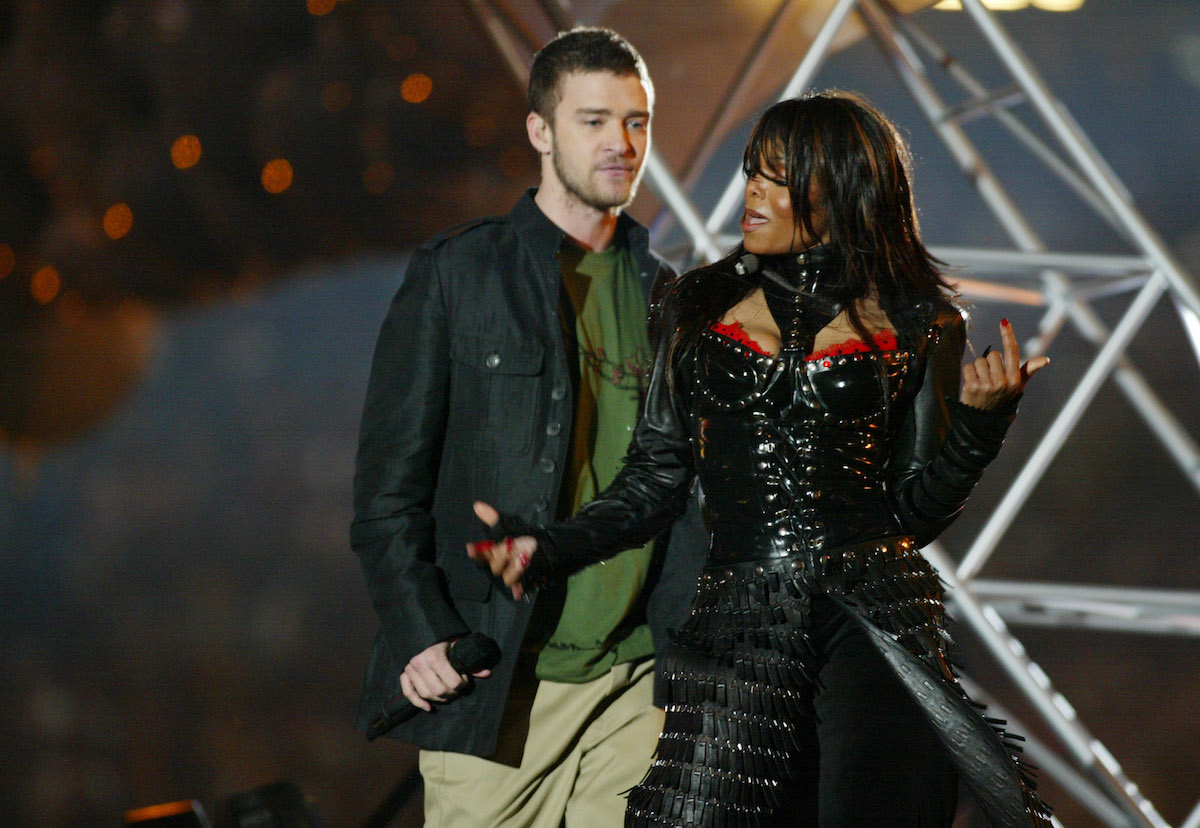 One documentary is being produced by Hulu and FX that explores the Super Bowl controversy
Jackson and Timberlake sent shockwaves during their 2004 Super Bowl halftime show performance. While performing Timberlake's "Rock Your Body," he ripped off a portion of Jackson's top, exposing her bare breast in the process during the live telecast. It was deemed a "wardrobe malfunction." Jackson took on the brunt of the blame, having to record an apology as a result. Timberlake walked away unscathed, leaving Jackson feeling alone and hurt.
Related: Janet Jackson's Reaction to Justin Timberlake's Apology Is Legendary
Now, The New York Times is teaming up with Hulu and FX for a documentary on the scandal. They are responsible for the highly successful Framing Britney Spears documentary. The special, Malfunction: The Dressing Down of Janet Jackson, is set to air on Nov. 19.
An official description on the documentary per Deadline reads: "The doc will examine the racial and cultural currents that collided on the Super Bowl stage, and explores how the incident impacted one of the most successful pop musicians in history. It will feature rare footage and interviews with several people who were at the controls that night in Houston, including NFL and MTV executives, to reconstruct an incident that shook the country and explain how it shaped culture in the decades to follow. With new reporting by The Times, as well as insights from music industry insiders, cultural critics, and members of the Jackson family, the film illuminates the fallout, and CBS boss Les Moonves's role in it."
The singer has her own forthcoming documentary series
In celebration of the 40th anniversary of her 1982 self-titled debut album, Jackson announced that a four-hour documentary titled Janet will air on Lifetime and A&E. The singer, Randy Jackson are executive producers on the project. Ben Hirsch is the director.
The documentary, which will air over two nights, chronicles both Jackson's personal life and professional career. Some of the key points in the special that Jackson will delve into include grappling with the deaths of her brother, Michael, and their father Joseph. Joseph is responsible for their successful entertainment careers.
Related: Everything We Know About Janet Jackson's Upcoming Documentary
Janet will also chronicle the infamous 2004 Super Bowl Half-Time performance. It's unclear how much time the special will devote to the controversy. Other key points included are Jackson becoming a mother at 50. She shares a son, Eissa Al Mana, with her ex-husband, Wissam Al Mana. Al Mana and Jackson married in 2012. They split in 2017, just three months after Jackson gave birth to Eissa.
The divorce between Al Mana and Jackson was brutal, but whether or not Jackson will address the marriage and divorce in the documentary is unclear. There were rumors of physical and mental abuse Jackson reportedly suffered at the hands of Al Mana. There was also a custody battle.
Jackson's brothers say they came to the 'Nasty' singer's rescue. Randy Jackson claims Al Mana became verbally abusive and made Jackson feel like a prisoner in her own home shortly after she became pregnant with their son.