The Major Deals Janet Jackson Lost After the 2004 Super Bowl Wardrobe Malfunction Scandal
The 2004 Janet Jackson "wardrobe malfunction" is being explored unlike ever before. The FX documentary on the Super Bowl scandal, "Malfunction: The Dressing Down of Janet Jackson," chronicles the fallout of the scandal and how Jackson's career and image took a hit while Justin Timberlake was left unscathed. Jackson lost tons of deals in the aftermath.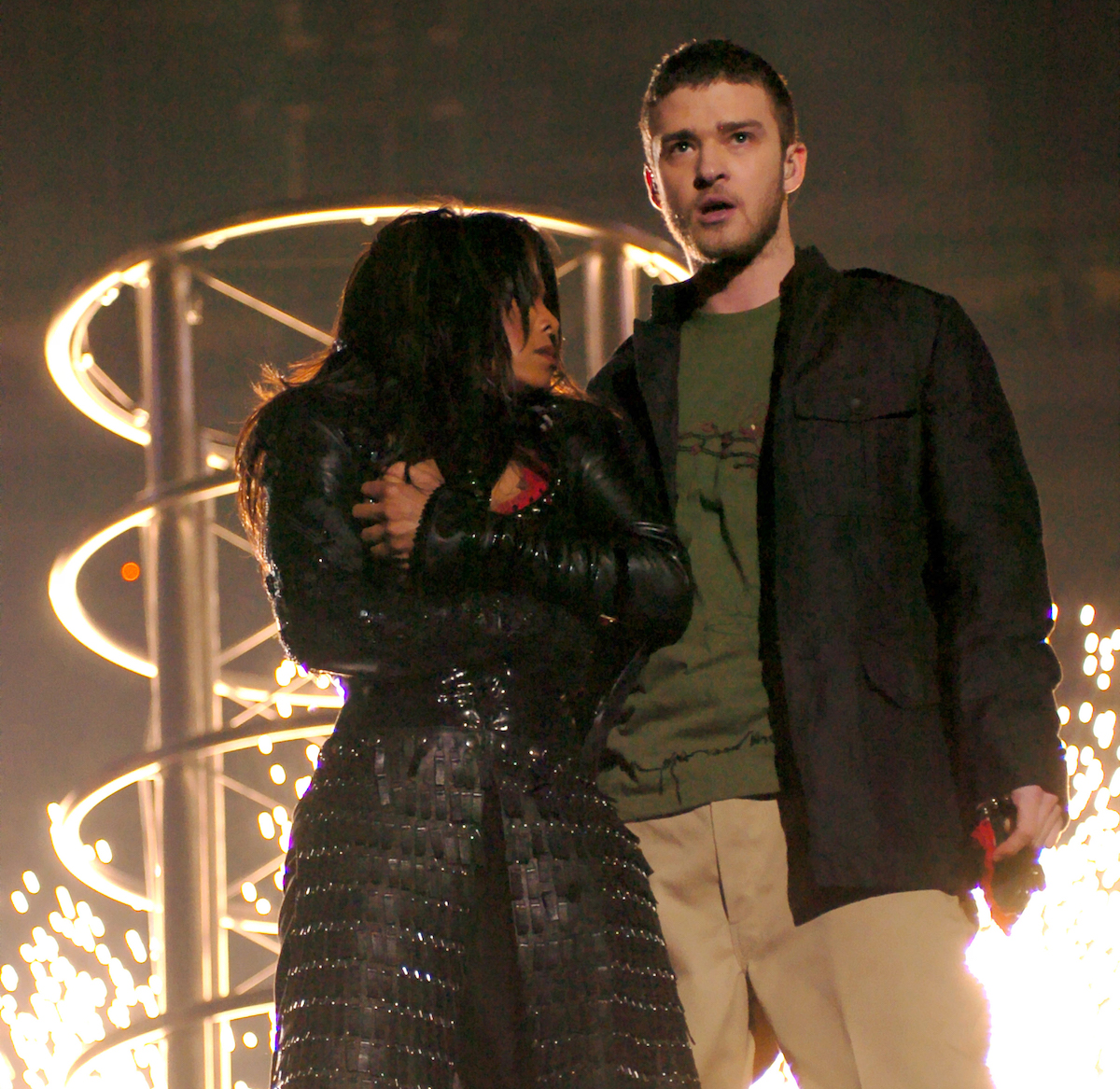 She was seemingly forced to skip the Grammys
The Grammys were scheduled a week after the "wardrobe malfunction." Timberlake and Jackson were scheduled to attend the biggest night in music. But after the scandal, former CBS executive Les Moonves was livid and felt embarrassed and betrayed by the event.
Related: There are Two Forthcoming Janet Jackson Documentaries
According to multiple industry sources, Moonves wanted an in-person apology from both Timberlake and Jackson before the show, as well as a live apology on stage. CBS was broadcasting the show and partnered with MTV on casting talent for the Super Bowl a week before.
Timberlake reportedly flew to LA to meet with Moonves to give him what he wanted. Jackson chose not to. As a result, Jackson did not attend the Grammys that year. Timberlake performed and won two awards that evening. He also gave an apology while accepting the award.
Janet Jackson was forced to pull out of Lena Horne biopic miniseries
The "Let's Wait Awhile" singer was eyed to star as the icon when the miniseries was announced in 2003. Shadow and Act reports the role was reportedly a lifelong dream of Jackson's and she was set to re-record Horne's hits for the film, as opposed to lipsyncing. ​​A 2003 Variety article quotes Quinn Taylor calling Jackson the "ideal" choice for the project. "I can't think of more ideal casting. Janet Jackson and Lena Horne — it's like peanut butter and jelly.
Related: Janet Jackson on Working With Tupac Shakur: 'I Adored Him'
Jackson also expressed her excitement publicly, saying, "She is someone I've admired my whole life." Jackson was also a producer on the project.
Following the scandal, Horne allegedly "balked at having the younger star play her," but ABC refused to let Jackson go. Ultimately, Jackson quit but both Horne, advised by her daughter Gail Lumet Buckley, asked that Jackson not star as her. Buckley even reportedly refused to return Horne's contract unless Jackson was removed.
A Disney character dressed in a costume inspired by "Rhythm Nation" was removed
Apparently, Disney World was even inspired by Jackson's socially conscious hit single "Rhythm Nation." So much so that they dressed Mickey Mouse in a costume Jackson wore in the music video. But they obviously felt that Jackson wasn't a magical role model for children following the "wardrobe malfunction."
Entertainment Weekly reports that they removed the life-size statue of Mickey dressed Jackson in her all-black leather outfit from the 1989 "Rhythm Nation" video. It was major deal, weighing 700-pounds, and was unveiled during Mickey's 75th birthday.
"Considering all the controversy it drew, we talked it over for a couple of days and decided it would be best to replace hers with a new one," Disney spokesman Gary Foster told the Orlando Sentinel at the time.
Her album sales were impacted and she parted ways with her record label
Jackson signed the largest record contract in history in 1991 when she signed with Virgin Records. The deal was worth a reported $32 million and required Jackson to shell out three albums. She resigned for $80 million after the success of her hit albums Janet and The Velvet Rope.
But, after the sales for her 2004 album Damita Jo didn't do as expected in the wake of the Super Bowl scandal, Jackson's relationship with the label changed. She parted ways with the label in 2007.