Jason Lee Says Lala Anthony Confirmed She and Carmelo Anthony Were Legally Separated When He Allegedly Had Twins With Another Woman
Carmelo Anthony is getting the side eye amid reports that he fathered twins while seemingly trying to make things work with his estranged wife, Lala Anthony. But Lala is allegedly letting the media know the news is no big deal. She claims she was not focused on the marriage and intended to divorce Carmelo.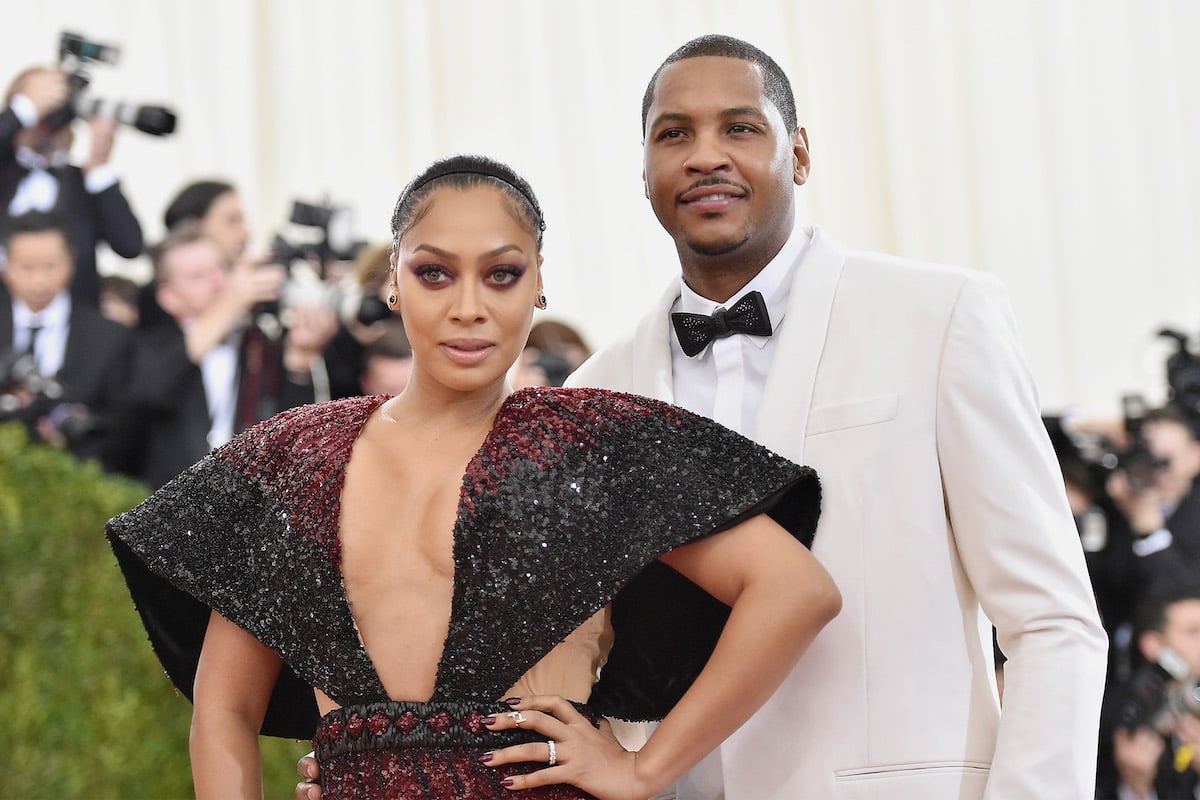 Carmelo Anthony reportedly fathered twins while still married to Lala Anthony
Lala filed for divorce in June 2021 just months after ending quarantine during the coronavirus shutdown with Carmelo. Fans assumed the couple were working on their marriage. Lala and Carmelo separated in 2017 amid rumors that Carmelo was unfaithful.
Just days later, a woman came forward and told Hollywood Unlocked that Carmelo is the father of her twins. She says they met in 2020 in New York and despite turning down Carmelo's advances, they began talking. Knowing Carmelo was married, she says he carried himself as a single man. Carmelo allegedly would FaceTime her from his marital bed and did not spend holidays with LaLa. 
RELATED: La La Anthony or Carmelo Anthony: Who Has the Higher Net Worth?
She discovered in September 2020 that she was pregnant and mutually agreed with Carmelo to get an abortion. The woman alleges Carmelo didn't accompany her to the appointment so she did not go through with the procedure.
They agreed to continue with the pregnancy under the agreement that she keep a low profile. She even alleges she moved to London at Carmelo's suggestion and make the twins British citizens.
But after the premature birth of the twins, she says communication between her and Carmelo went cold and he's been missing in action. She says she came forward because her twins are sick and she needs help.
Jason Lee says Lala Anthony and Carmelo Anthony were separated when he allegedly fathered twins
While Carmelo hasn't commented on the woman's claims, Lee says he spoke to Lala and confirmed there is some truth to the story. But, Lee says Lala and Carmelo were still legally separated when the woman conceived.
"Lala wanted to set the record straight that she and him are not together and haven't been together in a few years," Lee said. 
There were also reports that Kim Kardashian West hired a private investigator for Lala to get down to the bottom of things. Per Lee, the private investigator is a friend of both Kardashian West and Lala. The investigator told Lee that she went behind both their backs to do some digging and give Lala the information.
RELATED: Who is Carmelo Anthony's Wife, La La Anthony?
Lala is reportedly over the situation and focused on her and Carmelo's 14-year-old son and only wants Carmelo to be painted in a positive light.
"She stayed in the marriage for her son, who follows Hollywood Unlocked, he looks at what we're posting and he's reading everything on the internet and she didn't want him to read issues between their mother and their father," Lee says Lala told him. "But it comes to a point where you're out here acting reckless and now she's [Lala] keeps being dragged into it."
Lala also has not publicly commented on the scandal. Carmelo also reportedly has a young daughter that was conceived during his marriage to Lala.