Did Jason Momoa Ever Watch His Wife Lisa Bonet on 'The Cosby Show'?
Jason Momoa is passionate about many things. He's passionate about his heritage, his roles, and above all else, his wife, Lisa Bonet. Momoa and Bonet have been together since 2005 and married since 2017, and they're honestly couple goals. When they met, Momoa was a nervous wreck and somehow mustered up the courage to get her to talk to him. But it turns out that Momoa had known about Bonet since he was a little boy.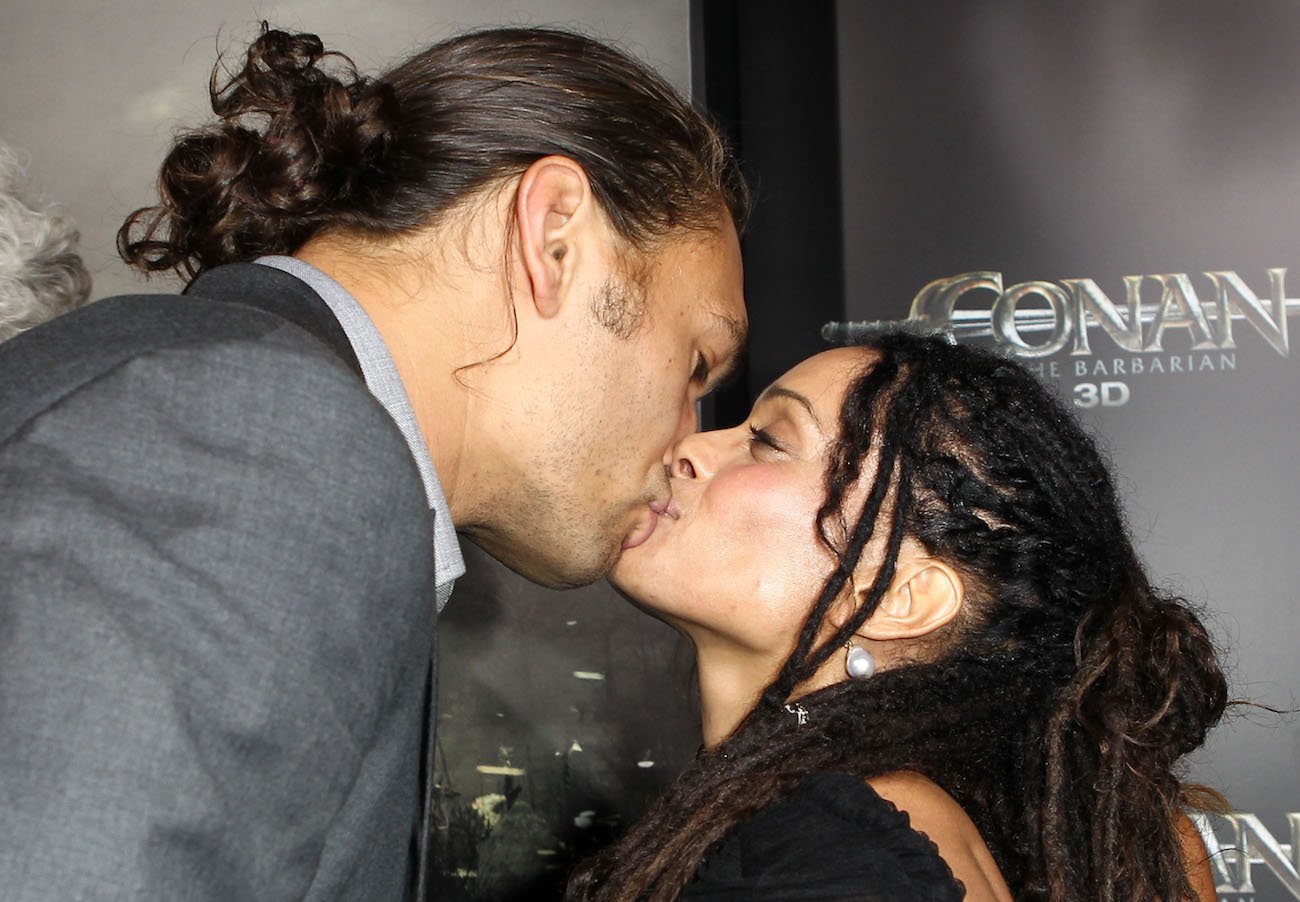 Jason Momoa fell in love with Lisa Bonet after watching her on 'The Cosby Show'
Speaking to James Corden on The Late Late Show in 2017, Momoa said that it was "love at first sight" for him upon seeing Bonet for the first time. Only he couldn't do much about it at the time. He was only eight.
Momoa first set eyes on Bonet as a child watching her star as Denise Huxtable on The Cosby Show. "Listen it was more than [love at first sight]," Momoa explained. "Ever since I was 8 years old and I saw her on the TV I was like, 'Mommy, I want that one.'"
Although that might seem like the most romantic thing ever, Momoa's next thoughts were a little creepy. "I was like, 'I'm going to stalk you for the rest of my life, and I'm going to get you.' I'm a full-fledged stalker," Momoa joked. "I didn't tell her that until we had two babies, otherwise, I'd be creepy and weird. But yeah, just always wanted to meet her. She was a queen, always."
Jason Momoa and Lisa Bonet later met at a New York City jazz club
When Momoa was older and able to pursue Bonet, they met through a mutual friend at a New York City jazz club, Momoa continued to tell Corden. He couldn't believe he was meeting his childhood crush.
"We just happened to be in the right place at the right time," Momoa said. "I actually had dreaded my hair for her. I had dreadlocks, she had dreadlocks. I literally turned around and I see her and she goes, 'I'm Lisa.' I turned around to my friend and I [pretends to scream]. I had fireworks going off inside, man. I convinced her to take me home, because I was living in a hotel."
Momoa later told Men's Health that he was "a mess" when he went to ask her out. Bonet was 38 years old, while Momoa was only 26 years old at the time, and it was nerve-wracking. "Especially when you meet someone you're completely infatuated with and then find out she's amazing, intelligent, and funny and she's a goddess and you're a degenerate," he said.
The date was the best thing Momoa could have imagined. "We sat down, she ordered a Guinness, and that was it … I beyond love Guinness," Momoa said. "She ordered a Guinness and I ordered grits. We had Guinness and grits, and the rest is history."
What does Jason Momoa think about Lisa Bonet's days on 'The Cosby Show'
Not much is known about Momoa's views of The Cosby Show, but he can at least give it credit for showing him his future wife. On the other hand, Bonet has always had issues with the show that made her famous.
Bonet was 17 years old when she started playing Denise Huxtable and became so popular that her character got a spinoff series called A Different World in 1987. But that popularity did not sit well with her on-screen father, Bill Cosby. When Bonet started doing racy photoshoots, married rock star Lenny Kravitz and got pregnant, her time on A Different World ended.
The List writes that her free-spirited nature led to her butting heads with Cosby on multiple occasions. Bonet's lifestyle no longer aligned with her character's, and soon her character fizzled out when she returned to The Cosby Show.
After Cosby was convicted of sexually assaulting a woman in 2018, Bonet discussed the accusations to Net-a-Porter. When asked if the accusations against Cosby changed her memories of being on the show, Bonet said, "No, it's exactly as I remember it. There was no knowledge on my part about his specific actions, but… There was just energy. And that type of sinister, shadow energy cannot be concealed."
"And if I had anything more to reveal then it would have happened a long time ago. That's my nature. The truth will set you free," she added. At least she can always remember that the show allowed for her to find Momoa.