Jason Momoa Reunites With Emilia Clarke and Calls Her 'the Moon of My Life'
Jason Momoa and Emilia Clarke just had another reunion, and Game of Thrones fans are once again rejoicing. Whether it's red carpet events or casually bumping into each other, whenever these two share their reunions, we can't help but melt, as well as shed a silent tear for the fact that they aren't co-stars on one of our favorite shows anymore.
Momoa and Clarke have proven that they're best friends, and things don't get weird when either one throws it back to the days when they were Khal and Khaleesi. They have a love for each other that goes beyond the sun and stars.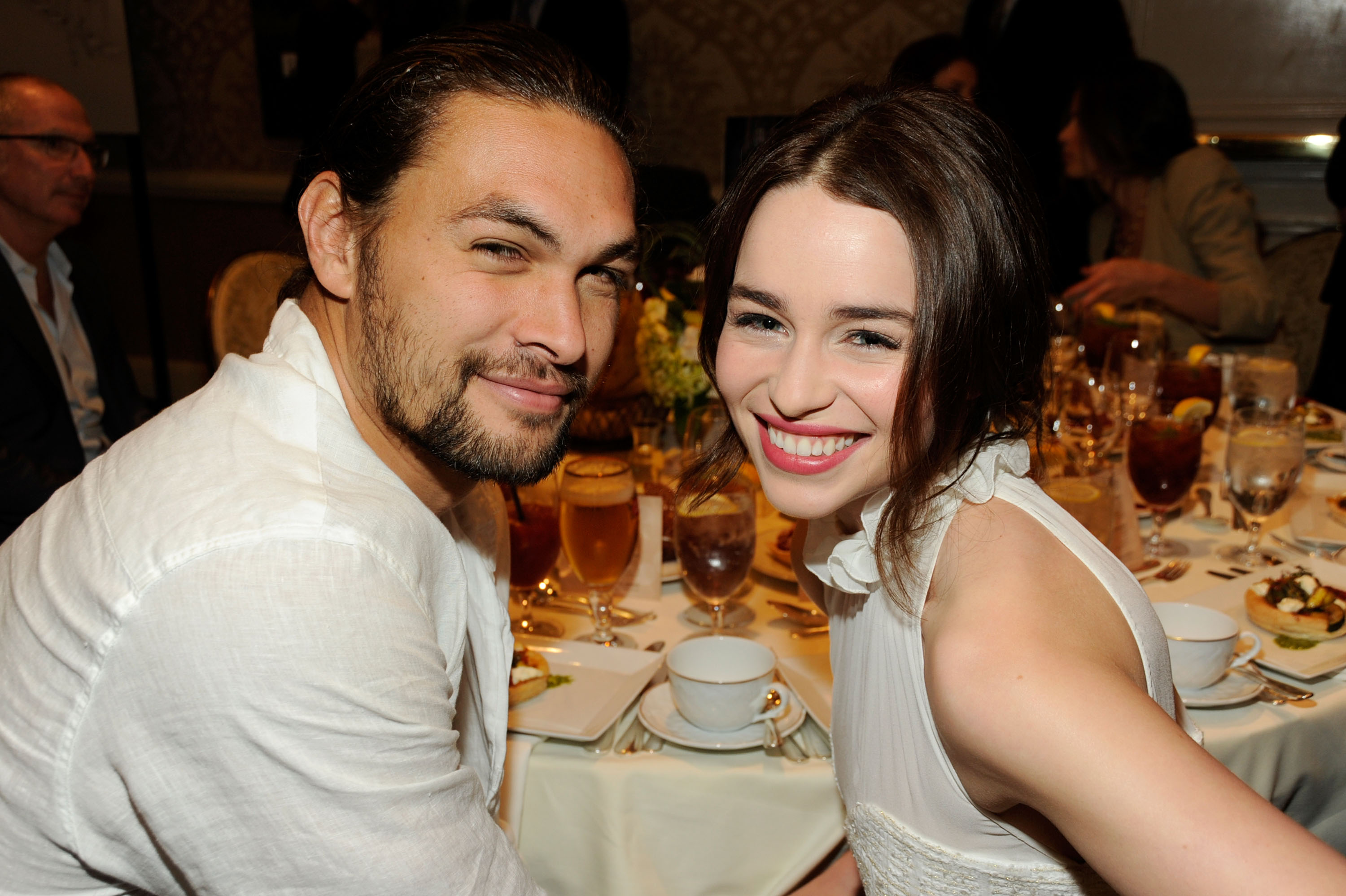 Jason Momoa and Emilia Clarke bonded on 'Game of Thrones'
Khal Drogo (Momoa) and Daenerys Targaryen (Clarke) from Game of Thrones might not have started off on the best footing, but they quickly developed a love that rivaled some of the best romances on the hit HBO series. They went from having virtually no communication to looking in each other's eyes during their most intimate love scenes.
One of their most memorable scenes together came after Jorah (Iain Glen) saved Daenerys from an evil merchant, who almost poisoned her. Drogo stormed into their tent and said in Dothraki, "Yer Jalan Atthirari Anni," which means "Moon of my life." In return, Khaleesi would later utter the Dothraki words, "Shekh Ma Shieraki Anni," which means "My Sun and Stars."
Sadly, Drogo dies at the end of season one, but Daenerys never forgets him and their son, Rhaego. Momoa nor Clarke seem to forget their time as co-stars either.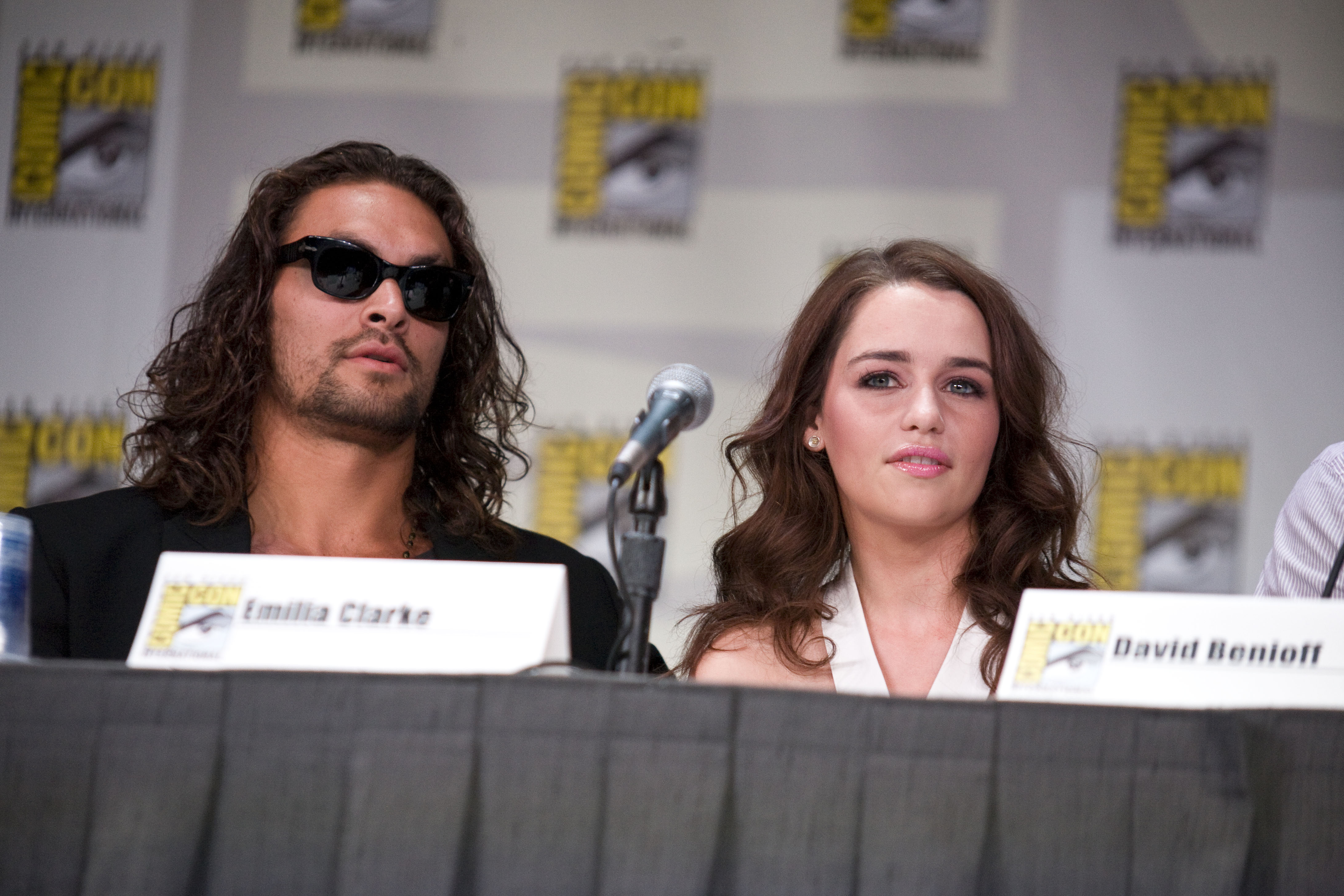 RELATED: What's Next For Jason Momoa?
Jason Momoa and Emilia Clarke have had many reunions
Momoa and Clarke have never shied away from sharing some of their priceless reunions. In 2015, they bumped into each other at Paris Fashion Week and in 2018, Momoa shared a series of photos of him and Clarke writing, "Moon of my life @emilia_clarke every time I leave you my face hurts from smiling to much. I F—ing love you forever. Aloha j."
In 2017, Clarke posted a reunion picture of the pair as well. She commented, "When life is so good that your sun and stars is in your city…you lose your eyes and gain 5 grins (and gins) where until now they'd only been one… (*grins- there's always more gins). YOU ALWAYS MOTHER OF DRAGONS MAIN MAN."
Momoa and Clarke also met up at the Oscars in 2019. On his Instagram post, Momoa wrote to Clarke saying, "I love u with all my heart Aloha Drogo." Meanwhile, that year, Momoa joined the rest of the Game of Thrones cast for the premiere of the final season.
Their latest reunion is heartwarming
On Aug. 15, we were gifted with yet another reunion post from the pair in which they once again called each other "moon of my life," and "my sun and stars." In Momoa's first photo, he wore a captain's hat while Clarke sat comfortably on his lap, while Clarke posted a photo of the huge Hawaiian holding her bridal style.
RELATED: 'Game of Thrones': The 1 Thing Emilia Clarke Tried to Take Home With Her From the Set
Momoa captioned his series of photos, which included one featuring Game of Thrones creator, David Benioff, saying, "MOON OF MY LIFE. you are wonderful love u forever @emilia_clarke #smilelyeyes happy birthday benioff you handsome generous bada– leo aloha j." Clarke's photo was captioned saying, "When your sun and stars rolls into town you check that he can still bench press a Khaleesi."
Momoa might love Clarke, but his true moon goddess is his wife Lisa Bonet. The moon is a goddess and she's married to the sun, but Clarke will always be fictionally married to her sun and stars.