What Is Jason Momoa's Relationship Like With Step-Daughter Zoë Kravitz?
When Jason Momoa started dating Lisa Bonet in 2005, they became one of the best couples in Hollywood. They started their family in 2007 with the birth of their daughter Lola and later had their son Nakoa-Wolf in 2008. But they didn't leave behind Bonet's daughter Zoë Kravitz, whom she had with her first husband, Lenny Kravitz. They became one big happy family who has tremendous respect for one another.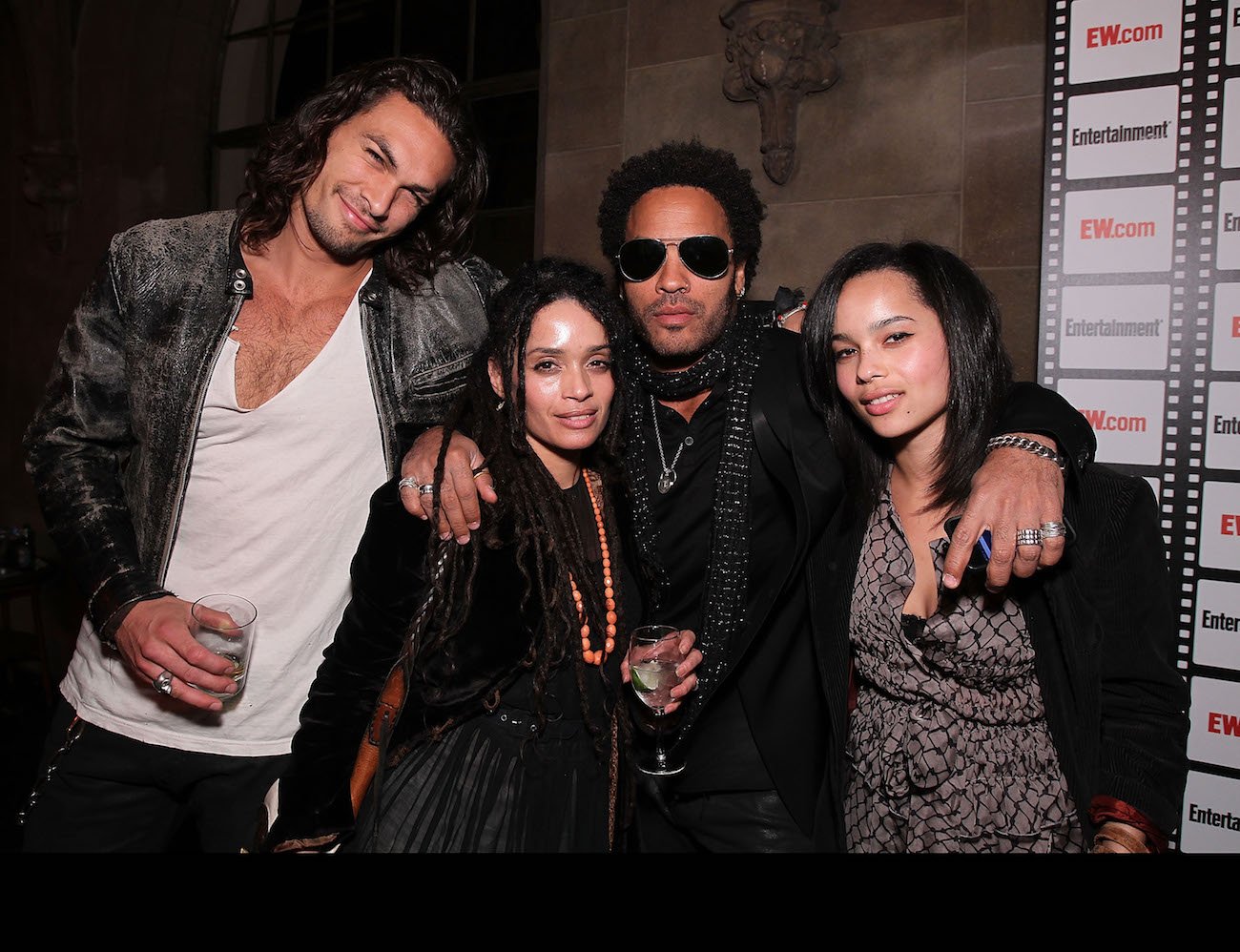 Jason Momoa is close with Lenny Kravitz
Bonet and Kravitz were married from 1987 to 1993. When she met Momoa in 2005, and there was no drama between any of the celebrities. In fact, Kravitz and Momoa are really tight.
Speaking to Men's Health, Kravitz explained that many people couldn't seem to understand how he and Momoa have a great relationship. "People can't believe how tight Jason and I are, or how tight I still am with Zoë's mom, how we all relate," Kravitz says. "We just do it because that's what you do. You let love rule, right? I mean, obviously, after a breakup, it's work—it takes some work and time, healing and reflection, et cetera. But as far as Jason and I? Literally the moment we met, we were like, 'Oh, yeah. I love this dude.'"
One thing the actor and the musician can bond over is music and acting. Kravitz is, of course, a Grammy award-winning singer/songwriter. Momoa is a very passionate metal music lover and plays a few instruments too. While Momoa is known for his acting roles, especially Aquaman, Kravitz has starred in a couple of films, including The Hunger Games franchise.
Kravitz explained on an episode of Oprah Winfrey's "Master Class" that he and the Momoa-Bonet family, as well as Zoë, are "one big happy family," saying, "It's beautiful and it just shows you what can be done."
Jason Momoa treats Zoë Kravitz like his own
If you follow Momoa or Zoë on social media, you'll know that they call each other "zozo bear" and "papa bear." In Nov. 2020, Momoa gushed to Men's Health about his step-daughter and said he hopes he and Bonet's daughter turns out just like her older sister.
Momoa also shared what it was like helping to raise Zoë. He said he worried when she started dating. Zoë's father, on the other hand, was cooler about it. "Lenny is way cooler than I am," Momoa said. "I was baffled."
Now, he fears for when his daughter Lola starts bringing boys home. He cried when she turned 13. "I'll just hate it if she brings home some dips— bad boy," he said. "I'm like, 'If you find a man who treats you better than I [treat Lisa Bonet], good luck!'"
Zoë later married Karl Glusman in 2019, and Momoa came to terms that his step-daughter was all grown up. "I love her husband," he said. "I love her dad. I hope and pray my daughter is that talented and loving and open and close to her family."
Jason Momoa and Zoë Kravitz gush about each other on social media
Momoa and Zoë are constantly sharing sweet posts, praising each other up. When Zoë's show High Fidelity (her mother starred in the original film) premiered, Momoa took to his Instagram to post about how proud of her he was.
"HIGH FIDELITY check out our amazing zozo bear @zoeisabellakravitz on @hulu feb 14. we love you and we are so proud of you. aloha da momoaz," Momoa wrote under the series' poster.
Similarly, when it was announced Zoë was cast as Cat Woman in Matt Reeves' The Batman, Momoa posted a sweet photo of them together, wishing her congratulations. "I'm so proud of u zozo bear. On and off screen OHANA. DC WB ohana Lola and Wolfies big sister is CAT WOMAN Unbelievable so freaking stoked. Your going to have so much fun Aloha P bear."
In Aug. 2020, Zoë posted a touching photo of her with her siblings and Momoa, writing, "miss these guys." That same month, she posted a happy birthday tribute to her step-father, writing, "happy birthday papabear! i love you."
So as you can see, Zoë has two really great fathers who will literally do anything for her. No one will mess with her while Kravitz and Momoa are around.