Jason Statham and Rosie Huntington-Whiteley's 20-Year Age Gap Proves Age Is Just a Number
Jason Statham and Rosie Huntington-Whiteley have been together for so long, it's hard to remember a time when they weren't a couple.
Since 2010, the pair have often showcased their relationship in the public eye, proving time and time again that they were made for each other — even if there is a 20-year age gap between them.
How did they meet?
According to sources, Statham and Huntington-Whiteley first met and fell in love back in 2010 on the set of Transformers.
Though they initially kept their relationship on the down-low, the pair went public with their romance at that year's Coachella Festival in California.
After nearly six months of dating, the model and the actor moved in together and began showcasing their relationship in the spotlight even more.
Although their romance caught a lot of public attention due to their 20-year age difference, Statham and Huntington-Whiteley didn't let the ongoing scrutiny stop them from packing on the PDA.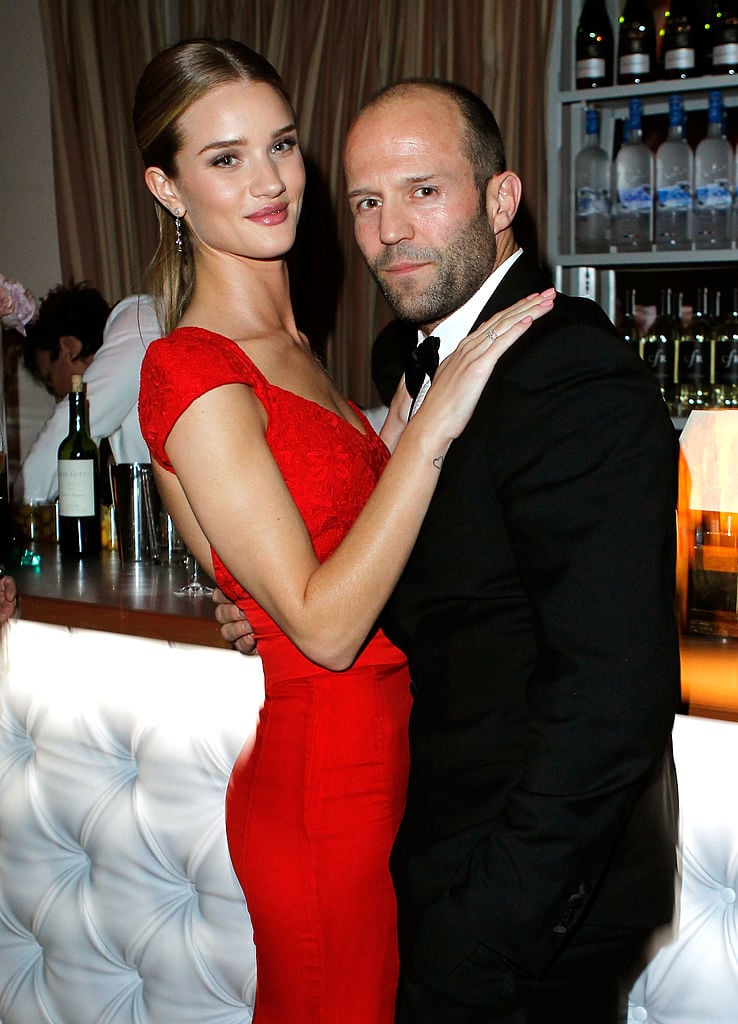 RELATED: 'Hobbs & Shaw' Stars Jason Statham and The Rock Have Fight Scene Stipulations That Say They Can't Lose
Over the next few years, the A-listers continued to look all kinds of in love while on red carpets, vacations, and various star-studded functions.
They've been engaged for three years
In April 2015, Huntington-Whiteley opened up about her future with Statham while sitting down with SELF magazine.
Though she admitted to being in love with the Hobbs & Shaw actor, the supermodel shared that she wasn't in a rush to be his wife.
"For any couple that's been together for a certain amount of time, there's a massive amount of pressure to get married," she told the outlet. "I totally believe in marriage, but being in a happy relationship is much more important to me… [Kids are] something that's more realistic in the near future."
Fast forward to January 2016 when paparazzi spotted Huntington-Whiteley wearing a diamond engagement ring while driving around Los Angeles.
A few days later, the model and the actor confirmed their engagement at the 2016 Golden Globe Awards, where she debuted her stunning $350,000 ring on the red carpet.
In February 2017, the couple announced on Instagram that they were expecting their first child together. In a beachside snapshot, the model could be seen posing in a bikini with her hand on her hip, and her baby bump on display.
"Very happy to share that Jason and I are expecting!! Lots of love Rosie," she captioned the photo.
The couple welcomed their son, Jack Oscar, on July 24, 2017.
The pair aren't in a rush to get married
Though they've been engaged for a little more than three years now, Statham and Huntington-Whiteley are pretty content with the life they currently have together.
While they still plan to get married one day in the future, the couple isn't in a rush to head down the aisle.
"I think the time will come," the model told Extra in 2018. "We've been so focused on our work for so long, and Jack came along. We definitely talk about it, we're looking forward to that time, it's also not a huge priority for us, we're so happy."
She then added, "I think it will be fun to do it when the baby's grown up a bit and he can be involved in the wedding."
Whether they end up tying the knot tomorrow or five years from now, Statham and Huntington-Whiteley will marry when they are good and ready. So until that time comes, they'll just continue living as a happily engaged couple.