Jason Sudeikis and Paul Rudd Are Only Some of the Kansas Jayhawks Famous Fans
Paul Rudd and Jason Sudeikis are best known for their acting work and not as much for their love of the Kansas Jayhawks. The two love the team so much, it's likely they would have been at March Madness this year, had it not been canceled due to coronavirus (COVID-19). Too bad for Kansas fans — the year it promised to be as thrilling as ever especially if you're a Jayhawks fan. Things looked good for Kansas, and fans were excited to see the tournament begin.
Jayhawks fans are legion, and among their numbers are comedian Jason Sudeikis and actor Paul Rudd. These are just a few of their famous fans, and like the rest of the supporters, they're passionate about their team.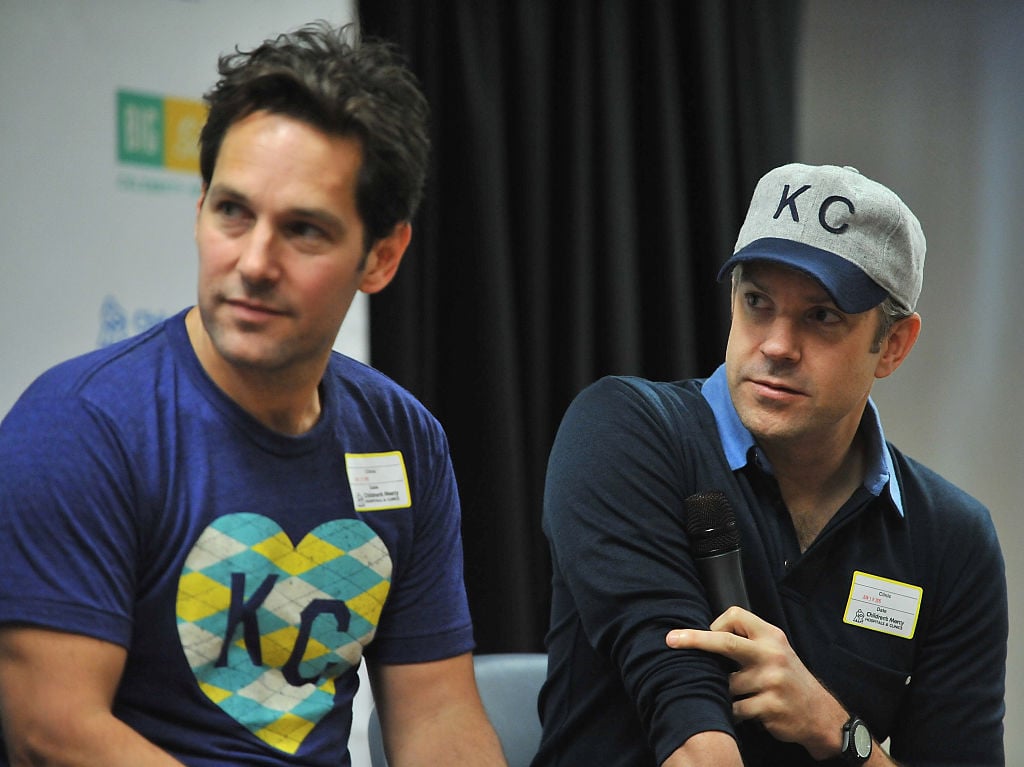 Jason Sudeikis and Paul Rudd share a connection to Kansas and basketball
Sudeikis grew up in Kansas, and although he's now busy in Hollywood, he still considers it home. Another longtime love of his is basketball — he even attended Fort Scott Community College on a basketball scholarship. Although he ended up acting, he's taken the two passions with him. He's not a Kansas alum, but he's devoted to the team anyway. He's been spotted at many games, along with his wife, Olivia Wilde. In fact, they started going to games together so long ago, that it was by appearing a Kansas game in 2011 that confirmed to the press that they were dating, according to NY Daily News.
According to Fox Sports, Paul Rudd was raised in Overland Park and attended the University of Kansas in the late '80s. He's a huge fan of all the Kansas franchises, including the Kansas City Royals and the Chiefs, but he's especially devoted to his alma mater. Rudd is best known for his roles in Marvel's Ant-Man movies, Clueless, Perks of Being a Wallflower, and a range of others.
The famous fandom doesn't stop there
Another Kansas alum and die-hard fan is Marine veteran and comedian Rob Riggle, who attended around the same time as Rudd did. He's the kind of baseball lover who can recite Big 12 standings from memory. Author Gillian Flynn also graduated from Kansas, and she even tucked a "go Jayhawks" into her bio on her author page. Actor Don Johnson attended Kansas in the '60s, and he wore a t-shirt with the Jayhawk mascot on it in the final scene of his iconic television series Miami Vice. Clearly, Kansas fans are a loyal bunch, and the Jayhawks have rewarded them for their devotion.
Kansas had a great year
Kansas holds the record for the most appearances in the NCAA Final Four. They've been a strong basketball team for a long time, and this year seems especially promising. The Associated Press men's college basketball poll unanimously voted the Jayhawks as the number one team going into March Madness in 2020. Many sports fans believed the Jayhawks were destined to win this year's tournament, according to Sports Illustrated.
Fans might wonder: how many famous Kansas fans would have attended the tournament? It's unknown if any of the famous fans mentioned were certainly going, however, it wouldn't be surprising if Kansas fans saw them in the stands cheering on the team at the 2021 March Madness. Let's hope for Jayhawks fans the team will have their chance at the win next year.