'Jaws' Extras Recall Drinking Brandy and Mugging for the Camera – All for $2.50 an Hour
Extras from the groundbreaking 1975 horror film Jaws recounted their experiences shooting the film, with many recalling some pretty funny moments from their perspective.
The film, which was plagued with a series of foibles and mishaps, followed a monster shark as it stalked a quaint island town during the height of the summer season. The movie was shot on Martha's Vineyard and producers hired a slew of locals to stand in as extras. But many islanders had speaking parts. The roles of Mrs. Kintner and her son Alex were both played by island residents.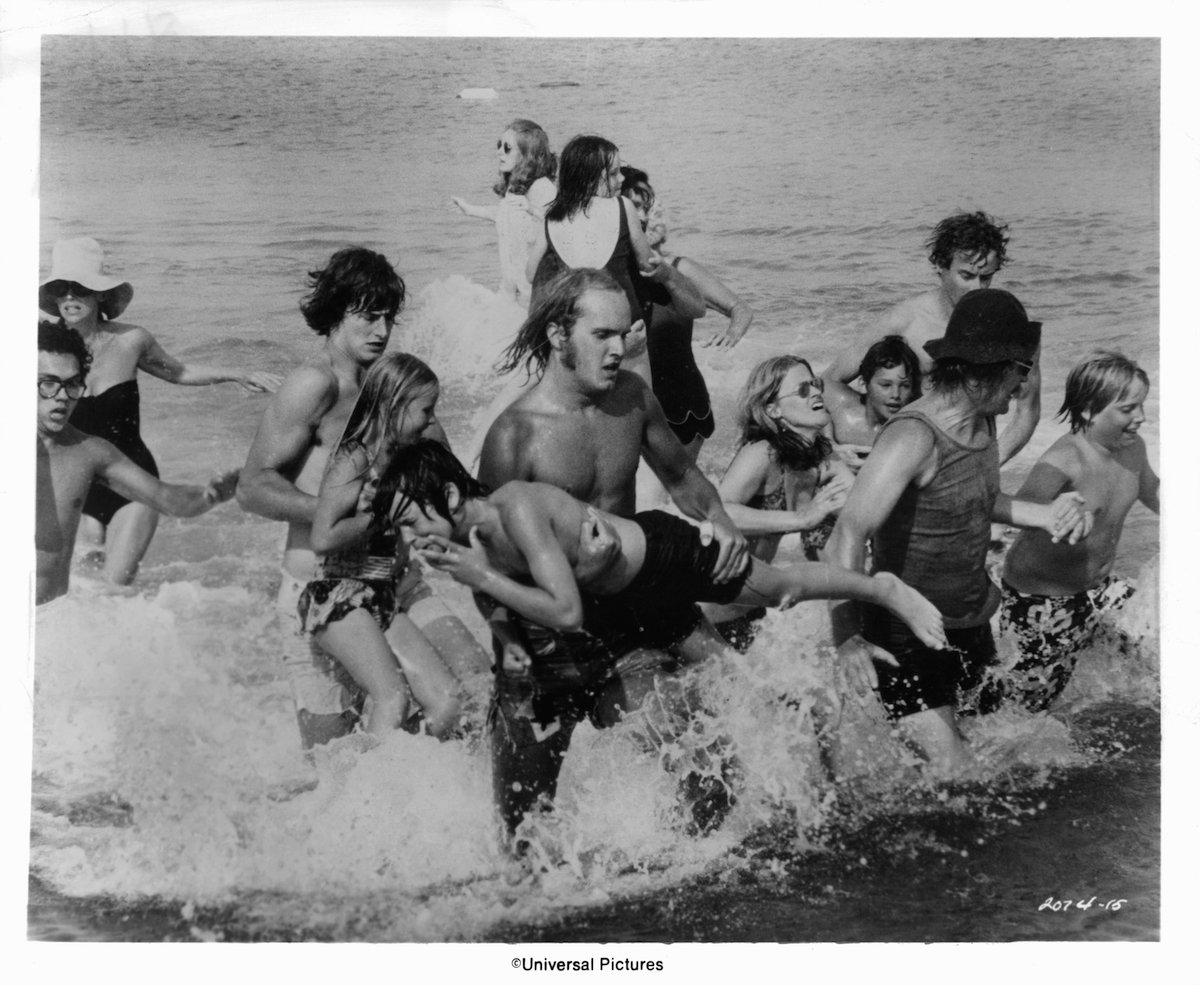 The weather for 'Jaws' didn't always cooperate
Like the fictional town of Amity in the film, Martha's Vineyard has a robust summer tourist season. In fact, most island businesses bank on summer traffic to keep their business buoyant throughout the year. So the crew from Jaws needed to shoot prior to the busy summer season, but it also meant the weather didn't always cooperate.
"From day one, they really had experienced it all: rain, fog, wind. New England weather is famous for its inconsistencies," extra Susan Murphy shared in the book, "Jaws: Memories from Martha's Vineyard", Martha's Vineyard Magazine reports.
RELATED: 'Jaws' Author's Wife Reveals the Shark Was Named After Steven Spielberg's Lawyer
"It's rainy one day, followed by three days of fog, then maybe a little bit of sun," she recalled. "But when you're spending as much money as Universal was to film a scene that's supposed to look like a fun, warm, sunny beach, and all you're getting is clouds and cold wind for weeks on end, you've got serious problems. They had no choice but to keep all the extras and crew on the beach each day and pick away at whatever shots they could get because after July 1, thousands of real tourists would be arriving. Waiting until September certainly wasn't going to work because all the kids they needed for the scene would be back in school."
One extra recalled drinking brandy in order to stay warm. "It was so cold on that beach that the cast and crew were passing around shots of brandy in little paper cups just to warm up," Julie Flanders said. "The extras got in on it too. Everybody's lips were blue and chattering."
Islanders got involved in some of the 'Jaws' action for $2.50 an hour
One extra wasn't actually cast in the film, but still found a way to get in on some shots. "I'd auditioned as an extra for the Fourth of July panic on the beach but didn't get the job," Tom Dunlop said. "So I rode my three-speed Raleigh out to the big bridge, left it by a dune, and just walked onto the set. I got myself into a few key shots, so the next day when they wanted to pick up where they'd left off, they had to invite me back – and pay me." At the time the going rate was a whopping $2.50 an hour for extras.
RELATED: 'Thirtysomething': Peter Horton Reveals the Real Reason Why Producers Killed off Gary Shepherd
Others, who were hired to act during some of the terrifying water scenes, insisted on going a little more than the extra mile. "During one of the panic shots, everyone bolted from the water like they were supposed to except for one woman," Will Pfluger recalled. "She was just an extra but stayed in and began posing in all kinds of dramatic positions, waving her arms, screaming, and flailing all around. It was overly dramatic to say the least. Finally, one of the directors spoke into a megaphone and said, 'Ma'am, that won't be necessary. Please get out of the water.' The entire beach was in hysterics."