Jay Cutler's Net Worth Is Still Way More Than Kristin Cavallari's
In 2013, Cavallari married then-Chicago Bears quarterback Jay Cutler. It's been 16 years since Kristin Cavallari stepped into the spotlight on the hit MTV reality show Laguna Beach and a decade since she appeared on its spinoff, The Hills. But Cavallari's shot at stardom wasn't one and done. The reality has stayed busy over the years and has embarked on several new adventures, including her own business and a growing family. 
Since they tied the knot, the two stars have welcomed three children and moved back to the state where Cutler started his college football career. While they have both had success over the past several years, one star is still worth more than the other. 
Kristin Cavallari and Jay Cutler took different paths to celebrity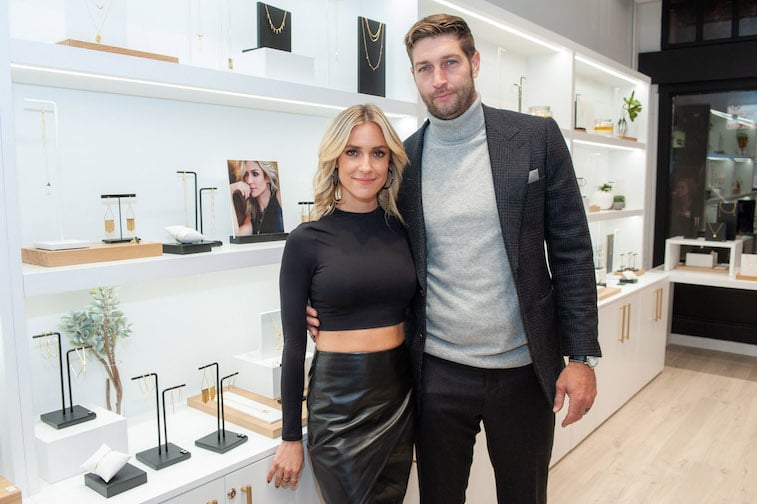 Before The Hills alum and former quarterback started dating, you'd probably be hard-pressed to find a Hills fan who knew who Jay Cutler was and a Bears fan who knew who Kristin Cavallari was. The two didn't exactly travel in the same circles.
Cavallari got her show on the wildly popular MTV show Laguna Beach when she was a junior in high school. The show did so well that MTV ordered a follow-up, The Hills. During her time on The Hills, the young star made a whopping $90,000 per episode — not bad for someone fresh out of high school. Over the course of her career, her net worth has shot up to $3.5 million.
Meanwhile, Cutler was busy throwing passes in the NFL. The quarterback played four years for the Vanderbilt Commodores before being drafted by the Denver Broncos.
But Cutler didn't spend too long in Denver. In 2009 he was traded to the Chicago Bears where he would spend most of his career. During the course of his NFL career, Cutler racked up a net worth of over $50 million.
The couple's recent ventures
Cutler retired from the NFL in 2017, but life outside of football has been keeping the QB busy. In 2017, the couple moved their family from their home in Chicago to a stunning house on 8 acres in Nashville, Tennessee. In 2018, the couple sold their house and bought a 50-acre hobby farm in nearby Franklin.
But it seems like the farm isn't enough to keep Cutler entertained. NBC Sports had some fun pointing out that the 36-year-old appears to be bored since retirement. In a recent episode of Very Cavallari, Cutler complained, "I just hang out and clean up."
As for Cavallari, she's busy running her own jewelry business and holding down the fort at Very Cavallari. The show focuses on Cavallari's business, with Cutler making frequent appearances.
But while Cutler plays a role on the show, his wife thinks that he'll be perfectly okay when the show ends. In a recent interview, the 33-year-old told US Magazine that she thinks her husband will be "very happy" when the show is over.
In addition to her jewelry business and TV show, Cavallari has also authored two books. In 2016, Cavallari released "Balancing in Heels: My Journey to Health, Happiness, and Making it all Work." Two years later she followed the book up with a cookbook, "True Roots: A Mindful Kitchen with More Than 100 Recipes Free of Gluten, Dairy, and Refined Sugar: A Cookbook."
Jay Cutler's net worth is still way more than Kristin Cavallari's
Even though Cutler is retired and his wife is still working, the former football star is still worth way more than the busy mom of three. When it comes to her growing business, Cavallari says she has invested her own money in Uncommon James.
She told InStyle, "even though it can be a little scary when it is your money on the line, ultimately it's much more rewarding when it's done well. And a paycheck from Uncommon James means more to me than any other paycheck I have ever gotten in my life."
As for spending, the couple talks over the big purchases (like their recent kitchen remodel), but for the small stuff, Cavallari says they basically do what they want.
"I'm not asking Jay's approval. He's not asking my approval … I have money coming in. I like having my own money and I always have because I never want to ask a guy if I can go buy a pair of shoes."