Jay Leno and Joe Rogan Can Connect Over Much More Than Just Comedy
It's no secret that celebrities seem to have an affinity for expensive cars. After all, when you start earning the big bucks, what else are you supposed to do with it? Comedian and former Tonight Show host Jay Leno is one of the most famous celebrity car enthusiasts around. He started a car show after he stepped down from The Tonight Show and Jay Leno's Garage has been showing off cars ever since.
In 2015, Leno had fellow comedian and car lover Joe Rogan on his show and it was clear from the beginning that these two had a lot in common.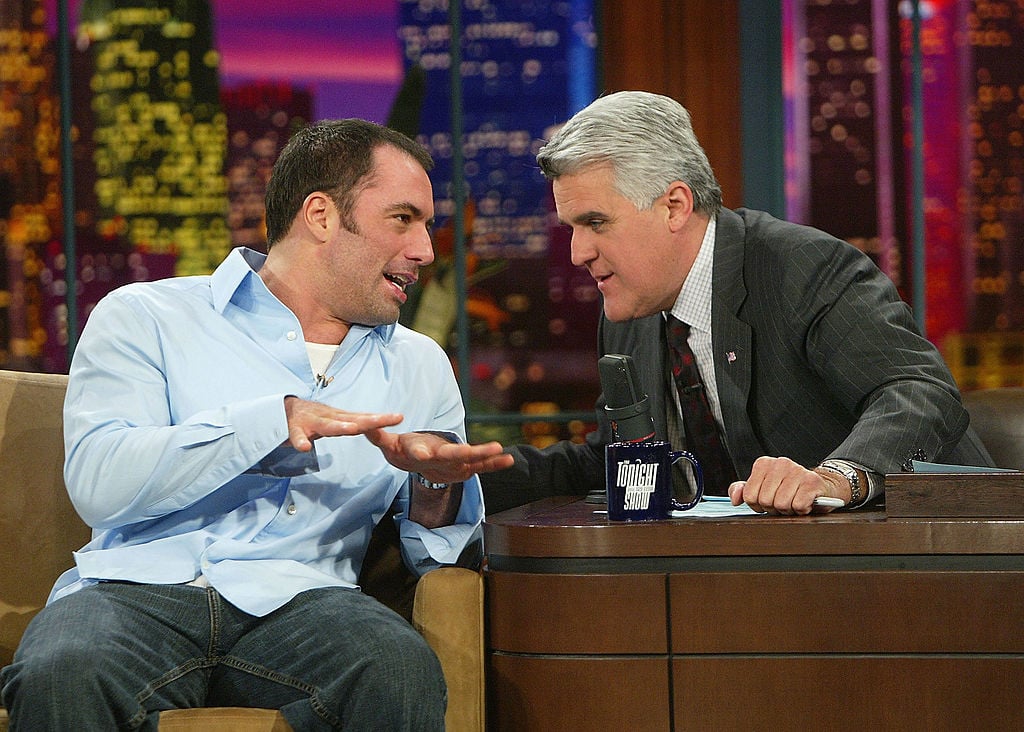 Joe Rogan and Jay Leno have similar backgrounds
While both Joe Rogan and Jay Leno obviously both have backgrounds in comedy, they also have more in common than just that. Both Leno and Rogan grew up on the east coast.
Leno grew up in New Rochelle, New York, the son of a Scottish immigrant mother and an Italian-American father. Likewise, Rogan grew up in Newark, New Jersey and is three-quarters Italian.
Both Rogan and Leno got started in comedy around the Boston area. Leno started a comedy club at Emerson College in Boston while he earned his bachelor's degree.
Rogan attended University of Massachusetts Boston and stayed in the city until his mid-20s, where he began going to open mic nights at comedy clubs around town. Both later moved to New York City to pursue comedy.
Both are major car enthusiasts
Leno is, of course, a well-known car lover. Not only did he frequently talk cars with guests while he was the host of The Tonight Show, but he created Jay Leno's Garage only a few months after ending his tenure as a late-night talk show host.
It's obvious based on his show that Leno has a seriously impressive car collection. He's not afraid to show it off either, often taking some of the more rare vehicles in his garage out for an afternoon spin or driving one to an event he's attending.
Rogan has been outspoken about his interest in cars in his podcast, The Joe Rogan Experience, and he has shown off many different cars in his garage before. The most unique thing about Rogan's car collection is how much customization he's done.
He owns a Porsche 911 GT3 RS that he had fitted with a 520-horsepower engine, as well as a 1970 Plymouth Barracuda that's customized with a V8 Chrysler Hemi engine.
Joe Rogan went on 'Jay Leno's Garage' to show off his brightest gem
In 2015, Rogan was a guest on Jay Leno's Garage, and he brought with him the coolest car in his garage: his 1965 Chevrolet Corvette Stingray. The two start out by discussing how, when Rogan bought the car, it was a restomod.
This means that it was restored — "resto" — and taken back to its original glory, then it was modified — "mod" — with a newer engine. Leno comments on the fact that buying a restomod can be tricky, because whatever modifications were made by the previous owner might not be your style, and Rogan confirms that's what happened with his Stingray.
Rogan ended up changing the color of the interior from burgundy to black and gray, fitted it with solid wheel covers, and put in a supercharged engine, complete with a custom chassis to hold it.
Later in the episode, Leno takes the Stingray for a drive with Rogan and Leno can't get enough of the powerful engine. And while it seems as though Rogan isn't totally comfortable in the passenger seat of his own car, when Jay Leno wants to drive your car, you get in the passenger seat.