Jay Leno Tells the Heartwarming Story Behind His 1951 Hudson Hornet Classic Car
Jay Leno is a well known classic car collector. He even hosts a show all about them, called Jay Leno's Garage. There's more to Leno's classic cars than just an expensive gearhead hobby though. Many of them have sentimental value, like a certain 1951 Hudson Hornet.
RELATED: Jay Leno Reveals His Fastest Cars Ever, Including the Fastest Car in the World
Leno gave Kelly Clarkson a virtual tour of his garage on a May 20 episode of The Kelly Clarkson Show. Here's the story about why he has two Hudson Hornets, and why the 1951 car is extra special.
Jay Leno wasn't in the market for another Hudson Hornet for his classic car collection
Leno shows Clarkson two Hudson Hornets side by side, one from 1953 and the other from 1951. They're both classic cars, but there was quite a story about how he bought the second one.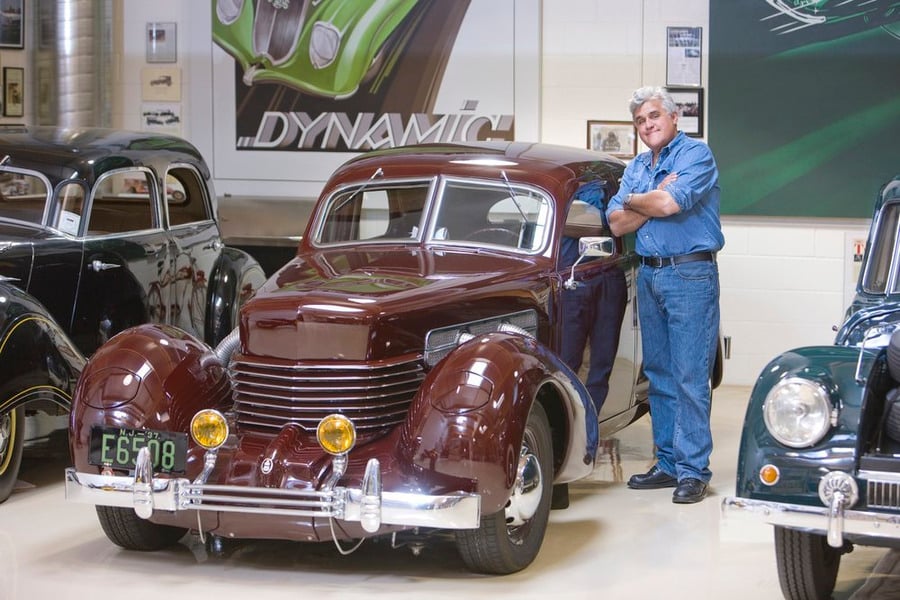 RELATED: Jay Leno Drives the World's Rarest Fiat 600 Minivans
Sometimes you buy the story as much as you buy the car. These are both Hudson Hornets. This is a 1953, it's a 1951. I bought this one first [the '53] and I restored it. Then one day I got a call from a 94-year-old woman. She said, 'I understand you really like cars. My husband and I bought a brand new '51 Hudson Hornet in 1951. We drove from New Jersey with our family to our new life in California. He died in '96.' This was back in 2004. She said, 'Would you be interested in buying the car?'

Jay Leno, The Kelly Clarkson Show, 5/20/2020
Jay Leno initially said no to the 1951 Hudson Hornet
As a standup comedian, Leno is quite a storyteller. The story of his 1951 Hudson Hornet gets deeper and deeper.
RELATED: Jay Leno Takes a Classic Police Car Out For a Joyride
"I said I already have a Hudson Hornet," Leno continued. "She said, 'Well, it's a wonderful car. Will you just come look at it?' So I drive out there, 94 years old, no hearing aid, no glasses, looks like she's 60. So she showed me the car and it's got four flat tires, it's been sitting there for 20 years. She goes, 'Will you give me $5000 for it?' I said all right, okay. I bought it, brought it back to my garage."
Jay Leno called her back when he restored the classic car
Leno said he spent two years restoring the 1951 Hudson Hornet. When he was finished, he checked in on its original owner.
"So I dialed the number and hear, 'Hello?'" Leno said. "'Hi, it's Jay Leno.' 'Oh, Mr. Leno.' Now she's 96 and I said, 'Listen, I finished the car. It looks brand new. Do you want to go for a ride?' 'Oh, I've got to get my hair done. Can the kids come?' I go, sure. Well, her kids are 74 and 72. So we're driving along, she's telling me stories about coming across Route 66 back in the 50s and what it's like."
Those grown up children reverted right back to their childish backseat behavior.
RELATED: Jay Leno Drives One of the Scariest Cars of All Time
"Meanwhile two kids in the back start poking each other like this," Leno said. "She turns back and starts slapping the crap of them, whacking them in the head. The three of them are laughing and falling down, hysterical. 'I told you kids to behave. Mr. Leno gave us a ride.' It was really the time of my life. She lived to be 104 years old. She had such fun going through life with her two kids."
The kids told more stories about the classic car
Once Leno met the widow's children, they had even more stories about their father's car to share.
That's what makes this car kind of special because it's not really a special car until you know the story. The 72 and 74-year-old told me that when they were teenagers, they were so embarrassed that their parents' car was 16 years old, they would have the dad drop them off three blocks from the school. They would walk to school so the other kids wouldn't see that their dad drove a 1951 car. Now it's a classic back then it was a different story. That's a car with a pretty good story.

Jay Leno, The Kelly Clarkson Show, 5/20/2020