How Old Is Jay-Z and Beyoncé's Daughter, Blue Ivy?
Time is going by way too quickly. It feels like Beyoncé just announced her pregnancy with daughter Blue Ivy and now, she's a mother of three, even creating music with her oldest daughter. How old is Beyoncé and Jay-Z's child, Blue Ivy Carter? Here's what we know about this diva in the making.
Blue Ivy is Beyoncé is Jay-Z's oldest daughter
With multiple Grammy award wins and Beyoncé's Emmy and Golden Globe nominations, this duo proves that together, they're the king and queen of the music industry. Beyoncé and Jay-Z wed in 2008 and have since had three children together — their daughter, Blue Ivy, and the twins, Rumi and Sir Carter. Their oldest daughter, Blue Ivy, was born in 2012.
"At some point, it's very important to me that my daughter is able to experience life and run through the sprinklers and have slumber parties and trust and live and do all the things that any child should be able to do," Beyoncé said according to the Los Angeles Times. "School visits and lemonade stands and all that stuff. It's very important for me."
Blue Ivy was born on January 7, 2012
As their oldest daughter, Blue Ivy Carter was born on January 7, 2012. Beyoncé and Jay-Z then had their twins on June 13, 2017.
"We would like to share our love and happiness," Beyoncé shared in a viral Instagram post. "We have been blessed two times over. We are incredibly grateful that our family will be growing by two, and we thank you for your well wishes. – The Carters."
Since then, she's stolen the hearts of fans worldwide, making appearances at Beyoncé and Jay-Z's concerts, award shows, Beyoncé's Netflix documentary Homecoming: A Film by Beyoncé, and at the 2020 Super Bowl. (She and Jay-Z throwing a football around before the game caused a top trending moment on Twitter.) Beyoncé even featured Blue Ivy on a song for The Lion King: The Gift.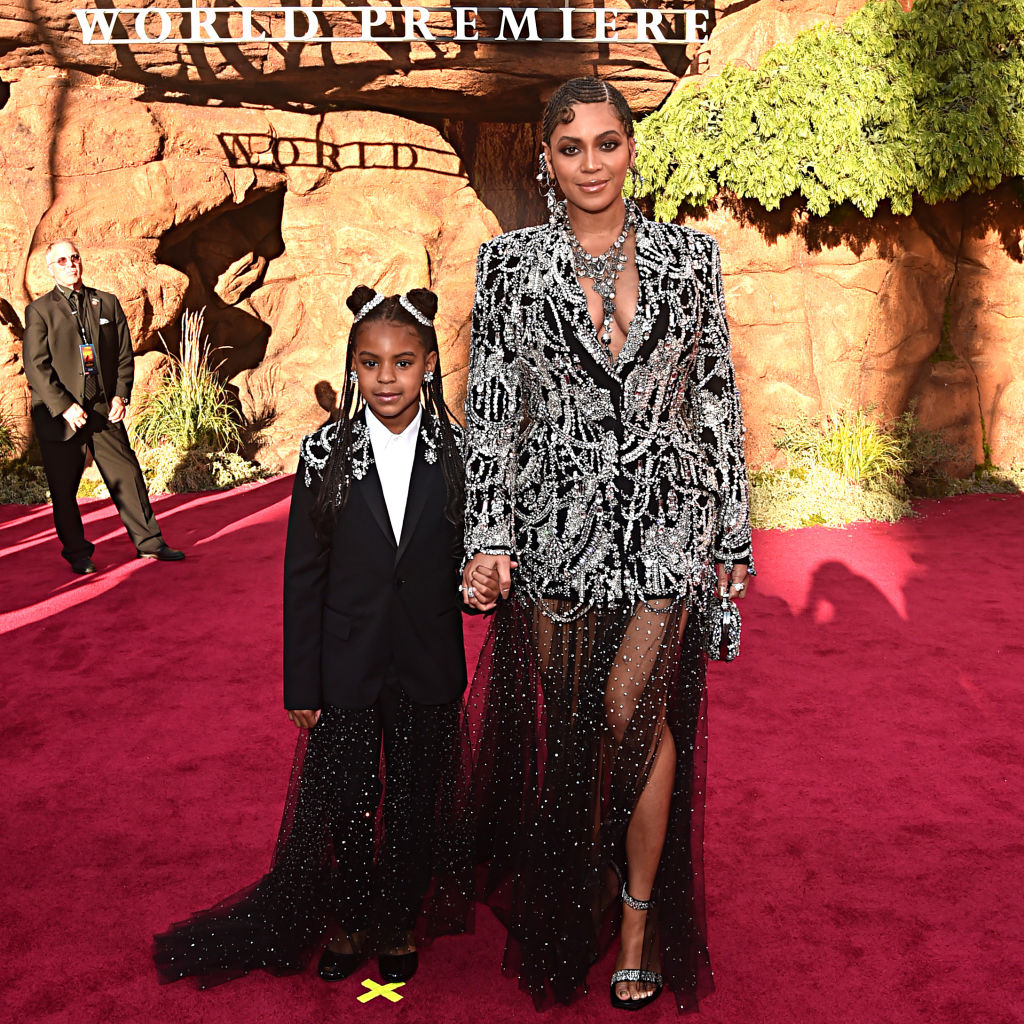 Beyoncé featured Blue Ivy in a few songs, including 'Brown Skin Girl' on 'The Lion King: The Gift'
First appearing on the song "Blue" from Beyoncé's self-titled album, Blue Ivy is truly a star in the making, singing and speaking on songs for Beyoncé and Beyoncé and Jay-Z's joint album, The Carters. Blue Ivy even gave her siblings a shoutout on "Boss." The first time she officially sang was on the song "Brown Skin Girl."
Blue Ivy even has songwriting credits for "Brown Skin Girl," a song off of The Lion King: The Gift, Beyoncé's album inspired by Disney's live-action adaptation of The Lion King. The song currently holds over 44 million plays on Spotify, making it one of the most popular songs on the album and one of Blue Ivy's most popular songs.
But the recognition doesn't stop there. Too Fab reports that, at only 8-years-old, Blue Ivy Carter earned the NAACP Image Award for the song "Brown Skin Girl." As her grandmother, Tina Knowles-Lawson pointed out, that makes her the youngest artist to earn the award from this organization.
Music by Beyoncé and Blue Ivy, including "Brown Skin Girl," is available on Spotify, Apple Music, Tidal, and most major streaming platforms.