Jay-Z Gave Robin Thicke Great Advice After the 'Blurred Lines' Star's Divorce and Addiction Scandals
There was a period when you couldn't connect to your favorite internet news site without being bombarded by Robin Thicke headlines. First, there was his scandalous performance with Miley Cyrus. Next, he was in the middle of a truly nasty divorce. After that, we learned about a serious drug addiction. This was followed by the devastating news that Thicke's equally famous father, Alan Thicke, had passed away. 
Many fans were sure that Thicke's life was spiraling out of control. But that's not what happened. He took a long hard look at his life, cleaned himself up, fell in love, became a judge on The Masked Singer, and now has a new album. It turns out that, that his new manager, Jay-Zee gave Thicke some wise words of advice that helped with his transformation.
How Robert Thicke's divorce left him rattled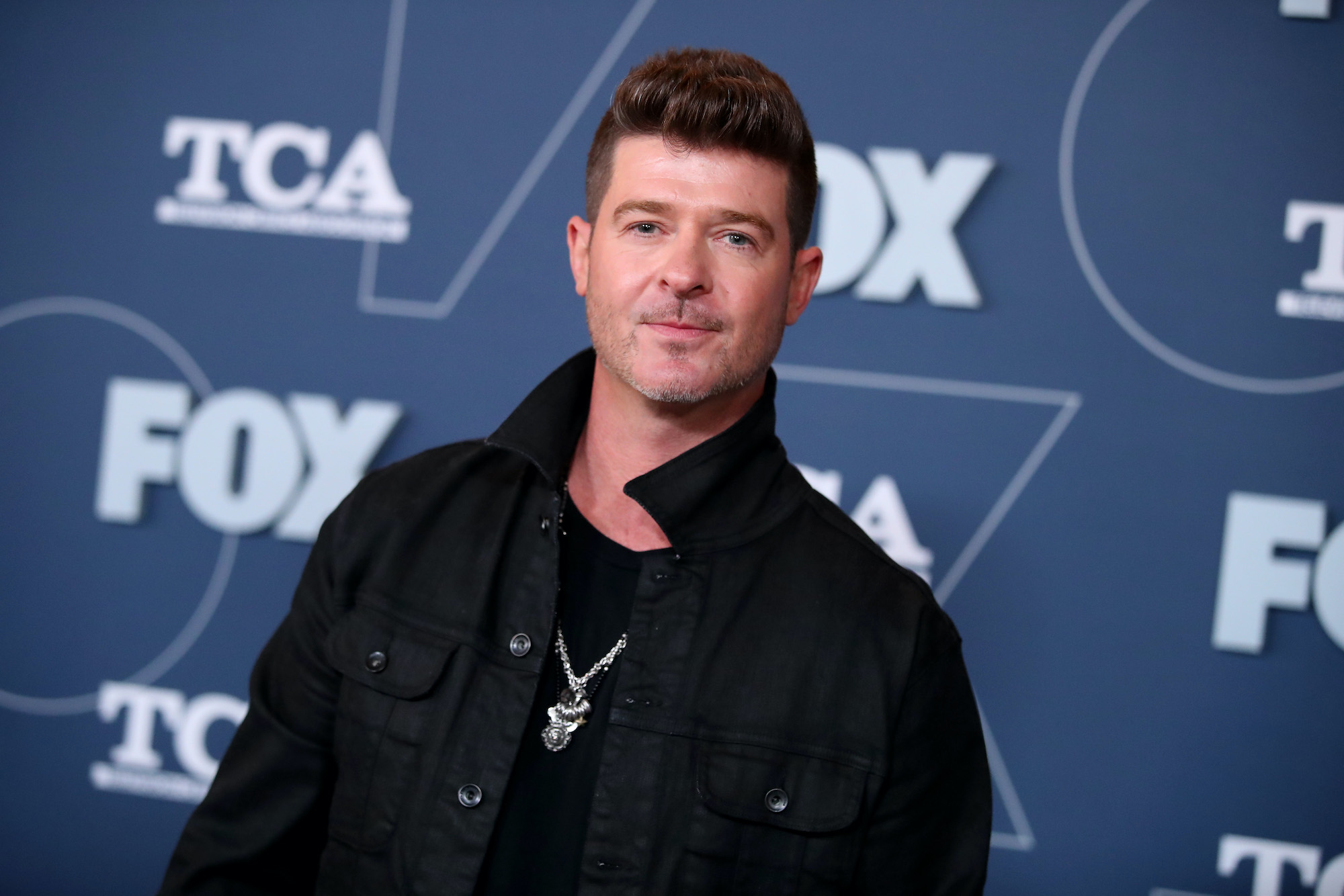 Anyone who saw the headlines when Robin Thicke and his wife Paula announced that they were getting divorced knows that the situation was full of scandal and accusations. Both parties were so bitter, it was impossible to imagine that there would ever be a time when they could settle into an amicable relationship, yet that appears to be exactly what has happened.
In February 2021, Thicke sat down with People and discussed the turmoil that rocked his world when the couple filed for divorce back in 2014. 
"There's so much emotion when you first break up, and there's so much stuff that spills over," Thicke explained. "But time heals those wounds, and she's an incredible person."
They managed to eventually regain control of their emotions and found steadier ground that allowed them to pull together for the sake of the young son they share.
"Once you can put yourself second, your son rises to the top and you go, 'It's not about us anymore,'" he adds. "We're very lucky the way everything has worked out. We're co-parenting at our very best, and it shows in Julian's results," Thicke says. "He's thriving and has really blossomed this last year. He's so devoted to school."
Now that the dust created by his divorce has settled, Thicke is in a committed relationship with his girlfriend, April Love, with whom he shares three children.
Drugs threatened to ruin Robin Thicke's life
 While there's no denying that his song, Blurred Lines, made Robin Thicke a household name, the song also led to his personal life falling apart. He is quick to point out that drugs played a huge role in the destruction of his personal life.
While Robin Thicke admits that he never led the cleanest of lifestyles, he claims that Vicodin and alcohol didn't become a major issue for him until the success of Blurred Lines which is also when he started touring hard. 
He told Dax Shepard about his tumble into drug addiction during an Armchair Professional podcast.
"It wasn't till my 30s" that habit issues surfaced," he said. "It wasn't till the touring and partying and the approach to life. You simply assume you possibly can handle all of it. You assume you possibly can preserve going at that tempo. After which your habits meet up with you."
CBS News was able to obtain information from Thicke's divorce deposition where he explained how big an impact drugs and alcohol had on his life during 2013.
"Every day I woke up, I would take a Vicodin to start the day and then I would fill up a water bottle with vodka and drink it before and during my interviews," he said. "I don't recall many things that I said. In fact, I was quite surprised when I read them back sometimes."
The death of Thicke's father altered the course of his life
 Thicke has managed to clean up his life. He credits his father's unexpected death with giving him the strength to turn his life around. Alan Thicke, who was famous for his role on Growing Pains, was playing hockey with one of his sons when he suddenly collapsed. He was rushed to a local hospital but ultimately succumbed to a fatal heart attack.
The loss forced Thicke to reevaluate his life and realize how much his loved ones needed him. In a 2019 People interview, Thicke explained how his father's death helped him take responsibility for his own life.
"When my father passed, I became the patriarch of my family. My young 20-year-old brother, he needed a big brother, and it just felt like now I had to take it onto my shoulders to be a much better, more focused, man than I was before," Thicke said.
Why Robin Thicke is so open about his trials and tribulations
Unlike some stars who try to hide their problems from their fans, Thicke has always been an open book. He is as quick to talk about the dark points in his life as he is the highlights. His openness is one of the issues he and Dax Shepard discussed during their Armchair Experts podcast. During the interview, Thicke explained that a conversation with Jay-Zee convinced him that honesty and openness was the best way to approach fame.
"Well, you know, I got some great advice from Jay-Z — to name-drop — because I signed with his management company when my manager passed away," Thicke told Shepard. "And he just gave me some great advice, like, 'Whatever you've been through, you need to let people know. If you want to be embraced, if you want to get back out there, and you want to put your music and put yourself back out there, be willing to tell the truth.'"
When you stop and think about it, it's a policy we should all try to embrace!