Jay-Z Once Shared He Couldn't Imagine Being as Successful as Eminem: 'I Found It Sad'
Hip-hop mogul Jay-Z would be considered by many as one of the biggest artists of all time. At one point, however, he felt his contemporary Eminem was bigger than he was. But after working with the diamond-selling artist, Jay-Z saw what that kind of fame did to Eminem. And it was something that Jay-Z wanted no part of.
Jay-Z believed that Eminem bested him when they originally collaborated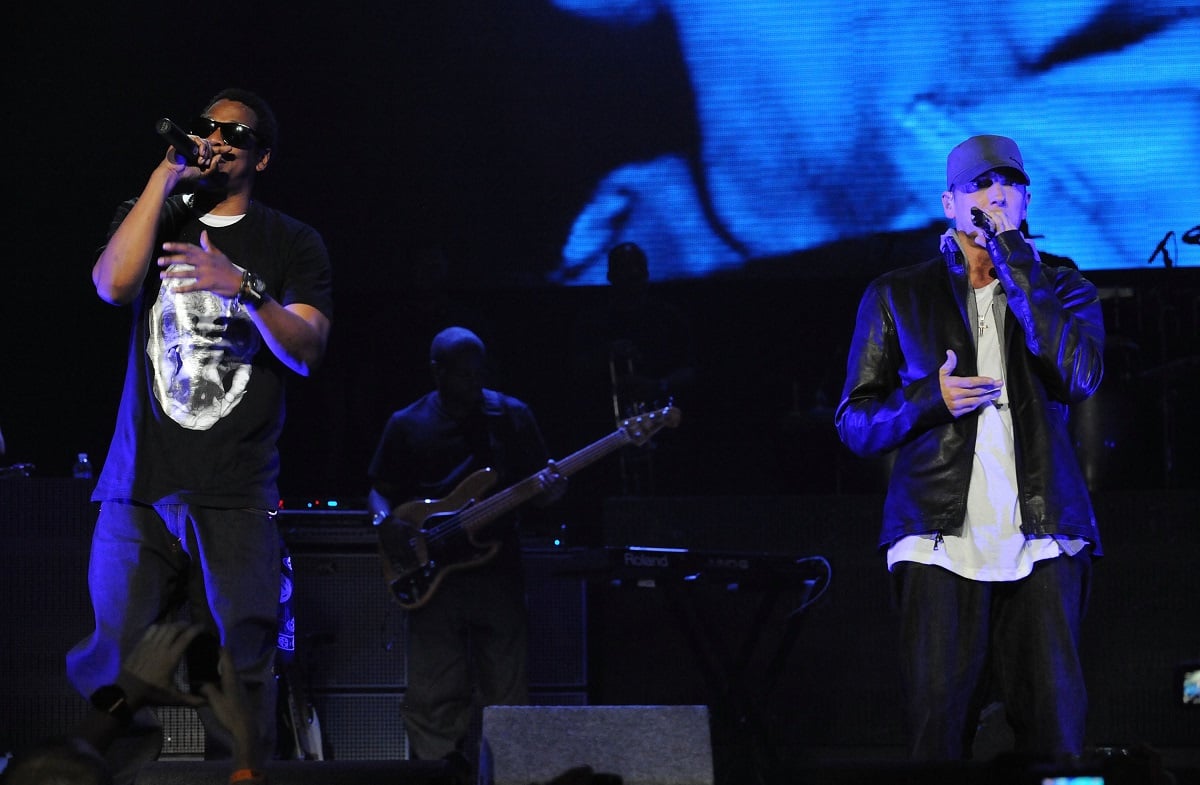 At the height of their popularity, both Eminem and Jay-Z collaborated on the instant hit record "Renegade" for Jay-Z's The Blueprint. When Jay-Z got into his highly publicized feud with former hip-hop rival Nas, Nas famously used "Renegade" against the Brooklyn rapper. On Nas' diss record "Ether," the Queens rapper insulted Jay-Z by saying Eminem was better than him on their joint record. This has been a point that's been repeated for several years in the world of hip-hop.
Jay-Z would later go on to admit that he believed Eminem did have the better feature on "Renegade." But that didn't bother the "99 Problems" rapper, who acknowledged that everyone had their on and off days.
"I think Eminem is a very intelligent rapper," Jay-Z told Hot 97 (via Rap Rader). "It's just, when you make 4000 songs.. I'm a constant collaborator, you know and… some people gonna have better days. It's just the way it is. But if we count the amount as the competitor and if we count the amount of records that I've been on versus people who had better performances then it's gonna be 400 to 3."
Jay-Z once admitted he couldn't imagine having Eminem's success
"Renegade" wasn't the only song Jay-Z and Eminem collaborated on. The two rappers would later join forces for another Jay-Z song in "Moment of Clarity." Although here, Jay-Z and Eminem worked in a different capacity. Eminem would only produce the instrumental for the song that Jay-Z would rap on. But while working with Eminem a second time, Jay-Z realized just how famous his partner had become. And he also saw how uncomfortable Eminem was with that level of stardom.
"I never even told him this, but I remember that Eminem came into the studio when we made "Moment of Clarity," which he produced, on The Black Album," Jay-Z said in Interview magazine. "So here's Eminem. It's 2003, I think The Eminem Show had come out, and he was like the biggest rapper in the world—he sold like 20 million records worldwide or some ridiculous number. But when he came to the studio, I remember I hugged him, and I could feel that he had on a bulletproof vest."
The interaction gave Jay-Z some clarity about his own level of success compared to Eminem's.
"I couldn't imagine being that successful. I mean, he's a guy who loves rap and wanted to be successful his whole career. Then he finally gets it, and there's this dark cloud over him," Jay-Z continued. "There's this big beef between 50 Cent and Ja Rule—and between real people, too—so he has to worry about that. He has to be afraid to walk around New York freely. I was like, 'Here it is. You've gotten everything you wanted, and now you're a prisoner of your own fame.' That's sad to me—that you have to walk around in a bulletproof vest after you've sold 20 million records."
Why Eminem has always looked up to Jay-Z
Eminem has drawn from many areas of his life to find inspiration for his music. But Jay-Z also offered the 8 Mile star an external source ofd inspiration. In an interview with Complex, Eminem discussed why he personally holds the rap mogul in such high regard.

"To me it's like, Jay is a good guy because he's a guide for… It's almost like he can see what's going on in hip-hop," Eminem said. "He's very in tune with the times and then he does something his own way, and then other people follow it. That's amazing to me, so I've always looked up to Jay for that."