'Jeffrey Epstein: Filthy Rich': What Happened to Alexander Acosta?
Netflix's new documentary series,  Jeffrey Epstein: Filthy Rich, examines how wealthy financier Jeffrey Epstein carried on years of sexual abuse and trafficking. The series also uncovers how former United States Secretary of Labor Alexander Acosta mishandled Epstein's 2008 trafficking case. But with all the attention the case is getting again, many are wondering what happened to Alex Acosta since.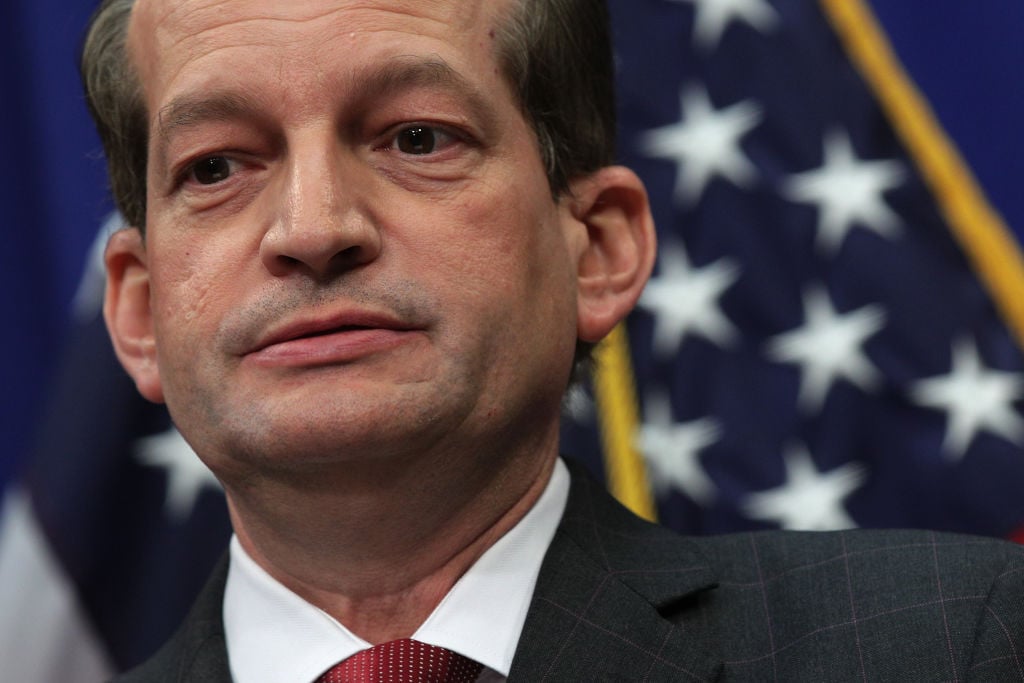 Alexander Acosta was a  U.S. Attorney in Florida 
Acosta is a Miami native who grew up as the only son of Cuban refugees. He attended Harvard Law School and clerked for Justice Samuel Alito when he was a judge in the U.S. Court of Appeals. He then went on to serve in four separate positions under the Bush administration from 2001 to 2004.
In 2005, Acosta returned to his home state when he was appointed as U.S. Attorney for the Southern District of Florida. In this position, he prosecuted numerous high-profile drug cartel and terrorism cases.
His connection to Jeffrey Epstein
From 2005 to 2007, in coordination with the West Palm Beach Police Department, the FBI began investigating Epstein. In 2007, the FBI released a 53-page indictment that detailed Epstein's abuses and trafficking of at least 34 minors.
But as documented in Jeffrey Epstein: Filthy Rich, in 2008, Acosta granted Epstein an unprecedented and questionable plea deal. The deal, which took place behind closed doors, granted immunity to all other co-conspirators in the case and included a 13-month sentence for Epstein. 
However, the convicted sex offender didn't spend much time in prison. He was granted work-release permission, which allowed him to leave the jail for 12 hours a day, six days a week. And for the year he was on probation, Epstein violated terms numerous times without any consequence. 
RELATED: 'Jeffrey Epstein: Filthy Rich': Where is Ghislaine Maxwell Now?
Acosta's ties to the Epstein case led to his resignation
In 2017, President Donald Trump nominated Acosta to serve as the U.S. Secretary of Labor. During his confirmation hearings, Senator Tim Kaine questioned Acosta about Epstein's sweetheart deal, to which he denied any wrongdoing.  
He was eventually confirmed and served as the country's Secretary of Labor until 2019 when a federal court ruled that Acosta's 2008 plea agreement with Epstein violated the Crimes Victims' Act of 2004 (CVRA). According to the court, in keeping the plea deal secret, Acosta's office did not notify victims about the progression of the case, which is a requirement of the CVRA.
After Epstein was arrested in July 2019, Acosta resigned as Secretary of Labor, worried that the attention on the case would overshadow the administration's accomplishments. 
"Alex Acosta informed me this morning that he felt the constant drumbeat of press about a prosecution which took place under his watch more than 12 years ago was bad for the Administration, which he so strongly believes in, and he graciously tendered his resignation," President Trump tweeted at the time. "Alex was a great Secretary of Labor and his service is truly appreciated. He will be replaced on an acting basis by Pat Pizzella, the current Deputy Secretay."
After his resignation, Acosta has not been in the public eye and his Twitter page has remained quiet since. But it is assumed that he still lives with his wife and two daughters in Miami.