Jenna Fischer Reveals Her Favorite Pam-Michael Moment From 'The Office'
No matter how much time passes, The Office remains a staple in the comedic world. Filled with robust characters, absurd situations, and television's best will they/won't they couple (here's looking at you Jim and Pam), it's a show that will have you cracking up no matter how many times you've watched it. With nine incredible scripted seasons and a whopping 201 episodes, it can be hard to pick favorite episodes or moments. But, Jenna Fischer, who plays the lovable Pam Beesly Halpert, managed to do just that.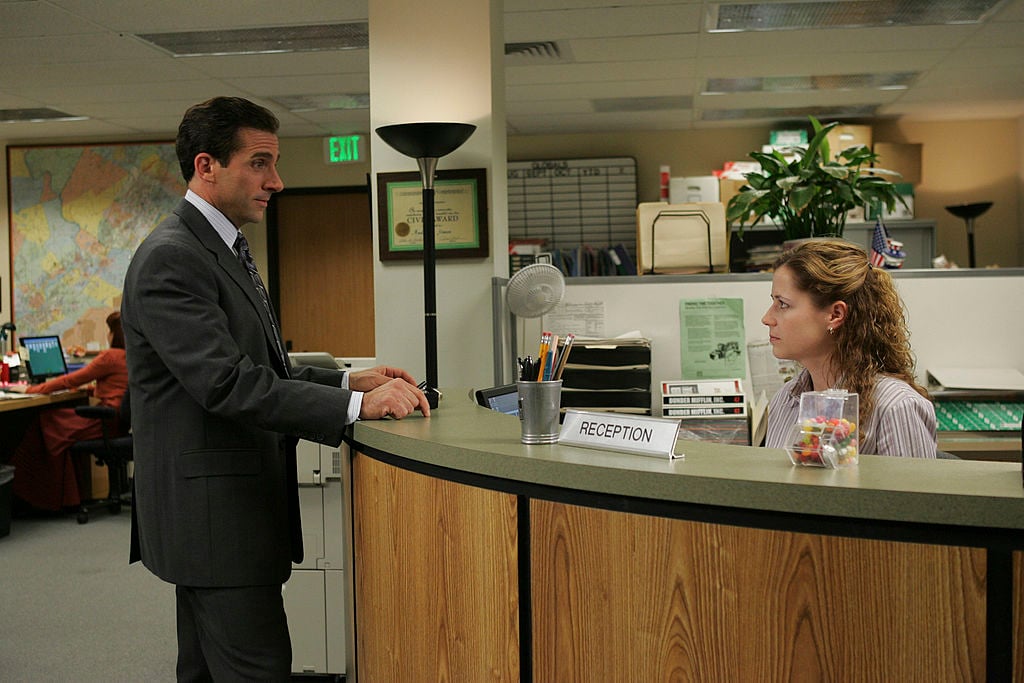 One of the show's best characters
Fischer is one of the rare cast members who was around for all nine seasons of the show. One of the great things about Fischer being around for so long is that we really have the opportunity to watch Pam grow as a character. Season nine Pam, who is madly in love with her husband and following her true passions, is a long way away from the meek Pam of season one, who is a bit of a pushover and rarely stands up for what she wants.
The dynamic between Pam and Michael
Of course, there are moments early on in the series' where we do see season nine Pam break free and stick up for herself. In fact, Pam seems to have no qualms about standing up to Michael (played brilliantly by the talented Steve Carell) from the very first episode. Some of the best moments from the show feature the contrast between Pam's typical straight-laced behavior and Michael's absolute absurdity. But, those moments aren't just fun for the audience to watch, they're also hilarious for the actors, like Fischer, to film.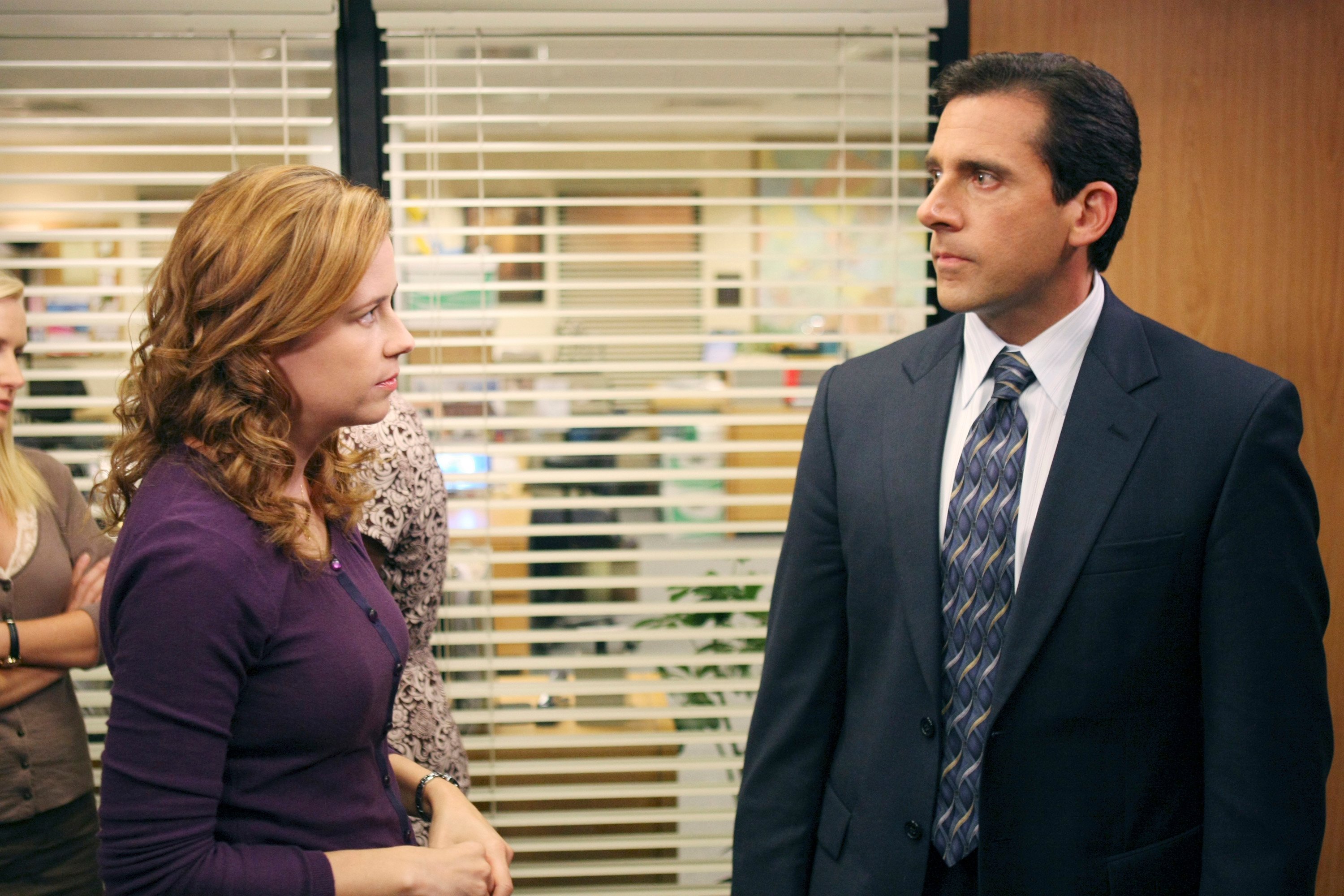 Jenna Fischer reveals her favorite Pam-Michael moment
In an interview with NPR, Fischer took the opportunity to reveal her favorite Pam-Michael interaction throughout her tenure of The Office. "Oh, gosh. Well, my favorite Pam-Michael moment from the entire series happens in season one, actually. He comes up to my desk, and he wads up a piece of paper, and he goes to throw it into the trash can behind me, and but instead, it hits me in the head. And Pam looks at Michael and she says, please don't throw garbage at me," Fischer shared.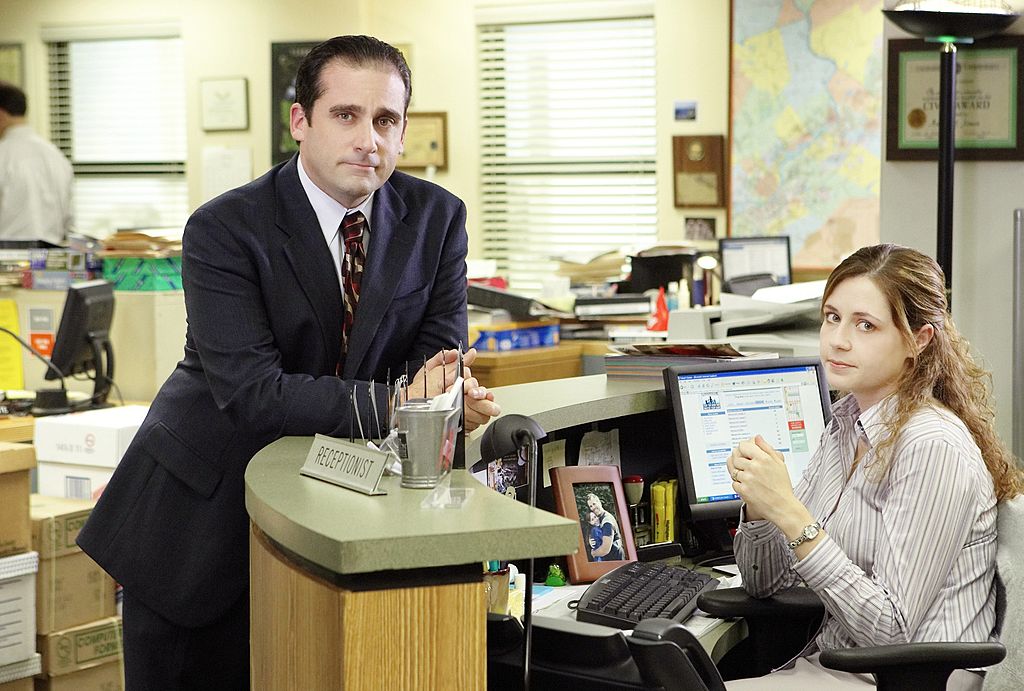 The Office Ladies cohost then went on to share why that particular interaction was a favorite of hers. "And I loved that moment because I thought here's a girl who actually has to say to her boss, please don't throw garbage at me. It's like such a known thing, you know," Fischer continued.
A truly unique relationship
The actress then went on to say that she felt that that particular exchange was indicative of the strangely beautiful relationship that Michael and Pam shared. "It's just, like, such a thing that any normal person would know not to do. But I felt like that summed up their entire relationship – that Pam is constantly having to educate Michael on simple human interaction," Fischer confessed.
We have to agree with Fischer there. The relationship with Pam and Michael is so special because she often is the only one who can make him see reason. Even if reason is something as simple as not throwing garbage at people, it's a rare day when Pam can't get through to Michael. The Office simply wouldn't be the same without their truly unique rapport.