Jenna Fischer Previously Revealed She Was 'Genuinely In Love' With 'Office' Co-Star John Krasinski
Jenna Fischer of "The Office" had major chemistry with co-star John Krasinski - and she said it was no act!
Though Jenna Fischer's ABC series Splitting Up Together was cancelled, the alum of NBC's The Office is keeping busy with her podcast "Office Ladies" alongside former co-star Angela Kinsey. The two actresses are sharing behind-the-scenes stories from the hit sitcom, much to the delight of diehard fans still hoping for a reboot.
Fischer played central character Pam Beesly on the show, who ends up marrying co-worker Jim Halpert, played by John Krasinski. In a 2016 interview, Fischer shared that her feelings for her on-screen love interest weren't always an act.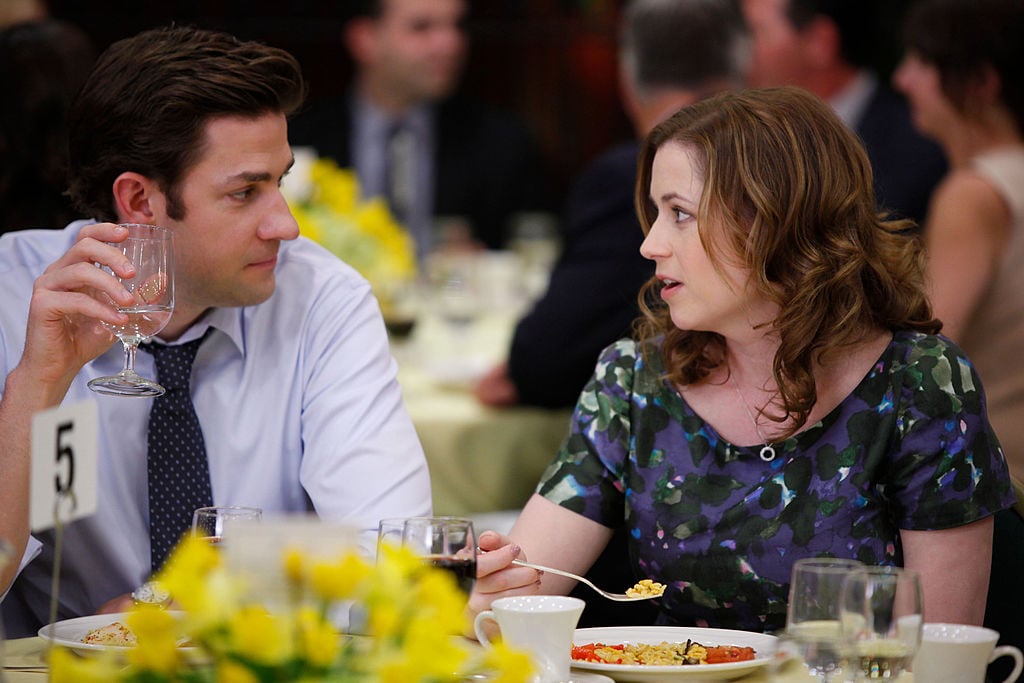 Spilling 'Office' secrets
According to CNN, Fischer and Kinsey launched their Office-themed podcast in October on Stitcher's comedy network, Earwolf. The two real-life besties felt their show could be a welcomed hit due to the sitcom's success on streaming services and hitting a particular milestone.
"As we close in on the 15th anniversary of the show, it seemed like a great time to share our stories and behind-the-scenes trivia with fans," Fischer said in a statement. "Besides talking about The Office, you can also hear us chat a little about our lives, our Target runs together, our friendship through the years."
Kinsey, who originally tried out for the role of Pam in 2005 but instead won the part of Angela Martin, welcomed the opportunity to relive the experience of the iconic show with her BFF. "The Office was such an amazing chapter of our lives and it means so much to us that we get to share some of our memories of filming it with our audiences," Kinsey said.
Wasn't all acting
Fischer visited Bravo TV's Watch What Happens Live with Andy Cohen back in 2016 and shared some very revealing details about the spark between herself and her co-star.
"John and I have real chemistry," Fischer said, according to the Los Angeles Times. "There's like a real part of me that is Pam and a real part of him that's Jim. And those parts of us were genuinely in love with one another."
Fans adored the couple's storied romance, from flirtation to courtship to marriage and children. While the actress said there were genuine feelings involved in their portrayal of the married couple, Fischer admits they weren't necessarily a match made in heaven off camera. "In real life, we aren't totally Pam and totally Jim. So in real life, we're not like the perfect match," Fischer said.
The Office star shared that she will always have a connection with Krasinski due to their closeness on the show. "It's a really complicated thing. He was like a type of spouse that I had for a long time," she said. "He was my partner and we will always be close because of it."
They both hit the altar in 2010 – but not to each other
Ironically, both Krasinski and Fischer walked down the aisle in July 2010, but with other people. Fischer married writer-director Lee Kirk in California, and Krasinski wed Mary Poppins actress Emily Blunt in Italy about a week later.
Fischer met Kirk on the set of The Giant Mechanical Man, of which Kirk was the writer and director. The actress revealed their romance evolved while working together on the film.
"I attached myself as producer and actor to the movie. Then, for the next six or eight months or so, Lee was writing the movie, and he would turn in different drafts, and I would give him my thoughts. Very slowly, over those months, our meetings started turning into dates," Fischer said, according to Vulture. "I was hesitant to tell him that I was developing feelings for him because this is my first producing job. I wanted to be professional! And here I am, falling in love with the writer."
After almost a decade of marriage, the two are clearly still smitten with each other. Just last month Fischer posted a sweet message to her hubby on Instagram. "This is the love of my life. I'm starting my week with a heart full of gratitude that I get to walk through life with this man by my side," she wrote in the caption alongside a pic of the couple. "I couldn't do what I do or have what I have without him."
So while Fischer may hold a special place in her heart for Krasinski (aka Jim Halpert), she has truly found the man of her dreams with Kirk!