Jenni 'JWoww' Farley Doesn't Think She and 'Snooki' Would Be Friends If She Hadn't Gotten Punched on 'Jersey Shore'
Jenni "JWoww" Farley and Nicole "Snooki" Polizzi have one of the closest friendships thanks to Jersey Shore. However, Farley believes if one of the show's most controversial moments didn't occur, she and Polizzi wouldn't be friends.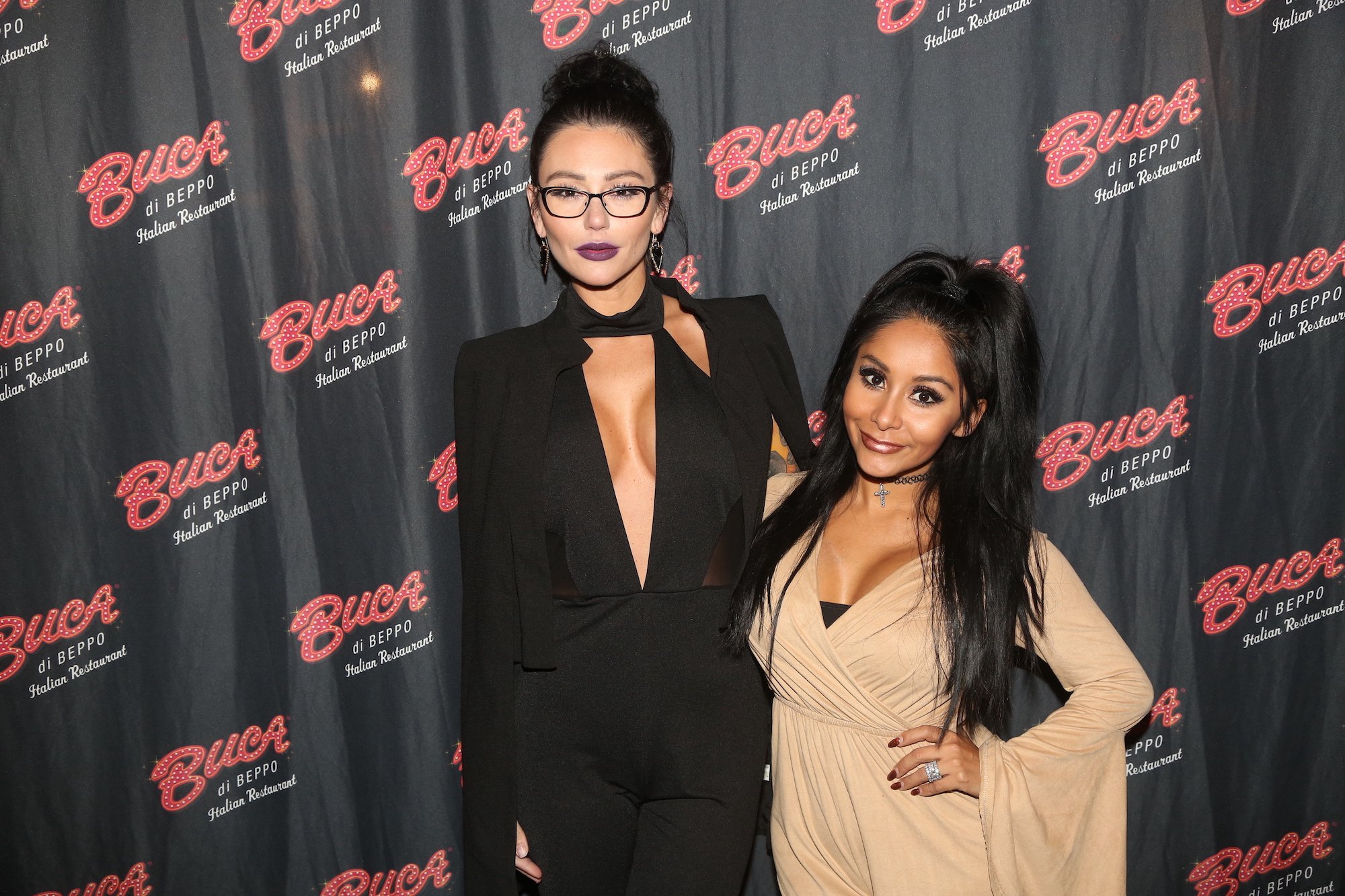 'Snooki's punch made television history
In one of the most infamous episodes from the first season of Jersey Shore, Polizzi was punched in the face by a man named Brad Ferro. During a night out at Beachcomber, Polizzi's friend purchased a round of shots for her and her roommates. Drunk, Ferro mistook the shots for his own. After Polizzi addressed him, Ferro struck her.
RELATED: 'Jersey Shore': What Happened to Brad Ferro, the Guy Who Punched Nicole 'Snooki' Polizzi?
The attack brought the house together
After Polizzi was hit, the cops arrived to arrest Ferro. Pauly DelVecchio, Mike "The Situation" Sorrentino, Vinny Guadagnino, and Ronnie Ortiz-Magro followed Ferro as the cops escorted him from the bar. "You really hit a girl like that?" they questioned in defense of their roommate. Sammi "Sweetheart" Giancola and Jenni "JWoww" Farley helped clean Polizzi up in the bar bathroom.
Leading up to that night, Polizzi felt like an outcast in the house. She arrived the first day ready to party, but ended up making an unfavorable impression by getting too drunk, too quick. Though she apologized for her actions, it was Ferro's punch that solidified Polizzi's friendships in the shore house.
Jenni believes 'Snooki's 'tragic experience' is what brought them together
Farley took to YouTube to answer some fan's questions. When asked what her favorite episode of Jersey Shore was, she hesitated, but said: "It was the episode Nicole got punched in the face."
RELATED: 'Jersey Shore: Family Vacation': Is Deena Done With the Show?
"I realized [Nicole] was the love of my life, and we would be together forever because I loved her," Farley added. "I don't think I would have [known] that love for her if that traumatic experience didn't happen." She recalled how, when the episode aired, it created "such a taboo" to show a man punching a woman on TV. "That moment [was] devastating, but also iconic because Nicole ate that sh*t like a champ and we went out drinking the next day."
'Snooki and JWoww' remain the best of friends
As Jersey Shore continued and developed, so did Polizzi and Farley's friendship. Before Jersey Shore: Family Vacation came to be, the duo had a spinoff series, Snooki & JWoww. They've done other work outside of Jersey Shore together, including the YouTube series Moms With Attitude.
RELATED: Is Jenni 'JWoww' Farley Leaving 'Jersey Shore' Because of Angelina Pivarnick?
When Polizzi announced her exit from the show, many fans weren't shocked to see Farley follow suit. "I am way to ride or die to see you leave," Farley tweeted. "If you're done, I'm done. There's no Jwoww without my Snooki."
After the finale, it seemed like Angelina Pivarnick's actions at her wedding were what caused Farley to want to leave the show. "I watched my best friend quit because she couldn't handle the stress," Farley tweeted at a fan account for Pivarnick. "I stayed up so many nights hearing Deena cry over being called names she didn't deserve. All while Angelina basked in the attention she was given. 7 months I waited for tonight."
Regardless of the tension between Pivarnick and the rest of the Jersey Shore: Family Vacation cast, Polizzi and Farley's friendship remains strong. Many fans are excited to see what the future holds for this dynamic duo.