Jenni 'JWoww' Farley Pretended To Be Asleep During This Hilarious 'Jersey Shore: Family Vacation' Scene
Blame it on the Ron-Ron Juice! The  Jersey Shore: Family Vacation roommates have alcohol to thank for some of their most fun — and ridiculous — moments. Find out why Jenni "JWoww" Farley pretended to be asleep during one of the most hilarious drunken conversations.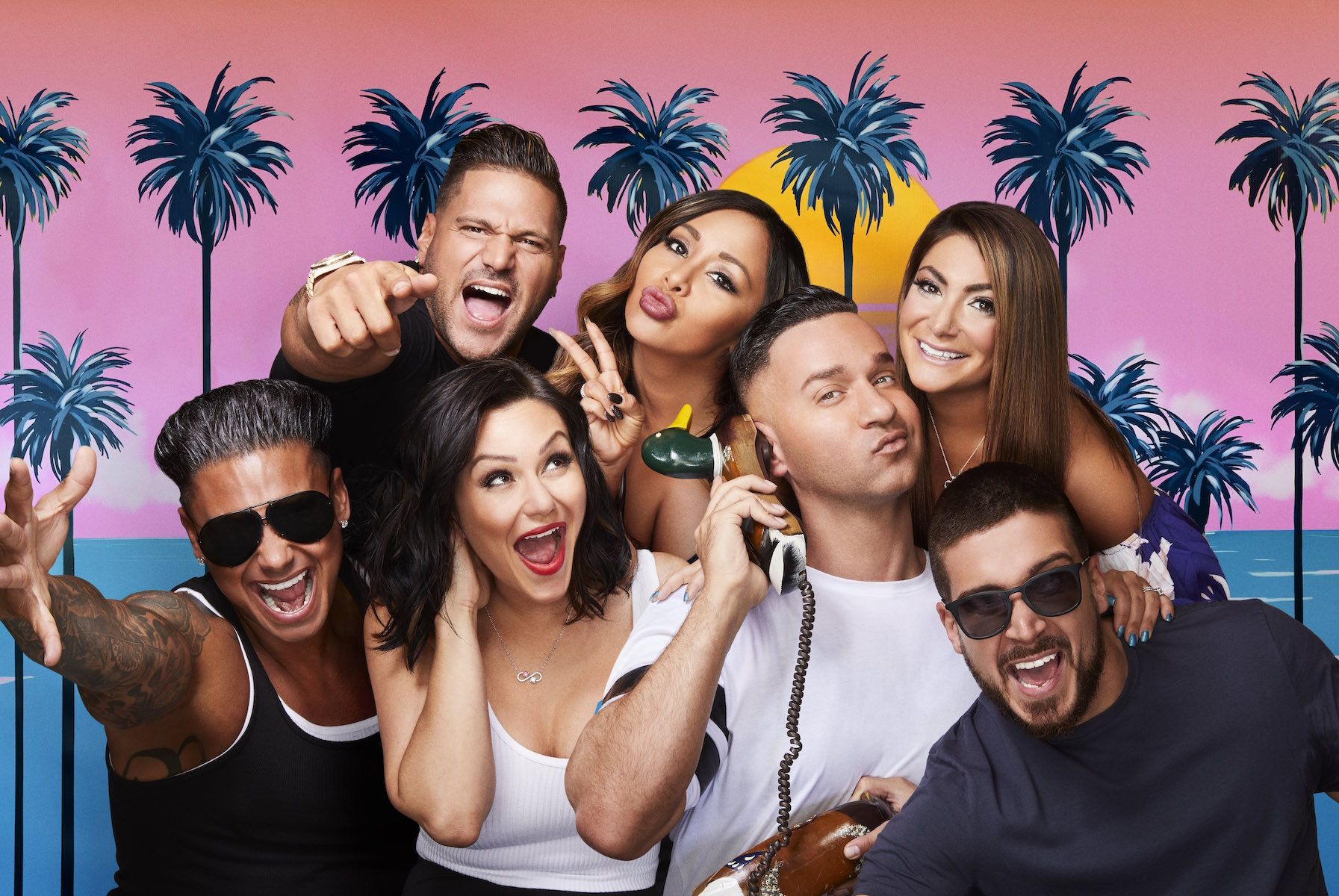 'Jersey Shore' celebrates the best drunk moments
Thanks to Jersey Shore's YouTube channel, fans can now relive some of the show's best drunk moments with highlight reels called "Tequila Talks." The clips include many of the times Ronnie Ortiz-Magro and Nicole "Snooki" Polizzi formed their signature "Sprial Squad," as well as drunk moments from Sammi "Sweetheart" Giancola, Deena Cortese, and the now-sober Mike "The Situation" Sorrentino. 
RELATED: Jenni 'JWoww' Farley Doesn't Think She and 'Snooki' Would Be Friends If She Hadn't Gotten Punched on 'Jersey Shore'
Farley considers tequila to be one of her best friends. As such, she chose to review these "Tequila Talks" for her YouTube channel. "The one thing that I noticed when it comes to tequila and my roommates is that we tend to get a little crazy, and the conversations get a little wonky," she said. One night, things got so "wonky," Farley had to pretend she was asleep to get through a rather religious conversation. 
The cast of 'Jersey Shore' believes Jesus can fly 
One night, Polizzi drunkenly started a conversation about the meaning of life. "How are we here?" she questioned Angelina Pivarnick and Vinny Guadagnino. "Do you ever think about it?" This question sparked a philosophical conversation about how life on earth began. Fortunately, Pivarnick had all of the answers. 
RELATED: Jenni 'JWoww' Farley Wanted This Artistic Career Before Joining the Cast of 'Jersey Shore'
"Adam and Eve banged each other to make more people," she explained. "Then that's when Moses parted the Red Sea, and then that's when Noah built the ark with the animals, and then that's when Jesus came an rode on his boat." Flabbergasted, Guadagnino and Polizzi were left speechless. "Yeah, he rode on his boat — Jesus," Ortiz-Magro sarcastically agreed with Pivarnick.
Polizzi contested this story, alleging Jesus "flew in" instead. Confused, Pivarnick questioned Polizzi, who then started doubting herself. Ortiz-Magro continued to stir the pot, confirming that Jesus can fly — on "Spirit Airlines." All the while, Farley was pretending to be asleep, but fully clued in to the conversation.
'Stupidity' forced 'JWoww' to prentend to sleep
Farley has finally revealed why she pretended to sleep during that hilarious scene. "I actually pretended to be asleep during this conversation because I couldn't take the stupidity," Farley said, repeating pieces of the ludicrous conversation between Pivarnick and Polizzi. How Farley maintained her composure instead of bursting out in laughter remains a mystery to many fans. 
RELATED: 'Jersey Shore': Apparently DJ Pauly D Is Reserved When Cameras Aren't Rolling
Sadly, Farley has chosen to remove herself from filming for Jersey Shore: Family Vacation Season 4. Fortunately, she will still get to see all of her roommates' drunken moments like the rest of us — when the episodes air on MTV.